'Smile' Is Creepy Enough to Wipe That Grin Off Your Face — Let's Explain Its Gruesome Ending
You won't be cheesing after seeing 2022's horror movie 'Smile.' Featuring a curse that feeds on trauma, 'Smile' has a bleak ending. Let's explain it.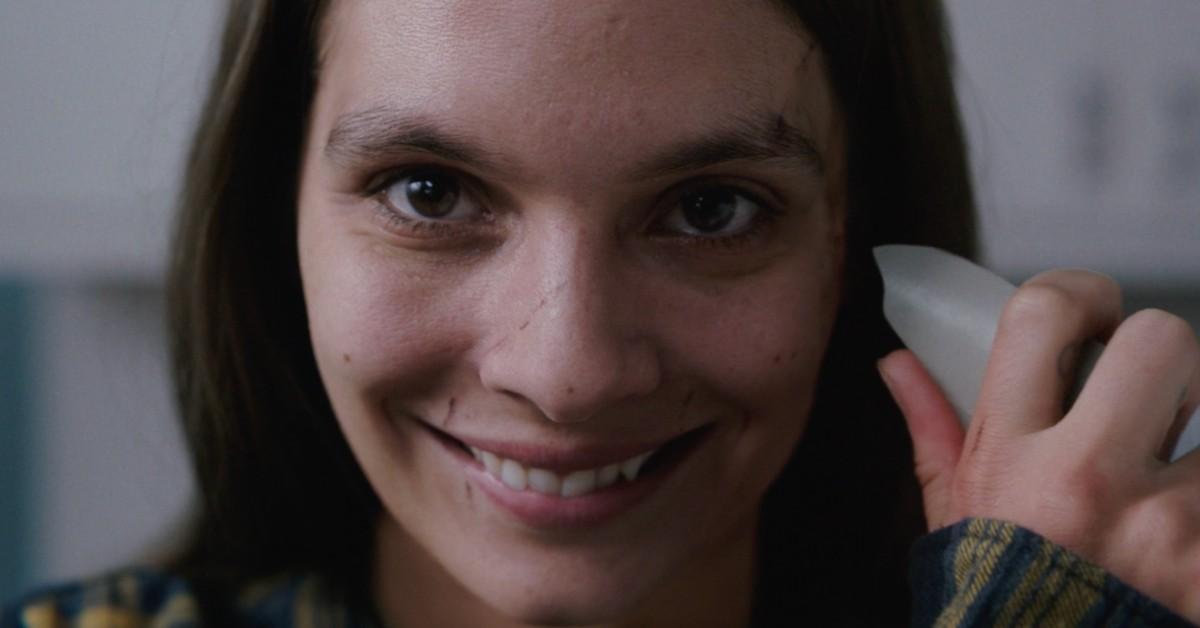 Spoiler alert: This article contains spoilers for the horror movie Smile.
You're much prettier when you smile. While that all-too-familiar catcall saying is sinister in and of itself, the smiles featured in Parker Finn's terrifying 2022 horror flick, aptly named Smile, are anything but pretty. The film — which is based on Parker's short film Laura Hasn't Slept — follows the slow unraveling of therapist Dr. Rose Cotter (Sosie Bacon), whose life is changed after watching a patient brutally off herself in front of her.
Article continues below advertisement
The patient, Laura (Caitlin Stasey) — who carves a smile-shaped line into her own throat — has been dealing with a trauma of her own. See, after Laura witnesses her professor die by suicide, she is stalked by a demonic entity of sorts, one that takes the form of regular people and plasters creepy, cold-blooded grins on their faces. "I'm seeing something no one else can see except for me. It's smiling at me," she tells Rose through tears. Struggling to get anyone to take her seriously, Laura insists that her hallucinations are very real and incredibly dangerous.
Sadly, it's only a matter of time before a disquieting smile finds its way on her face, implying that the entity has taken over.
Now that the utterly traumatized Rose has witnessed the wrath of the smile curse, it's only fitting that she starts experiencing haunting visions that mimic the hell Laura described. Said visions isolate Rose from her well-meaning fiancé, Trevor (Jessie T. Usher), and her self-absorbed sister, forcing her to look elsewhere for help.
Article continues below advertisement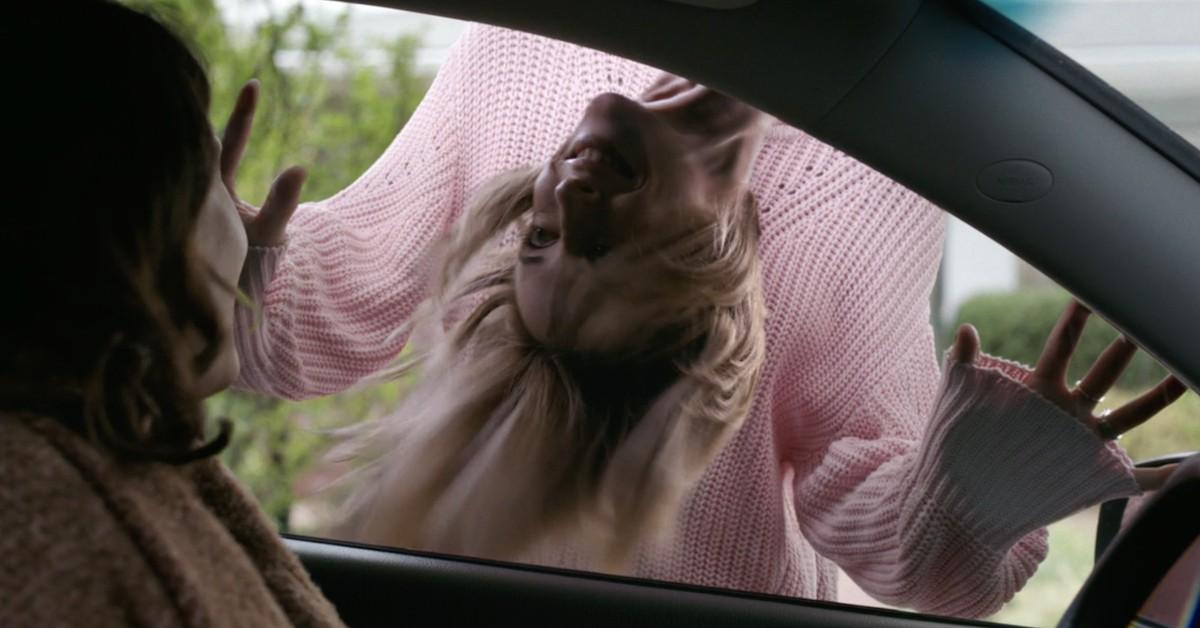 In a moment reminiscent of 2002's The Ring (which is of course based on the Japanese film Ringu), it's later revealed that those who've seen the smile have about a week to live. Some victims only survived four days. Given this, how does Smile end? Does Rose make it out alive?
Article continues below advertisement
How does 'Smile' end?
Much to our surprise, Smile is more than just a popcorn horror movie, as its metaphors for the lingering and unavoidable nature of trauma are put front and center. Trauma (insert Jamie Lee Curtis voice) has a way of tormenting us, no matter how hard we attempt to run from it.
Rose witnessing her patient die via a bloody suicide is enough trauma for a lifetime, but we eventually find out that suicide has plagued her life once before.
See, when Rose was 10 years old, her mother (Dora Kiss), who suffered from mental illness, overdosed before realizing that she had made a grand mistake. In a desperate attempt to live, she begged her daughter to call 911 for help, but a frightened Rose ran away in a panic, leading to her mother's demise.
In the present, Rose holds that guilt deep inside her, and the entity finds a way to latch onto it.
Article continues below advertisement
With the company of her cop ex-boyfriend Joel (Kyle Gallner), Rose visits the only person who has survived the curse, Robert Talley (Rob Morgan), in prison. Despite learning that killing another person in front of a witness could free her of the curse, Rose ultimately decides to face the entity head-on.
She travels to her dilapidated childhood home, hoping to isolate herself and the entity. This way, there will be no witness to pass the curse onto. Though it seems like a solid plan, the entity has a way of manipulating the psyche.
Article continues below advertisement
In a scene that mimics the likes of The Exorcist, the entity takes the form of Rose's deceased mother, even morphing into a heinous, giant-sized version of her. Stronger than ever, Rose forgives herself for her past, releasing her trauma in the process. She manages to light the smiling beast on fire, which in turn sets the rotting house ablaze, before escaping to her Jeep and driving off. The evil has been defeated, yay!
Article continues below advertisement
With a growing love for Joel — who proves to be her hero throughout the film — Rose flees to his apartment, hoping to sleep there and bask in the comfort of his presence. There's clearly something still between these ex-lovers, and perhaps the timing was simply off until this very moment.
The energy feels still and calm right up until an eerie smile sweeps across Joel's face. Not only does this reveal Rose is still cursed, but we soon discover that she never escaped her childhood home. Driving to Joel's apartment was just a twisted hallucination.
Unfortunately, Rose's smile-induced suicide comes to fruition, reiterating that we cannot fully dodge our deep-set traumas. But wait, there's more! In Smile's excruciating final plot twist, Joel manages to track Rose down, entering her childhood home just as she's about to end her own life. Drenched in oil, a grinning Rose is forced to light herself on fire before Joel's very eyes.
Soon enough, Joel will endure the unspeakable hallucinations that Laura, Rose, and many others had to face. Easily being the most likable character in Smile, Joel now houses the curse.
Article continues below advertisement
What was the production budget for 'Smile'?
Despite framing itself to be another cheesy mainstream horror flick along the lines of The Bye Bye Man or The Apparition, Smile is a solid little project, one that boasted a production budget of $17 million. It turns out that inescapable trailers and a hilarious marketing stunt — which had creepy smiling actors taunt spectators at baseball games — worked out in Smile's favor.
Article continues below advertisement
"Smile posted the second-best hold ever for an R-rated horror film in its sophomore weekend, falling by just 22 percent after grossing $22.6 million in its first weekend. Jordan Peele's Get Out, by comparison, fell by only 15 percent in its second weekend," Collider reported. Smile grossed a whopping $17.6 million at the box office during its second weekend.
Who's smiling now?