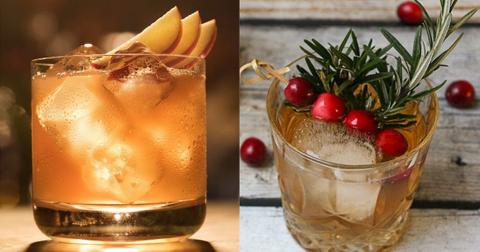 Thanksgiving Dinner Will Be *Lit* With These Festive Cocktail Recipes
By Lizzy Rosenberg

Updated
One of the few things I really, really love about adulthood is having the ability to drink with my family during the holidays. And with Thanksgiving right around the corner, you can bet your bottom I'm already planning my family feast's official cocktail menu.
From ciders to old-fashioneds, and even sangria, check out these Thanksgiving cocktail recipes. There are so many fall-inspired sips out there that you definitely won't want to miss.
Thanksgiving cocktail recipes:
1. Apples to Apples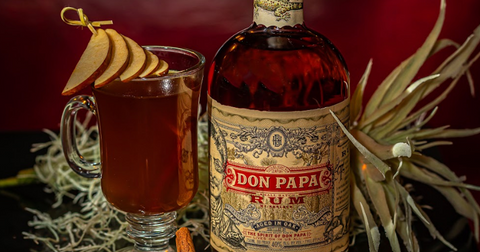 While the kids' table sips apple juice, you'll be sipping the adult version, Apples to Apples.
Combine one shot of Don Papa rum, an ounce of apple juice, half an ounce of spiced maple syrup, half an ounce of lemon juice, and half an ounce of egg whites with ice. Shake vigorously before finely straining into a chilled cocktail glass. Garnish with pink peppercorn and a rosemary sprig.
2. "Krasnyy Sour" for Thanksgiving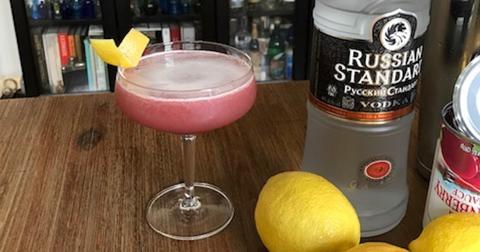 Cranberry sauce is a Thanksgiving staple, so the Krasnyy Sour is bound to complement the entirety of your feast.
To create these for your guests, combine two ounces of Russian Standard Vodka with an ounce of fresh lemon juice, two teaspoons of cranberry jelly, and half an ounce of simple syrup. Shake with ice, and garnish with a lemon peel.
3. Thanksgiving Ginger Diplo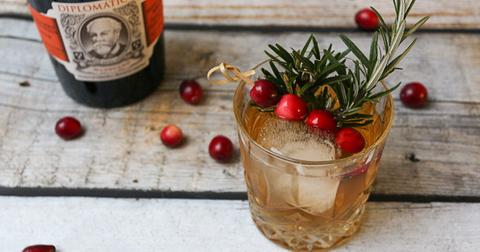 For an extra festive ~lewk~ opt for the Thanksgiving Ginger Diplo.
Combine a shot of Diplomático Mantuano Rum with three ounces of ginger ale, and a dash of cocoa bitters in a cocktail shaker with ice. Shake until chilled, and strain into a rocks glass before garnishing with rosemary and cranberries.
4. BACARDÍ Treacle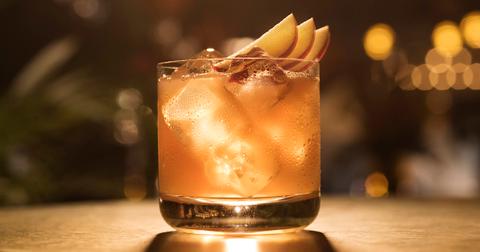 If you're craving a subtle taste of fall, combine two and a half parts BACARDÍ Reserva Ocho with .25 parts sugar syrup, one part apple juice, and two dashes of orange bitters. Build over rocks of ice, and garnish with an apple slice.
5. Cascade Cider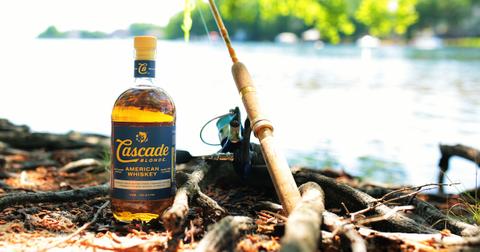 Wash down all that apple pie and vanilla ice cream with a Cascade Cider.
First, shake a shot of Cascade Blonde American Whiskey with three ounces of cider over ice. Strain into a glass and squeeze a small orange wedge into the drink. Drop it into the cup, and garnish with a cinnamon stick.
6. Botanical75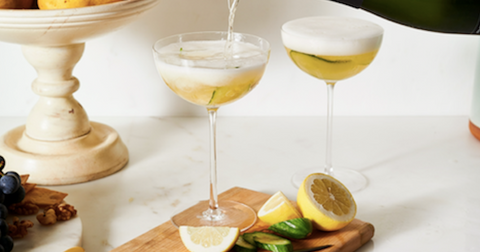 Those seeking out a ~light~ pre-feast sip will enjoy the Botanical75.
Combine a shot of Ketel One Botanical cucumber and mint with half an ounce of elderflower liqueur, and one ounce of lemon juice. Shake it with ice for 10 seconds, and strain into a champagne flute. Top with a shot of brut sparkling wine, and garnish with a cucumber slice.
7. Autumn Old Fashioned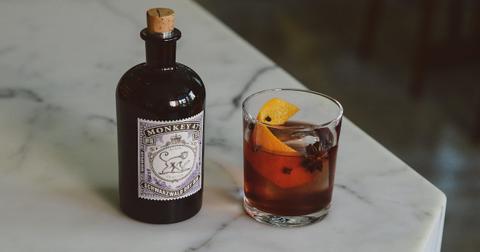 Get ready for an herbal twist on the classic cocktail.
Start out by combining two and a half ounces of Monkey 47 Gin, .25 ounces of Autumn Spice Syrup (four bags of chai tea steeped with sugar), a dash of Angostura Bitters and ice in a mixing glass. Stir for seven seconds, and pour over more ice. Then, garnish with an orange twist and cloves.
8. Sparkling Fall Sangria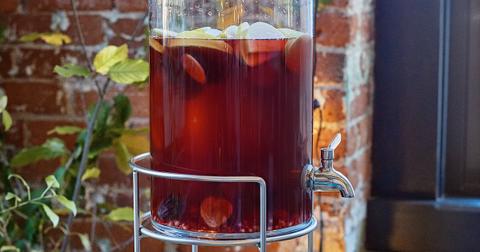 Reminiscent of the Spanish drink, this fall twist is bound to keep you satisfied while you're curled up by the fire this Thanksgiving.
Combine three bottles of Bai Ipanema Pomegranate, one bottle of Prosecco, one bottle of red wine, one cup of brandy, three sliced apples, two cups of figs (halved), and one cup of pomegranate seeds in a large pitcher. Stir, and serve over ice.
9. Stelvio Pass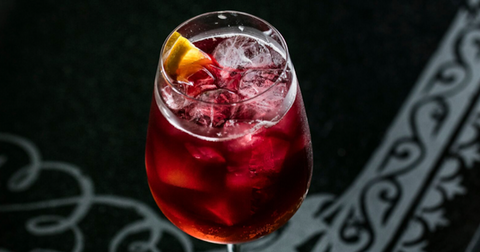 This recipe from NYC cocktail bar, Death & Co, is bound to be a hit.
In a wine glass, combine one ounce of Braulio, half an ounce of Zacapa Rum, two teaspoons of Framboise, one teaspoon of simple syrup, two ounces of Lambrusco, and one ounce of soda. Then, garnish with an orange slice.
10. Black Russian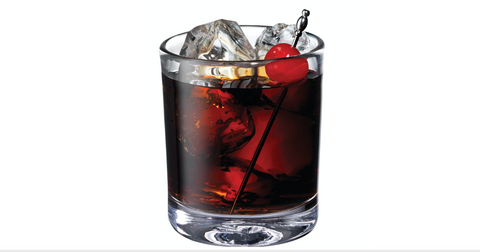 For the Black Russian, start out by filling a rocks glass with ice, combining one part Kahlúa with two parts Absolut Vodka. Mix and enjoy with a cherry on top.
"The dude abides."
11. Harvest Old Fashioned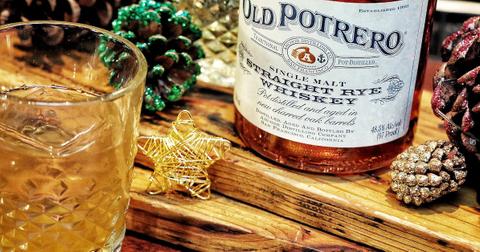 This is bound to warm you up on a blustery November night.
Combine a shot of Old Potrero Straight Rye Whiskey with half an ounce of Clarified Sweet Potato and half an ounce of Amaro in a rocks glass and enjoy.
12. Sparkling Pumpkin Pie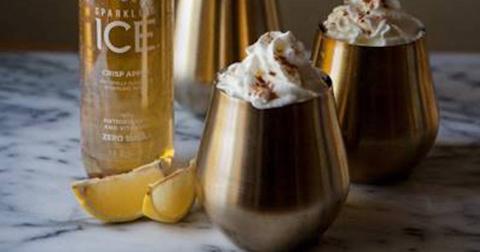 A little sweetness never hurt nobody.
Pour two ounces of honey whiskey, half an ounce of lemon juice, and a teaspoon of pumpkin puree into a cocktail shaker with ice. Strain into a rocks glass and add four ounces of Sparkling Ice Crisp Apple, before topping with whipped cream and a sprinkle of pumpkin pie spice.
13. The Glenlivet Punch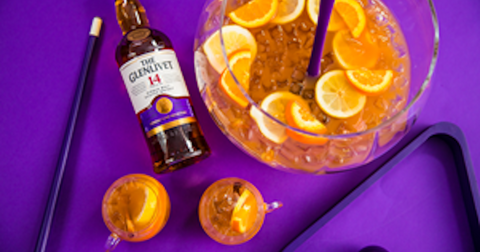 If you're entertaining a crowd, punch is a solid, plentiful option.
Combine three parts The Glenlivet 14 Year Old with one part orange juice, one part lemon juice, one part maple syrup, one part ginger ale, and 48 dashes of angostura bitters in a punch bowl with ice. Garnish with lemon wheels, orange half wheels, grated cinnamon and cinnamon sticks.
14. Steel Reserve's Alloy Series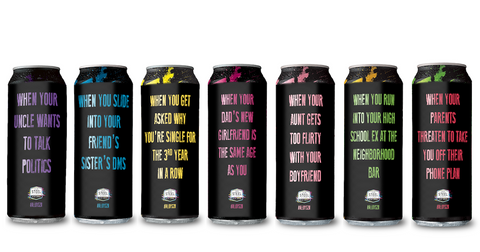 OK, while these aren't cocktails — per se — they're the perfect drinks to make your family laugh.
Each can contains malt liquor with fruity flavors like Spiked Strawberry Burst and Blue Raspberry, boasting different awkward situations that could happen while you're home for the holidays, from "when you slide into your friend's sister's DMs" to "when your uncle wants to talk politics." If you do decide to serve them, pour into a glass with ice for a little extra ~class.~
15. How About Dam Apples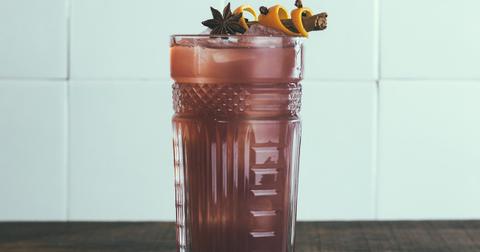 This is the perfect aprés-dinner drink.
Shake one part Damrak Gin with one part Apple Brandy, one part lemon juice, one part cinnamon syrup, and a half part of Galliano L'Autentico. Strain the liquid and garnish with cinnamon shavings.
There are so many fall drinks out there, and these are clearly the best of the best. Your family (and your tastebuds) will definitely thank you.