A Look at 'The Wedding Singer's' Loud '80s Fashion 25 Years Later
Love might stink, but we're still obsessed with 'The Wedding Singer' 25 years later. A look at the film's fashion, which transported us to the '80s.
On Feb. 13, 1998, The Wedding Singer, a rom-com starring Adam Sandler and Drew Barrymore, premiered in theaters. Its hilarious and adorable scenes have continued to resonate with moviegoers 25 years later.
The film, directed by Frank Coraci, was Adam's first role as a romantic lead. Adam played Robbie Hart, the titular wedding singer with a "miserable love life" and a jheri curl that remains embedded in our brains. The singer finds love with waitress Julia Sullivan (played by Drew), but not before they both get rid of their awful fiancés (because who wants to be Julia Gulia??).
Article continues below advertisement
In between the romance and the laughs, The Wedding Singer reintroduced viewers to 1980s fashion. From big hair to bright makeup, the filmed is riddled with homages to one of fashion's most over-the-top eras. So, to celebrate The Wedding Singer's 25th anniversary, let's dive into the movie's striking looks!
Article continues below advertisement
'The Wedding Singer's' 1980s looks weren't popular in 1998.
Although The Wedding Singer's fans can't imagine it without characters like Michael Jackson-esque Sammy (Allen Covert) or a very convincing Boy George, played by the late Alexis Arquette, the fashion wasn't hitting when the movie premiered in 1998.
However, costume designer Mona May, who also worked on films like Clueless and Romy and Michelle's High School Reunion, was confident the rom-com would help spark new interest in the decade.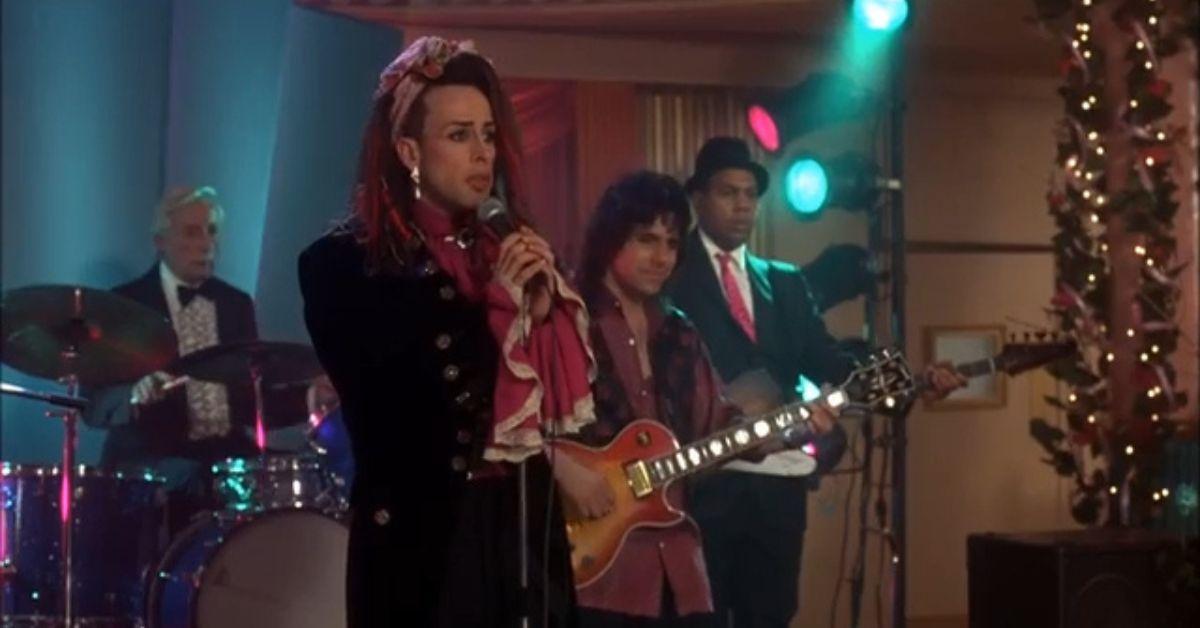 "People aren't buying this '80s stuff yet, but I think some of it is definitely coming in," Mona declared to The Los Angeles Times in 1998. "Blue eye shadow is back. Skirts are becoming more A-line and could become fuller and shorter. Dolce & Gabbana are trying shoulder pads, and somebody else was just showing leggings with blazers."
The designer continued: "Helmut Lang is doing the punk look. Here in New York, every store I go into, they play '80s music. But I'm sure the '80s will be reinvented '90s-style. I don't think anyone will ever wear those giant shoulder pads again."
Article continues below advertisement
Drew Barrymore worked closely with Mona May to create Julia's style in 'The Wedding Singer.'
As Julia, Drew played a bubbly waitress forced to marry someone she doesn't completely love, while yearning for a deeper connection. The actor and TV host wanted her character's style to reflect her inner feelings and steered away from looking like everyone around her.
"We wanted the clothes to reflect this very cool, artsy person," Mona explained to Interview Magazine in 2018. "She doesn't follow trends; she's not doing any of the crazy '80s stuff. She has her own more grungy look, so we used a lot of vintage dresses with boots, slightly oversized but not too big. All of the colors she wears are more classic."
Mona also said she and Drew collaborated on several of Julia's most popular looks, including the iconic black, chunky choker necklace she wore in nearly every scene.
"Drew really wanted to wear the gold and black choker, and she wanted to repeat the jewelry," Mona explained. "It's a statement piece."
Article continues below advertisement
'The Wedding Singer' wasn't always supposed to be set in the 1980s.
The Wedding Singer is a true ode to the '80s, but that wasn't always the plan for Adam Sandler and his Wedding Singer co-writer Tim Herlihy.
In 2008, Tim said the idea to have the '80s as the film's backdrop came to him while listening to a radio show. He knew Adam wanted to do a movie about a guy who gets left at the altar, but listening to the station made him travel back in time.
"I was listening to the radio show Lost in the '80s, and I said, 'I want to do a movie set in the 1980s,'" Tim recalled in an interview with The Independent Weekly. "So, of course, we thought, 'Why don't we do a story about a wedding singer in the 1980s?'"