'They/Them' Review: Peacock's Queer Slasher Flick Deserves the Bloody Hatchet
Peacock's bloody slasher flick 'They/Them' puts its vulnerable protagonists in an LGBTQ+ conversion camp. Here's our review.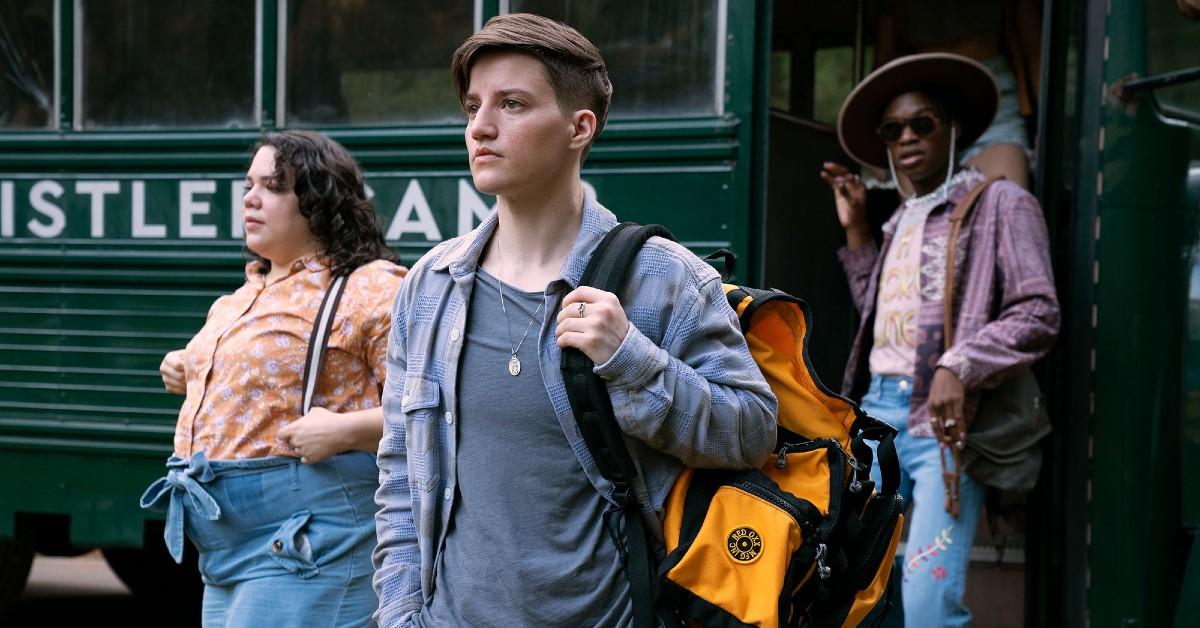 Did you get the memo? Horror is woke now. Well, the genre has been extra progressive for the last five-plus years (partially thanks to Oscar winner Jordan Peele), but the momentum is still strong in 2022. Minorities who were previously demonized by the almighty genre are seeing a stunning present-day renaissance — one that has no room for bigoted "Black guys die first" and "bury your gays" tropes.
Article continues below advertisement
But how do we dissect newer entries, filtering out the ones that parade themselves as woke masterpieces and honoring the ones that offer genuine social commentary? Enter director John Logan's queer slasher flick They/Them — which is cleverly pronounced as They-Slash-Them. That's where the cleverness ends, unfortunately.
They/Them
Our Rating
They/Them attempts to be the next great sociopolitically current horror movie, but it fails to blend genres seamlessly while offering innovative and stylistic scares.
Peacock Premiere: Aug. 5, 2022
Director: John Logan
Screenplay by: John Logan
Cast: Kevin Bacon, Anna Chlumsky, Carrie Preston, Theo Germaine, Quei Tann, Monique Kim, Austin Crute
Runtime: 1h 44m
No MPAA rating
Article continues below advertisement
The socially-conscious slasher flick follows a (very good-looking) group of queer youths as they arrive at an LGBTQ+ conversion therapy camp, which is soon ambushed by a masked killer with an ax for a practical accessory. They/Them seemingly pulls inspiration from campy films like 1999's But I'm a Cheerleader and 1980's Friday the 13th, but ultimately fails to deliver the same levels of tasteful, well-crafted kitschiness. It takes itself too seriously.
Whistler Camp promotes itself as a chill space to help queer people "respect," "renew," and "rejoice" (whatever that means). And none other than Kevin Bacon (Footloose) runs the program. Yeah, it's a real treat. His character, Owen Whistler, is oddly inviting, oddly… warm? It initially seems like the best-case scenario for a conversion therapy camp — wait, what? That's what the first third of the film evokes. Feelings of cautious comfort. A feeling of belonging.
Article continues below advertisement
On the surface, there's no Bible-thumping and no "fixing," which is, of course, wildly suspicious. It's about "finding a new kind of peace," as Kevin Bacon relays with a twinkle in his eye. But alas, this doesn't last long, as the camp slowly reveals itself to be a gaslighting, manipulative, and torturous hellscape for queer individuals. Kevin Bacon's relaxed demeanor, dad-like tendencies, and universal likability can easily throw the audience off when his character sluggishly becomes more and more sinister, which is a plus in a film filled with minuses.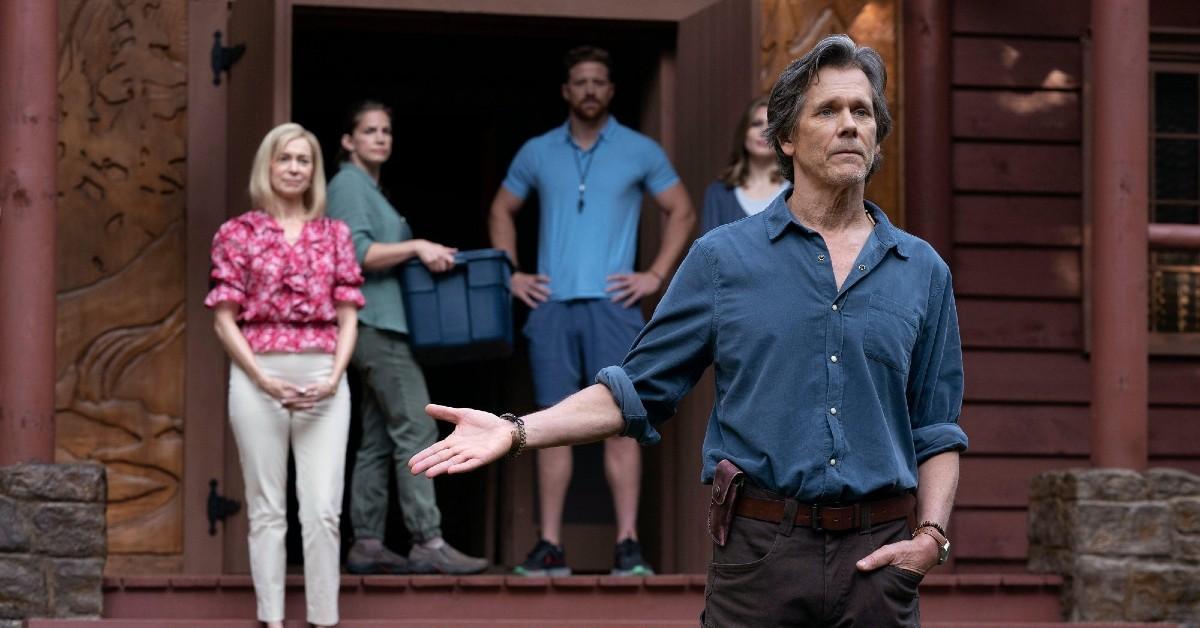 Article continues below advertisement
There's a slur-throwing licensed therapist (Carrie Preston). A questionably supportive registered nurse (Anna Chlumsky). A toxically masculine athletics director/former "student" (Boone Platt) — which is a common gay stereotype worth noting. A seductive activities director (Hayley Griffith). A pervy handyman (Mark Ashworth). They all run the sadistic camp, but the killer could be anyone. The film succeeds in making you question everything and everyone, nailing it in the pivotal suspense category.
They/Them swings big with authentically queer characters across the LGBTQ+ spectrum and heartfelt stories, but when it comes down to it, the slasher film falls short. The scares are far and few in between, and the gore level is, well, boring. Greedily, more intricate kill scenes and Hollywood blood and guts would've been appreciated.
Article continues below advertisement
And while we commend the film for respecting its queer protagonists — elegantly avoiding a heaping platter of torture porn in the process — it's so concerned with telling queer stories (which it does with care) that it forgets the genre at hand. The balance is off. It desperately wants to be a genre-bending endeavor — attempting to effortlessly blend drama, horror, and campy musical aspects — but They/Them is tonally incongruous, failing to correctly discover its identity, no pun intended.
Article continues below advertisement
And speaking of musical elements, let's discuss the pink elephant in the room. A breakout musical segment to Pink's "F--k'in Perfect" at the film's 40-minute mark is rashly out of place. With all of the innocent queer campers singing and dancing alongside each other, it's seemingly intended to be a tender moment that tells the audience, "Hey, we know this is a movie about a gay conversion camp, but you're perfect just the way you are." But sadly, it breaks up They/Them's building tension and is just plain cringe-worthy.
Regarding the campers — sorry, the "students" — Jordan (Theo Germaine) and Alexandra (Quei Tann) boast detailed, (almost) fully-fleshed backstories; meanwhile, Veronica (Monique Kim) and Toby (Austin Crute) are given throwaway stories. It's as if They/Them seeks to fill a quota: to include every queer stereotype in its characterization. Toby is the certified Sassy Theater Gay™. Veronica is the angsty alt bisexual. Their personalities seem plucked from the mucky depths of the Twittersphere. It's not that they're not likable; they're just not finished.
Article continues below advertisement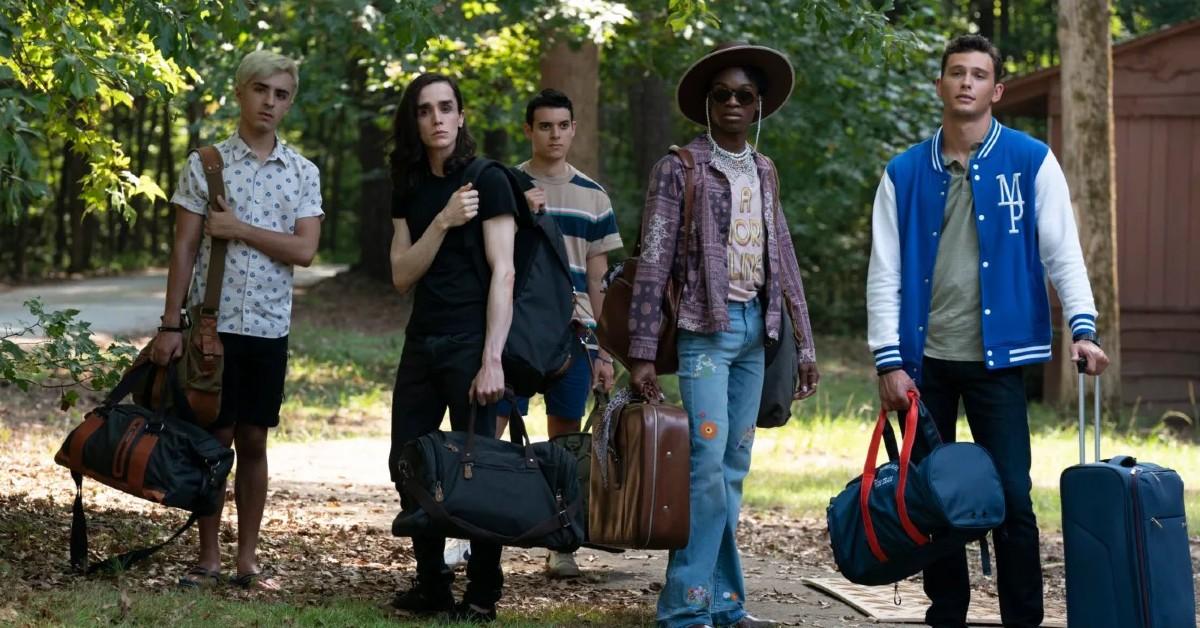 When it comes to the big reveal, it's neither satisfying nor interesting, as the reasoning behind the killer's collection of slayings is trite. It's basic, old-school revenge. There's nothing fresh here — and that's not to say that every horror movie's purpose should be to break barriers and offer a groundbreaking storyline. But the bare-bones plot of They/Them has been done time and time again, and it's been done better.
Unfortunately, well-meaning morals of self-acceptance and themes of refusing to be "saved" just can't save this whodunit flick. This comes with no pleasure, but They/Them is getting the ax in our next queer horror marathon.
They/Them is currently streaming on Peacock.