Joe Exotic Just Filed for Divorce From Dillon Passage, Who Already Has a New Man
Netflix viewers were captivated by the real-life characters in the Tiger King docuseries. The first season followed former zookeeper Joe Exotic (real name: Joseph Maldonado-Passage) as he put the Greater Wynnewood Exotic Animal Park (G.W. Zoo) and its big cats on the map. But unfortunately, things went downhill fast.
Article continues below advertisement
In 2019, Joe was convicted and sentenced to 21 years in prison for attempting a murder-for-hire plot to kill animals rights activist Carole Baskin.
At the time of his conviction, he had recently gotten married to his fifth husband, Dillon Passage. Read on to find out where Joe and Dillon's relationship stands today and what Dillon has been up to since Joe was placed behind bars.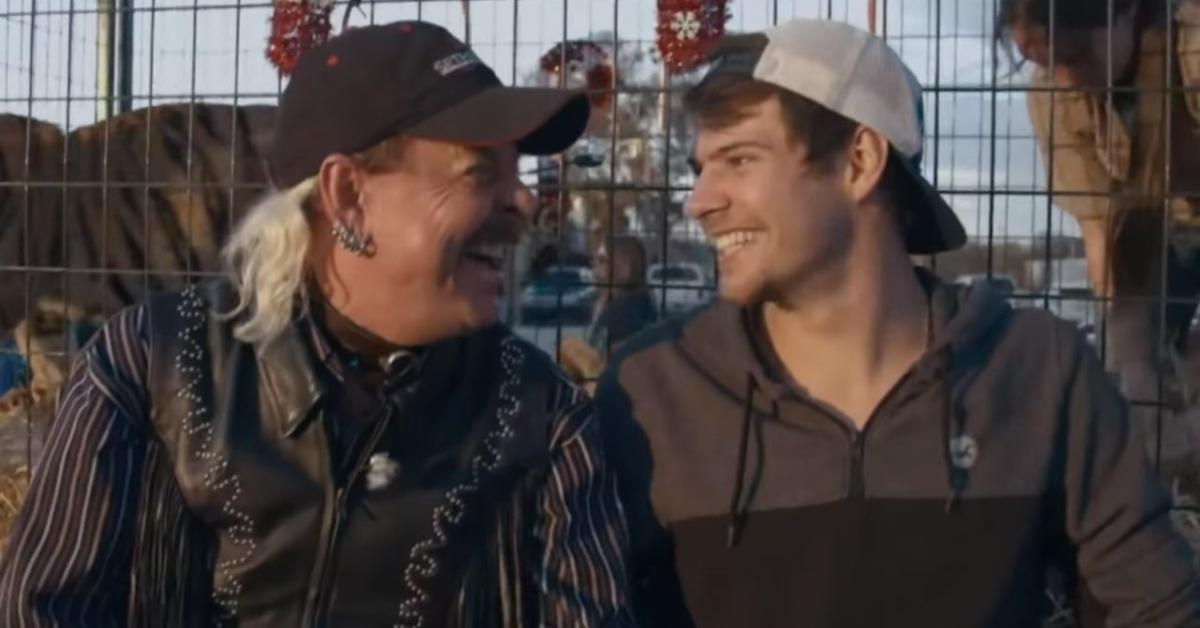 Article continues below advertisement
Joe Exotic filed for divorce from Dillon Passage in March 2022.
On March 31, 2022, Joe submitted paperwork to a Florida courthouse to end his and Dillon's four-year marriage. In court documents obtained by Us Weekly, Joe claimed that he wanted a dissolution of their marriage as their union had become "irretrievably broken."
Furthermore, Joe is asking the court to restore his former name back to Joseph Allen Maldonado and for his estranged husband to pay his legal fees.
Joe's decision to file for divorce comes one year after he and Dillion announced that they were separating.
Article continues below advertisement
"Dillon thinks having to sleep alone and not have me out there is so rough and hard to deal with to the point he has to leave me," Joe wrote on Instagram at the time. He continued: "Now I don't even have a home."
The former couple married in December 2017, just two months after Joe's former husband, Travis Maldonado, accidentally shot himself in the head and died.
Article continues below advertisement
'Tiger King' star Dillon Passage previously referred to Joe Exotic as a "shining light."
Although it's the end of the road for Joe and Dillon, the 26-year-old previously told Entertainment Tonight that Joe had helped him cope with his depression and drug addiction during their relationship.
"Joe brought me out of my depression and made me feel like I was wanted. He was like the shining light that kept me out of that," he told the outlet in April 2020.
Dillion continued: "At first it was more like a companionship, but being around him as much as I was and seeing his personality and how he treated me and how he treated his animals, I really grew to love Joe."
Article continues below advertisement
But in the same interview, Dillon touched on the possibility of finding happiness in another relationship.
"Right now, I don't feel the need to fill that empty void, [but] if I do ever meet somebody that I feel is going to be very important to me, then Joe would be perfectly fine ... Well, maybe not perfectly fine, but he would support my decision to be happy again," Dillon said.
Article continues below advertisement
In July 2021, Dillon shared his first picture on Instagram with new beau, John. They are still currently together, which likely influenced Joe's decision to file for divorce.