Tiki Barber's Messy Divorce Became a Subject on 'RHONJ' — Who Is His Ex-Wife?
Former NFL star Tiki Barber married 'RHONJ' star Traci Lynn Johnson in 2012. There were several reports he cheated on his first wife with Traci.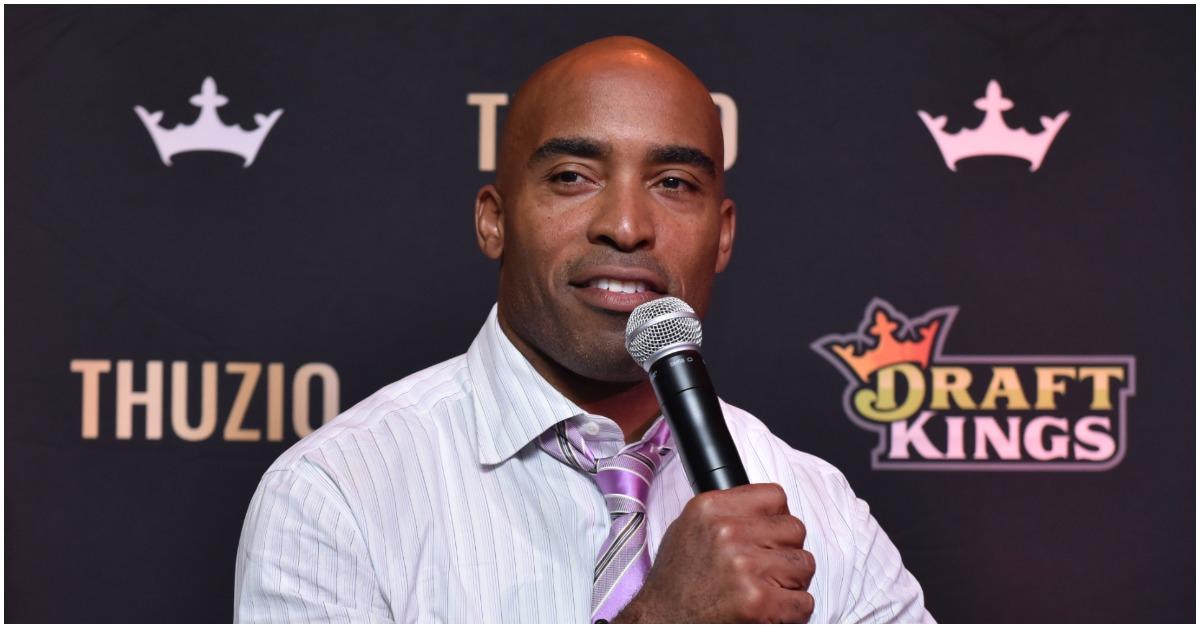 When Traci Lynn Johnson joined The Real Housewives of New Jersey for Season 12, she agreed to discuss her family in front of Bravo's cameras. Traci's family includes her husband, former New York Giants player and sports newscaster Tiki Barber, and their daughters, Brooklyn and Teagan. Since their debut, he often appears with his wife at events.
Article continues below advertisement
Although she's only a "friend of" RHONJ, Traci has received backlash on the show due to her and Tiki's romantic history. Before they tied the knot, the former NFL star was the center of a scandalous divorce. Since then, Traci has defended her marriage publicly and stated she and Tiki are going strong. So, who is Tiki's ex-wife, and what really led to their split?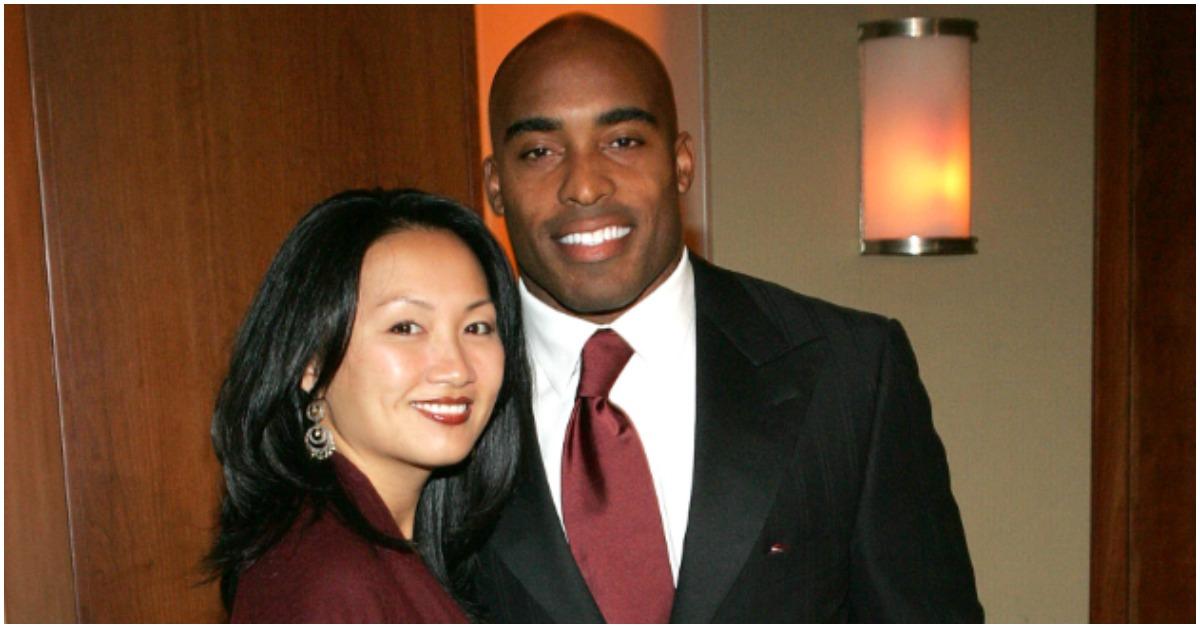 Article continues below advertisement
Here's what to know about Tiki Barber's ex-wife, Ginny Cha.
Tiki met his first wife, fashion publicist Ginny Cha, during his college football days at the University of Virginia. After several years of dating, they married in 1999. In 2002, they welcomed their first child, a son named Atiim Kiambu Jr. Two years later, their second child, Chase, was born, making them a family of four.
The couple seemingly remained happy together throughout their marriage. In 2008, Ginny joined Tiki in an episode of Celebrity Family Feud, per IMDb. By 2010, they were expecting again. This time, though, Ginny became pregnant with twins. According to the Daily Mail, Tiki left Ginny during her pregnancy with the twins. In a statement, he said the exes would continue co-parenting their children but didn't provide a reason for the divorce.
Article continues below advertisement
"After 11 years of marriage, Ginny and I have decided to separate," he said in his statement at the time, per the New York Post. "This decision was a painful one, but we are moving forward amicably and will continue to work together to raise our children with the love and dedication they have always known."
Following his official announcement regarding their breakup, Ginny reportedly requested the commentator pay $150,000 a month in child support and alimony, which he stated he couldn't afford. However, Ginny seems to have moved on since the divorce. Although her Instagram page is private, she goes by the name Ginny Cha Hoffman, so she's likely remarried to the mystery man in her profile picture.
Article continues below advertisement
How did Tiki Barber and Traci Lynn Johnson meet?
While Tiki didn't initially disclose the details surrounding his divorce from Ginny, reports soon surfaced that his relationship with Traci had something to do with the marriage's demise. In 2010, the correspondent met his current wife during her internship at NBC. Tiki started working for the network in 2006 after retiring from the Giants.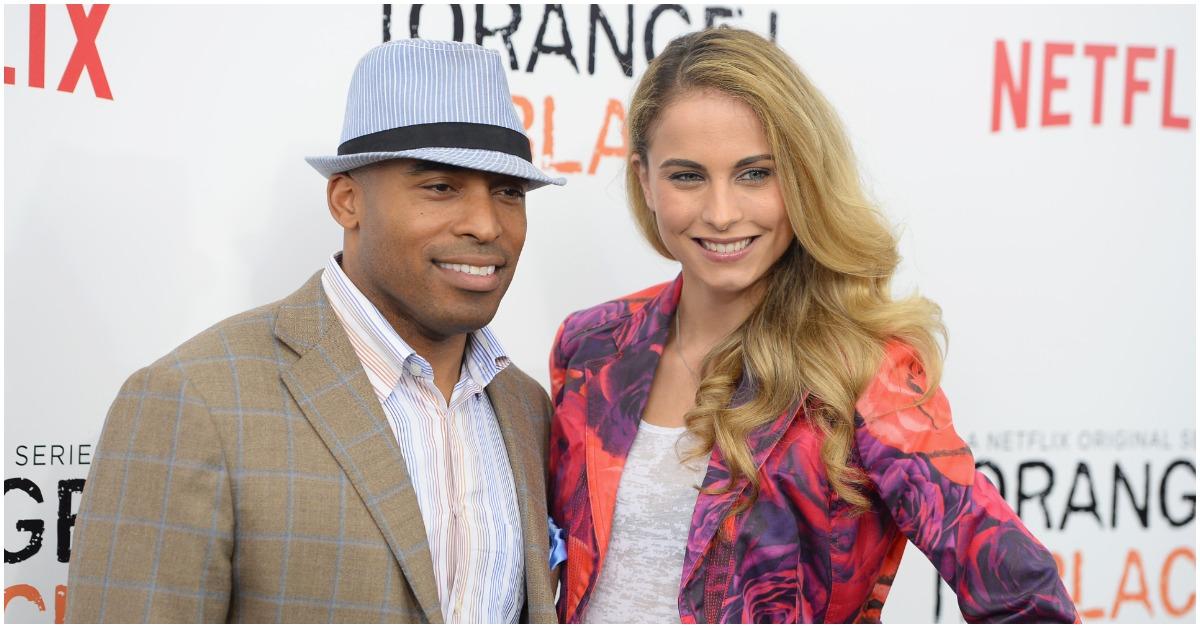 Article continues below advertisement
Traci and Tiki stated their relationship didn't become romantic until he and Ginny separated. In an interview with Sports Illustrated, the athlete claimed he asked his ex for a divorce in 2009, following over two years of couples counseling. After finalizing his divorce from Ginny in 2012, Tiki married Traci at the NYC Clerks office in July of that year. They went on to welcome Brooklyn in 2013 and Teagan in 2016. However, the buzz around Tiki and Traci's dating timeline has followed them years later.
Article continues below advertisement
On RHONJ, Teresa brought up the rumors after Tiki asked her boyfriend, Louie Ruelas, about his videos that circulated online. During the episode, the RHONJ OG brought up a specific rumor that Traci had worked as a "nanny" for Tiki before Ginny found out they were having an affair. After the episode aired, Traci shared her thoughts on the drama between her and Teresa on Entertainment Tonight. The TV personality defended her marriage and said their relationship never began with infidelity.
"I was not the cause of my husband's divorce from his first wife," she said. "I most certainly was never the nanny. That's just shameful for people to even think or say because that's hurtful to not only me but to my husband and his ex-wife and their kids. So it's just a vicious rumor. But I welcome the questions, as opposed to Teresa, who just wants to run away from them all."
Article continues below advertisement
Traci also said that despite the rumors she and Tiki still face, she's happy they can show their authentic romance and the life they've built.
"This was a great opportunity for Tiki and I to come in and really show that we have a true love story," she added. "This wasn't some fly-by-the-night type of scandal that happened and we broke up. I think this was a good testament to our love story, and it also gave me an opportunity to set the record straight."
Watch new episodes of The Real Housewives of New Jersey on Tuesdays at 8 p.m. EST on Bravo.