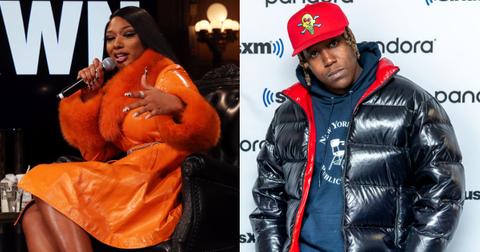 TikTok Has Popularized Some of the Best Rap Songs to Come Out of 2020
By Lizzy Rosenberg

Updated
Back in the '90s and early 2000's, most of us discovered new hip-hop artists through VH1's legendary Top 20 Video Countdown, and from watching MTV dating shows.
These days, on the other hand, zoomers and millennials alike often tend to flock to TikTok for new rap music. To be honest, TikTok rap songs basically make up the soundtrack to 2020.
So, here is a list of some of the biggest songs that got famous on the social media platform:
"Bored in the House" by Curtis Roach
It's safe to say that Curtis Roach's "Bored in the House" rap defined many of our "early quarantine days," and inspired a ton of hilarious videos of people doing absolutely nothing in their homes, like the one above.
The song is beyond catchy, and gaining notoriety, Curtis officially re-recording a version of the jam with Tyga. Needless to say, he rose to fame pretty quickly from this undeniably catchy song that he seemingly made up on the spot.
"Say So" by Doja Cat
Although Doja Cat had already dipped her toes into the music scene last year, the rapper and singer gained most of her fanbase after the polarizing TikTok dance her hit song, "Say So" went viral.
It ended up being one of the most popular dance songs earlier this year on the app, and now, she's one of the top rappers of 2020.
"WHATS POPPIN" by Jack Harlow
Jack Harlow's "WHATS POPPIN" shot to fame when TikTok users started somewhat using it as a meme. When the line "what's poppin?" comes, the person in the video generally turns around to reveal themselves to the viewer, or they turn to their pet to give them a kiss, as Charli D'Amelio did in the video above. It's definitely a catchy song and is applicable to so many different situations.
"Captain Hook" by Megan Thee Stallion
We aren't entirely sure who originally choreographed the moves to "Captain Hook" by Megan Thee Stallion, but the viral dance certainly brought the song to life via TikTok. Although Megan had already been relatively popular with her hit jam "Hot Girl Summer" in 2019, this definitely put her on more Spotify radars.
"After Party" by Don Toliver
Don Toliver's "After Party" caught the attention of TikTokers across the globe, and eventually turned into a viral dance. Popular TikTok kween, Addison Rae, for example, recorded herself dancing to the song in the video above. With a solid beat and easy-to-recall lyrics, "After Party" is the ultimate pre-game song.
"Savage" by Megan Thee Stallion
The creation of TikTok was certainly a blessing for Megan Thee Stallion, as a number of her songs have gotten tremendously popular on the app. "Savage" became so popular, that someone even created a Tiger King version, which sounds as though it was sung by Joe Exotic, about the his rival conservatory owner. Some might even say her version is "the song of the summer."
"Party Girl" by StaySolidRocky
StaySolidRocky's "Party Girl" is another rap song that emerged from the depths of TikTok alongside a viral dance. Shortly after "Party Girl" went viral, the musician came out with his first album, "Fallin."
Clearly, several rappers have gained popularity through TikTok in 2020. Even if you aren't about learning the dances, the songs are definitely dance-worthy.