This Is the Trump Resignation Letter That Has the Internet Howling
Trump wrote a resignation letter to SAG-AFTRA when he learned they would be doing a disciplinary hearing to expel him. Here's what it says.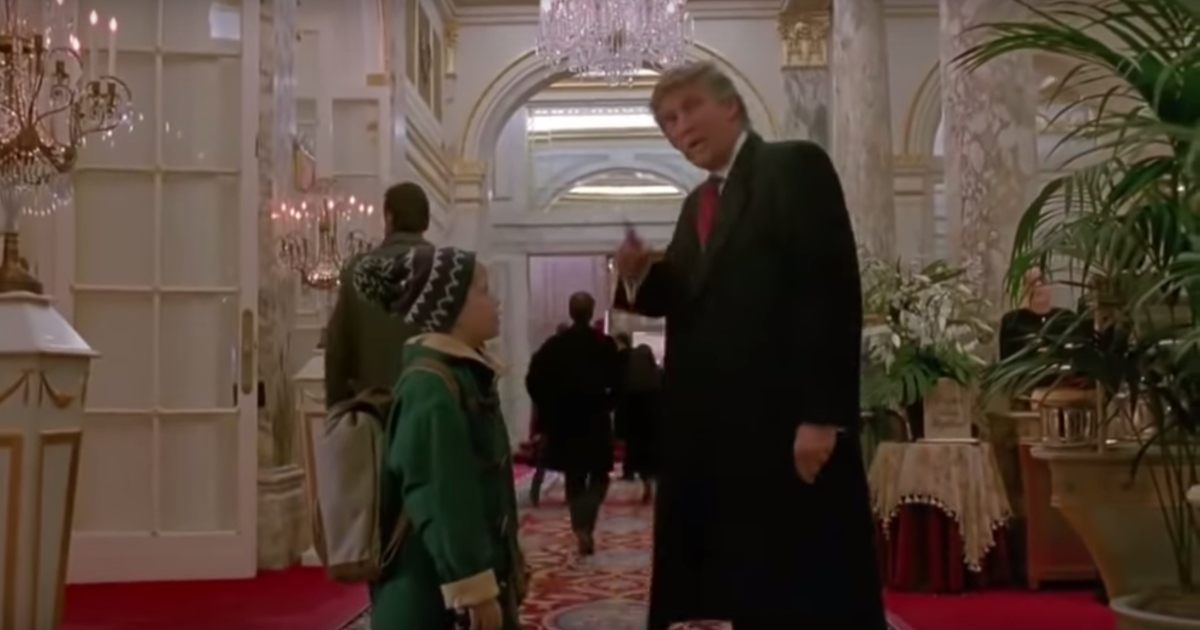 Even though he's no longer the president, Donald Trump somehow never ceases to stay out of the spotlight for too long. However, Trump has now written a resignation letter from SAG-AFTRA, so it's possible he won't be able to steal the show as easily going forward. Upon learning that the Screen Actors Guild would be having a disciplinary hearing to potentially expel Trump from the union for inciting an insurrection at the Capitol, Trump decided to resign.
Article continues below advertisement
Not unlike many others during the pandemic, Trump lost his job. However, Trump was voted out of the presidency, and now he has sent in a resignation letter for his second job as an actor. Since Trump has been banned from many social media platforms, this is the first we've heard from Trump in a while, and his resignation letter did not disappoint. His tone was expectedly similar to the tone of his old tweets, simultaneously mocking and self-aggrandizing.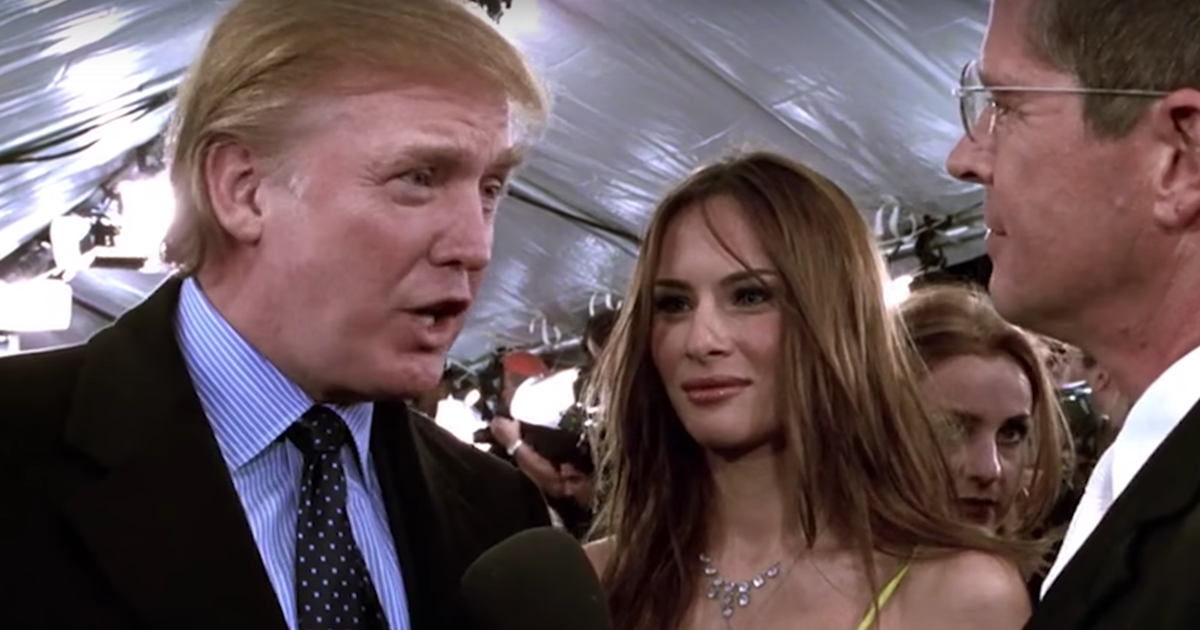 Article continues below advertisement
Trump sent a resignation letter to SAG-AFTRA to resign before they could expel him.
After the Capitol riots on Jan. 6, SAG-AFTRA held a special session to discuss how to take action, since Donald Trump was one of their members. On Jan. 19, the union published a statement saying, "SAG-AFTRA's National Board voted overwhelmingly to find probable cause of a violation of SAG-AFTRA's Constitution by member Donald J. Trump." Trump was informed there would be a disciplinary hearing, and because of that, Trump wrote a resignation letter to the union.
Article continues below advertisement
Although this measure was taken as a result of the Capitol riots, this has been a long time coming. The SAG-AFTRA executive director, David White, stated, "Our most important role as a union is the protection of our members ... This individual's words and actions over the past four years have presented actual harm to our broadcast journalist members." Trump has shared violent rhetoric against the "evil media," so it's not unsurprising that SAG-AFTRA has taken action.
The Trump resignation letter was welcomed by SAG-AFTRA's leaders.
Trump seemingly wrote and sent his resignation letter in a blind fury. The letter begins, "I write to you today regarding the so-called Disciplinary Committee hearing aimed at revoking my union membership. Who cares!" He goes on to list all his accomplishments as part of the Screen Actors Guild (pretty much just Home Alone 2, Zoolander, and of course, The Apprentice, "one of the most successful shows in television history," according to Trump.)
Article continues below advertisement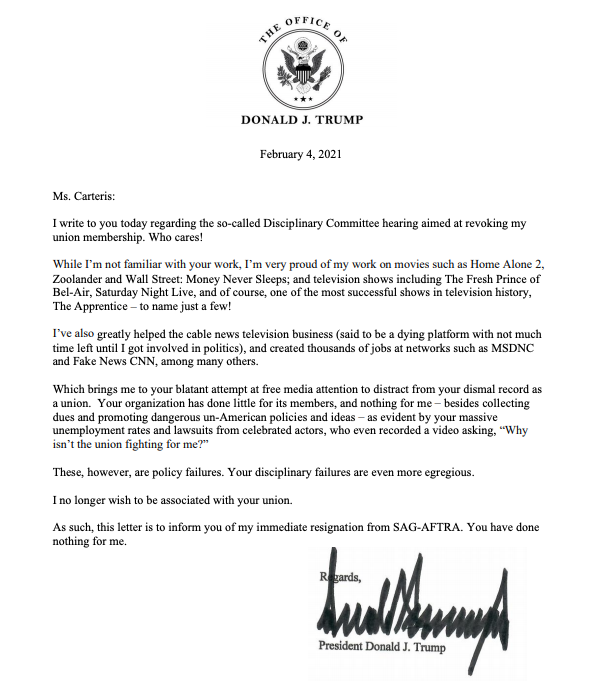 He continues to say that he was responsible for creating thousands of jobs in the media and makes up some puns for the more liberal news networks. In his resignation letter, Trump calls the networks MSNBC and CNN, MSDNC and Fake News CNN, respectively.
Article continues below advertisement
Trump ended his resignation letter by signing off with "... this letter is to inform you of my immediate resignation from SAG-AFTRA. You have done nothing for me." However, David White and Gabrielle Carteris, the union's president, welcomed Trump's resignation letter with open arms. SAG-AFTRA simply responded, "Thank you."
Article continues below advertisement
People on social media are loving Trump's resignation letter.
Some celebrities and journalists, like Roxane Gay and CNN anchor Jim Acosta, tweeted their reactions to the Trump resignation letter. Roxane tweeted that she thought it was a joke and went on to share some more, less forgiving words about Trump, calling him "immature."
One Twitter user so aptly stated, "He's breaking up with them before they break up with him." Trump wrote the resignation letter as a gesture of power, like a sour soon-to-be-ex-boyfriend. But the user pointed out some more concerning issues. The same tweet explained, "The letter has some serious problems though. He is still referring to himself as President Donald Trump, and he is also using the Presidential Seal, which is illegal."
Article continues below advertisement
While we can all crack jokes, it's important to note the severity of Trump's behavior. The Screen Actors Guild realized that Trump's words could cause harm when violence towards elected officials and members of the media reached a peak on Jan. 6, and because of that, Trump has gifted us with his resignation letter.