"Too Many Pickers" — Customer Says They Can Barely Shop at Walmart Anymore
Doesn't anyone shop from home anymore? One tiny Walmart customer is frustrated by all the Walmart pickers blocking the aisle.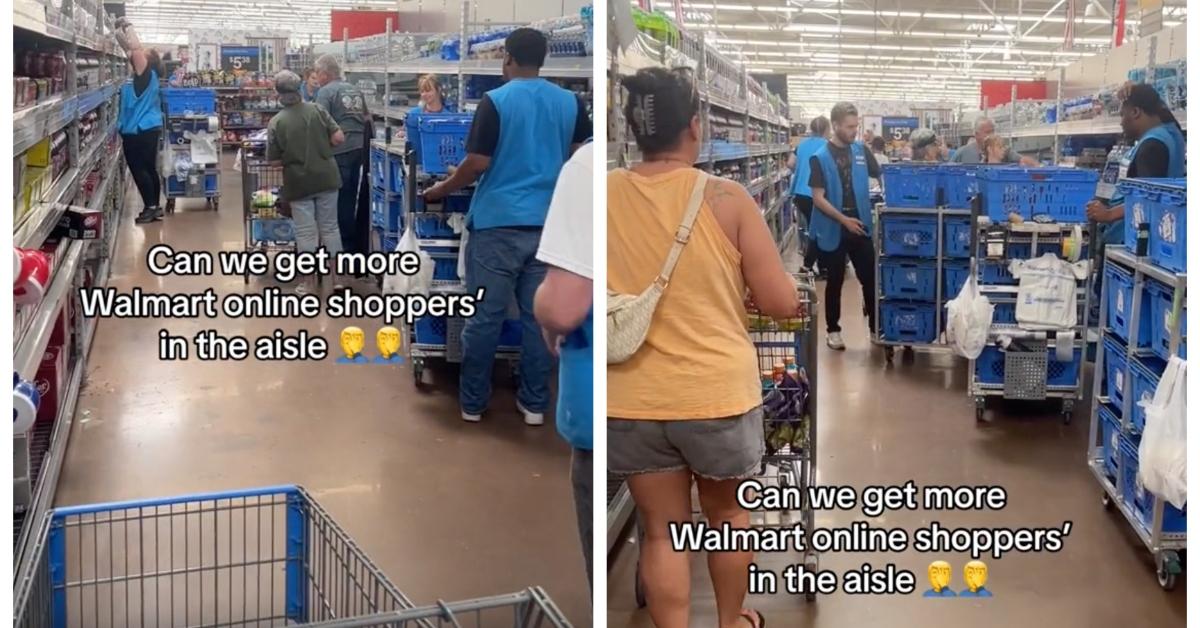 A personal shopper is often considered a luxury that only the very rich and/or the very famous can afford. Personal Shopper is also a thriller starring Kristen Stewart where her aversion to fully smiling really comes in handy.
Since the height of the COVID-19 pandemic, the role of a personal shopper has come to mean something else.
Article continues below advertisement
Take Walmart for example, and their digital shopper position. They help people who have ordered something online for curbside pickup. One of the downsides to this is, instead of using shopping carts they have special carts with baskets on them that take up more room in the aisles. This leaves less space for in-store shoppers with carts, which is why one tiny customer didn't shy away from sharing their opinion about this. Let's jump into the shopping fray!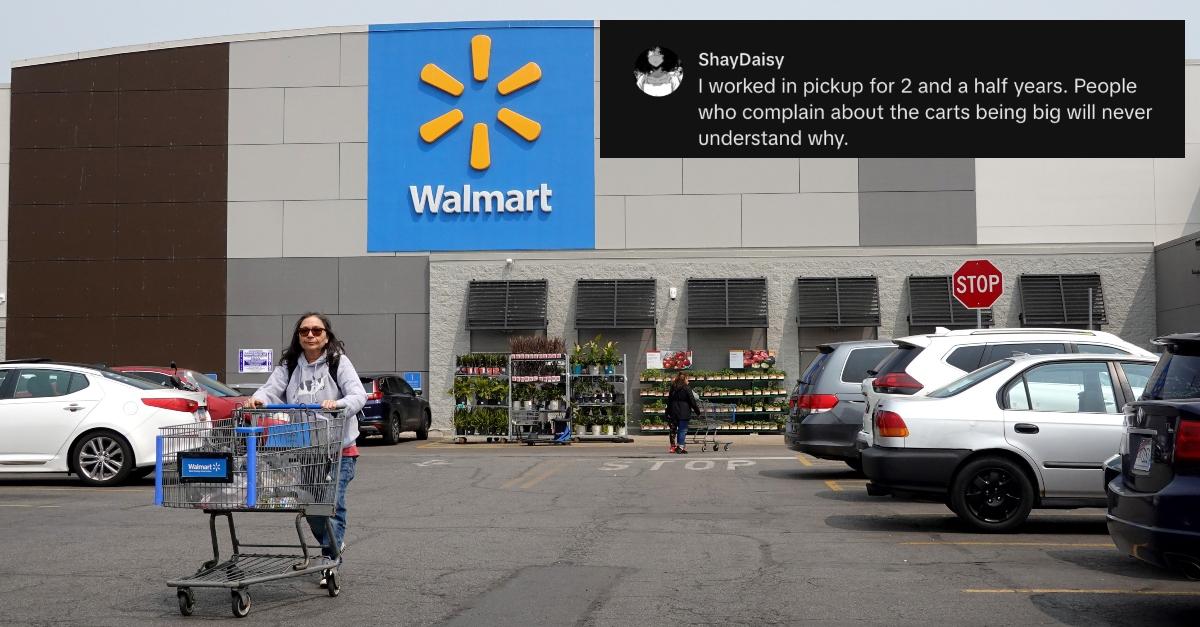 Article continues below advertisement
Is this TikToker being picky or are there too many pickers?
Has the internet finally broken me? Do I no longer understand wholesome humor? Or, am I deeply addicted to the brief dopamine hits that come with shopping? Who can say?
What does tend to get under my skin is folks complaining, even in jest, about people in the service industry. You know, the people who worked all through the height of the COVID-19 pandemic?
I can already feel myself putting too fine a point on this, but what social media is often lacking in is nuance. Over an eight-second video featuring Walmart digital shoppers using the right side of the aisle, a child's voice is heard saying, "This is bulls---," while a woman laughs. A caption over the video sarcastically reads, "Can we get more Walmart online shoppers in the aisle?"
Article continues below advertisement
Obviously, their carts are in the way but guess what happens when an in-store shopper with a shopping cart stops to pick up an item. Their cart is in someone else's way. That's kind of how it goes.
Article continues below advertisement
Also, people shop online for many reasons. Perhaps they have a health condition or are otherwise impaired. Maybe they are the sole caretaker of a child and can't leave the house. Who knows. What we do know is, online shopping is not only a convenience but it facilitates the necessity of digital shoppers which is job creation.
Article continues below advertisement
The internet is divided when it comes to Walmart pickers.
"Sorry, haven't stepped foot inside Walmart in months. Love the curbside pickup," wrote one TikTok user. I would never victim blame by suggesting that people who comment on videos are a reflection of the creators, but there are a lot of mean replies to that comment and comments in general. More than a few are ableists.
For every person who enjoys the convenience of online shopping, there are several who take issue with the attitude of the pickers.
"It's not that they're there, it's the way they don't stand to the side or will run you over without saying a word. It's so weird, lol." This could be a chicken or the egg scenario. Who is rude to who first, the in-store shoppers or the pickers?
Article continues below advertisement
One person smartly pointed out that digital shoppers are no different than regular shoppers. A cart is a cart after all. At the risk of projecting, the real issue here might not be about space but rather what a digital shopper symbolizes.
More than one person referred to an online shopper as "lazy," and I bet that's where a lot of the ire comes from. It's not space in the cart sense, but space in the human sense. If that's the case, I'd love to take a look at their Amazon order history. I'm sure it's robust.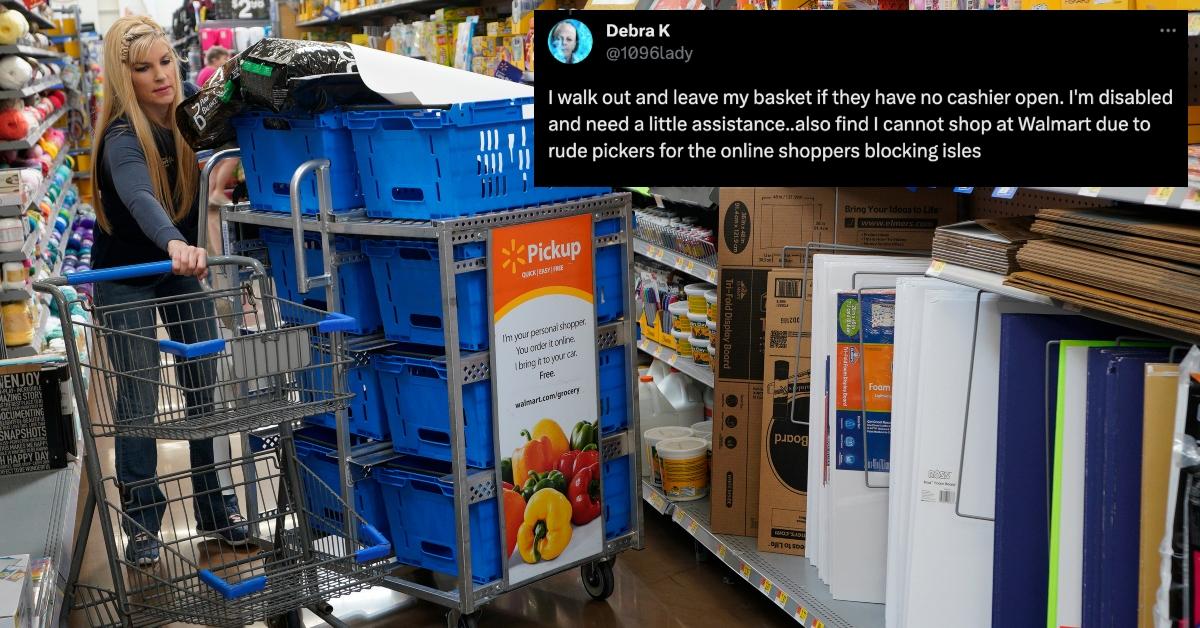 Article continues below advertisement
What is being a Walmart picker really like? We need the other side of the story.
TikTok user @duperhitv, real name Savian, dropped a TikTok about the day in the life of a Walmart digital shopper. After he picks up the necessary equipment, Savian is able to access a customer's order. The machine he uses also provides the aisle number for the product. "I gotta find it, pick it, prepare their order, and when they come pick it up ... I gotta give it to them."
So, he's under a time crunch which can be stressful and could explain his occasionally running other people over.
After scanning each item, a ticket is printed that Savian then sticks to each product. Once he has scanned an item, it's on to the next. "Sometimes it's not in the right spot," he says. "You really gotta search for that s---." You know what doesn't help with this? In-store customers who decide they don't want an item, so they put it where they are standing instead of where they found it.
Once all of the shopping is complete, the cart is brought to the fulfillment area. Some items are going to be shipped, so Savian has to prepare those. After that, he begins a new order. I think the moral here is, everyone has to work together to make this as seamless as possible.
The online shoppers, in-store shoppers, and pickers are all part of the living organ that is capitalism, something we should definitely be more picky about.