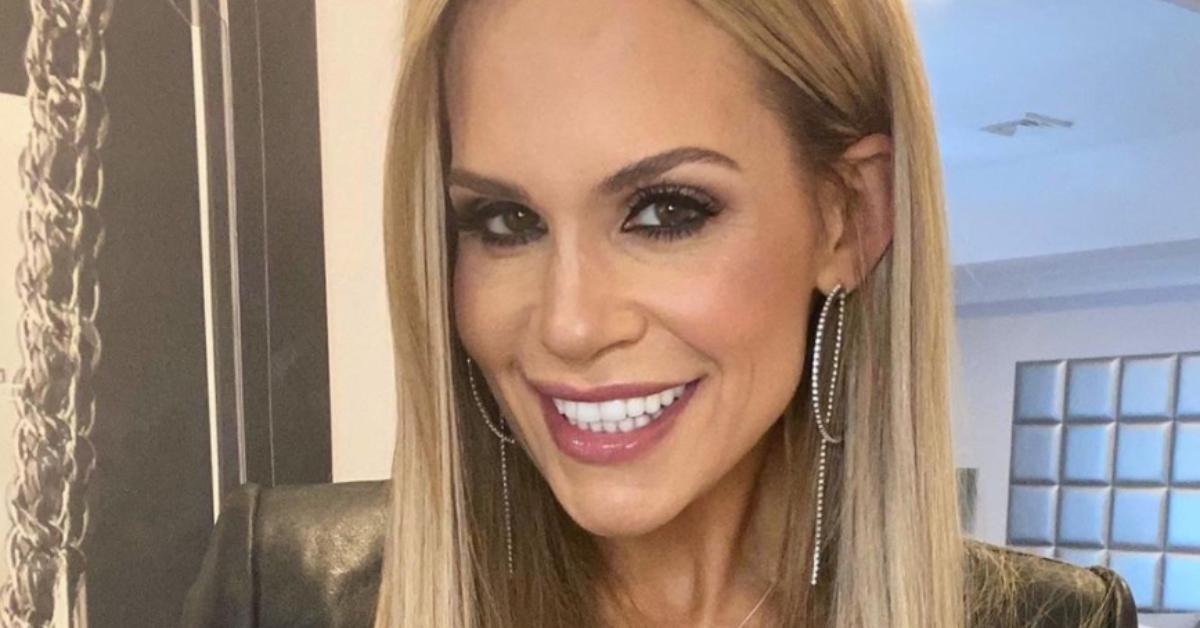 'RHONJ' Fans Claim Jackie Goldschneider Is About to Get Sacked — What's the Truth?
Real estate attorney and blogger Jackie Goldschneider joined the cast of RHONJ in Season 9. As a new rumor has it, her time on the show might be coming to an abrupt end soon.
Article continues below advertisement

Some believe Jackie and Dolores Catania will get sacked, while Melissa Gorga is facing the prospect of getting demoted from full-time cast member to "friend of the housewives." So, is the fan theory anything to go by? What's going on?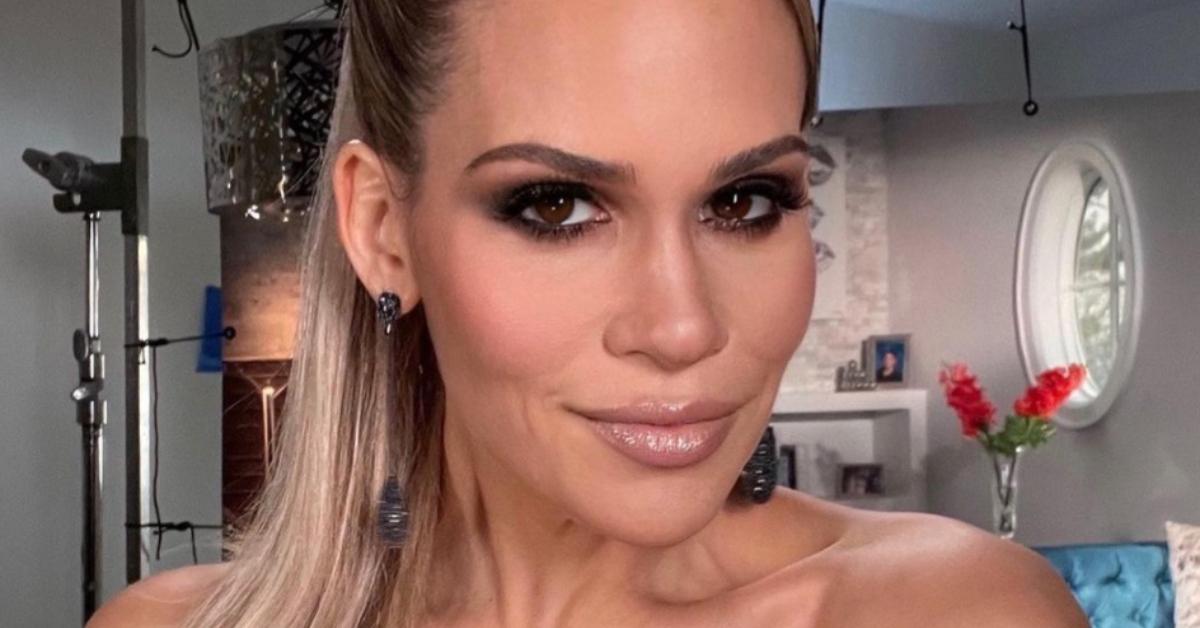 Article continues below advertisement
Is Jackie Goldschneider about to get fired from 'RHONJ?'
On Feb. 20, 2021, a casting director named Heather Mundy posted a call for Garden State-based socialites on Instagram.
"The Emmy-winning Creative Content Group and ITV America are looking for upscale glamorous women who are living the fabulous life in New Jersey," reads the post.
Many fans took the post as a sign indicating that a larger-scale cast shakeup is about to take place over at RHONJ. So, what does the future hold for Jackie?
"Not a chance," Joe Benigno commented on the latest rumors.
Jackie joined forces with Margaret Joseph's husband, Joe Benigno, to shut down the rumors via two Instagram comments.
"Not a chance," wrote Joe under a post detailing the alleged overhaul.
"People are cray," commented Jackie.
Article continues below advertisement
Although Jackie is credited on "Kiss My Peach," the RHONJ episode broadcast on March 17, 2021, she had a significantly smaller role to play than in previous episodes. This may have amplified the rumors about her potential disappearance from the show.
At present, it's uncertain what might be next for Jackie. If her and Joe's comments are anything to go by, there's a chance that she will end up staying on RHONJ.
Article continues below advertisement
Season 11 of 'RHONJ' explores Jackie's heated fight with Teresa Giudice.
Season 11 of RHONJ dealt a heavy blow to Jackie and her husband, Evan.
The episode titled "C U Next Tuesday?" captured Teresa Giudice's attempts to trigger some explosive drama by distributing hot gossip to the unsuspecting guests attending Evan's birthday shindig.
As to the nature of the rumors? Teresa claimed that Evan is pursuing illicit affairs at his local gym. Needless to add, the move didn't go down all that well with the hosts of the event, who promptly called out Teresa on her impolite behavior.
After Teresa refused to budge, Jackie coined an analogy highlighting how the false narrative impacts her family life. In an explosive scene, she told Teresa that Gia, her daughter, uses cocaine.
Article continues below advertisement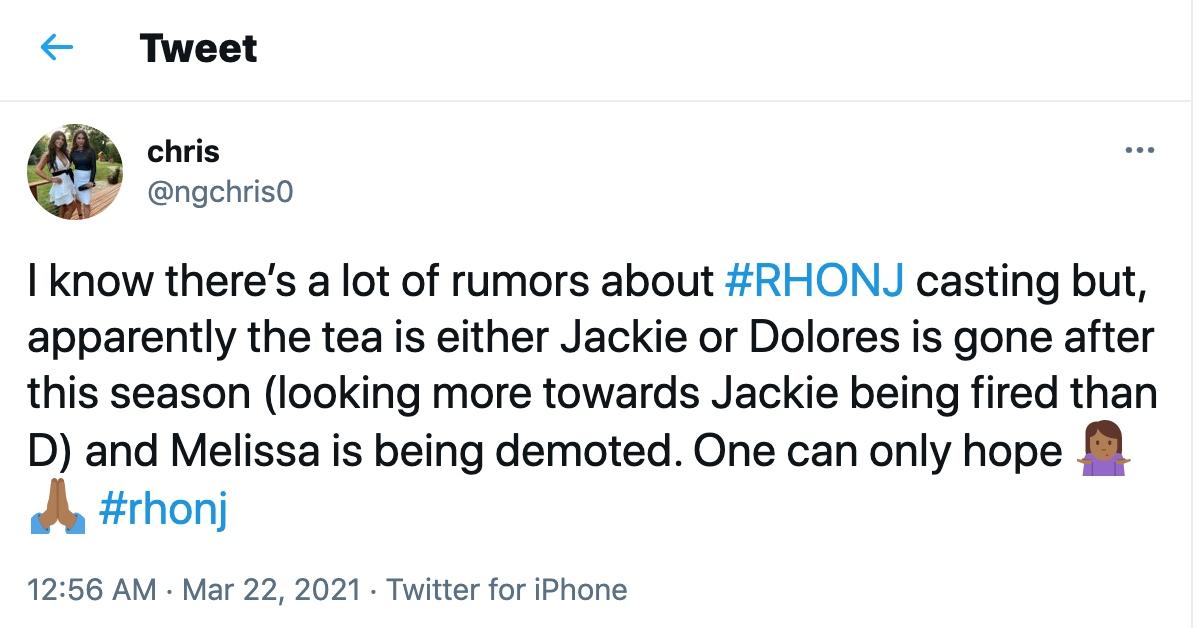 The fight between Teresa and Jackie might not be over just yet.
Although most fans didn't take the makeshift rumor too seriously, it upset Teresa anyway.
A preview for a new episode of RHONJ teases the next installment of the feud. In the clip, Teresa gave Jackie and the rest of the friendship group a gift they will hardly forget: vibrators.
"This matches my eyes, I love it," Margaret told Teresa in an iconic scene.
Article continues below advertisement
But not everyone was equally enthused.
"It's kind of big. Jackie, I don't know if it's going to fit up your a-- but maybe you should just try it," Teresa attacked Jackie in the same clip.
The ongoing fight had a divisive impact on fans, some of whom have decided to side with Teresa — while others think that Jackie deserves an apology.
"Side note, I feel like people who are lighthearted and fun are siding with Teresa and people who are like boring and always on one are with Jackie #rhonj," tweeted @PettyGirlEri.
Catch new episodes of RHONJ every Wednesday at 9 p.m. ET on Bravo.