Melissa Gorga Responds to Rumors That She Was Fired From 'The Real Housewives of New Jersey'
Could the 'RHONJ' firing rumors be true amid Melissa Gorga and her husband Joe Gorga's ongoing feud with Teresa Giudice? Here's what we know so far.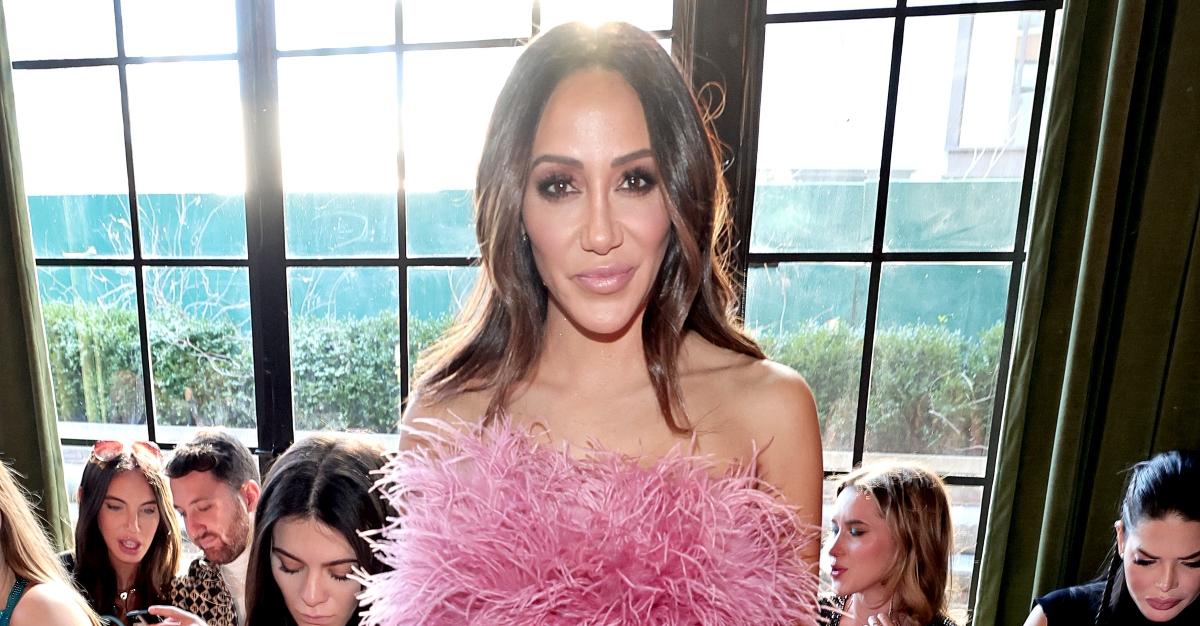 Firing rumors are swirling in true Housewives fashion! And the most recent victim? It's The Real Housewives of New Jersey's time-honored star Melissa Gorga. After her April 2023 appearance on Watch What Happens Live With Andy Cohen, rumors of her impending sacking from the Bravo reality series spread like wildfire.
Article continues below advertisement
Things have been tense for the entirety of RHONJ Season 13, so it wouldn't come as a total shock if this was her final season on the long-running reality series. Could the firing rumors be true amid her and her husband Joe Gorga's feud with Teresa Giudice? Let's get into it.
Article continues below advertisement
Was Melissa Gorga fired from 'The Real Housewives of New Jersey'? The reality star's future on the Bravo series may be at stake.
Rumors are swirling that the RHONJ star may not return for future installments of the Bravo reality series. During Melissa's guest appearance on WWHL, a heated confrontation led fans to believe Melissa might receive the boot from production sooner rather than later.
Andy Cohen asked Melissa "how deep" her longstanding feud with Teresa truly goes, prompting an aggressive response from Melissa's husband, Joe, in the audience. "Go deep! No, go deep. No, we're not done. Who's done?" Joe shouted.
The fiery exchange caused viewers to think that the married couple's future in the series is coming to an abrupt halt. So, are the firing allegations true? No one from Bravo has confirmed that Melissa is on the way out, but she did comment on the rumors herself.
Article continues below advertisement
Melissa Gorga responded to the 'RHONJ' firing rumors.
On April 27, 2023 the RHONJ reality star finally addressed the elephant in the room. While attending the NYC Second Chance 3rd Annual Rescue Ball, The U.S. Sun asked Melissa if there was truth to the firing rumor. And her answer was ambiguous (to say the least).
"I do not know what Bravo's going to decide. I have no idea," she responded at the time. However, Melissa had some thoughts when asked if her sister-in-law Teresa possesses the "power" to get her kicked off of RHONJ.
"No, I do not," the reality star told the outlet. "I think the Tre [Huggers] started the rumor, and people went with it, which is crazy to me."
Article continues below advertisement
But her former co-star Kim DePaola (AKA Kim D) believes otherwise. When speaking with The U.S. Sun, the Posche owner said the Gorgas are "lucky if they get another season." She also argued that Teresa holds more power at Bravo than anyone.
"Nobody could ever steal her spotlight. She is the queen of Bravo," the RHONJ friend explained. "There is no one that Bravo has given more power to than Teresa. She has an enormous amount of power."
'RHONJ' alum Caroline Manzo thinks Melissa Gorga's firing will arrive at the last minute.
When speaking on the Behind the Velvet Rope podcast, former RHONJ star Caroline Manzo shared her thoughts on Melissa's potential firing. And it ultimately, boils down to timing.
"You don't know what's gonna happen until this show airs and how it's received and what the people at Bravo are thinking when they sit around their table and discuss things," the Manzo'd with Children star explained.
"There [are] so many moving parts to this. So I think anyone would be foolish to make a judgment call at this point in the game."
New The Real Housewives of New Jersey episodes air on Tuesdays at 9 p.m. ET on Bravo.