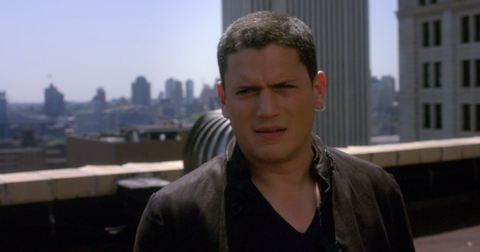 Did 'SVU' Make a Huge Continuity Error in Season 21?
By Pippa Raga

Updated
Updated 11/1/19: While "Murdered at a Bad Address" left us in tears, the episode also left us scratching our heads. Wentworth Miller, who we expected to see in his previous SVU role as Officer Nate Kendall, made his return as someone totally different — out gay Fordham law professor and mentor of Sonny Carisi. 
The Queens-based lawyer is a strong believer in justice, and would rather let 100 guilty men walk than convict a single innocent one. Now that the squad has successfully released Carlos Hernandez, we expect to see Wentworth's character again this season.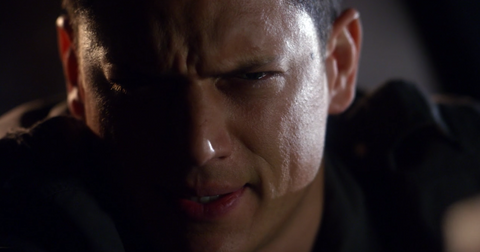 Here's a quick recap on the detective.
Wentworth Miller reprises his role on SVU as Detective Nate Kendall.
Christopher Meloni isn't SVU's only actor who played a detective on the show and a prisoner on another. Indeed, Prison Break's heartthrob Michael Scofield (Wentworth Miller) is coming back to the police procedural series.
We first met Wentworth's character Detective Nate Kendall in Season 11's premiere, "Unstable." It was an intense start to the season that began with Nate Miller in the back of a police car being so aggressive with a suspect that he ends up "vacat[ing] his bowels" in the backseat.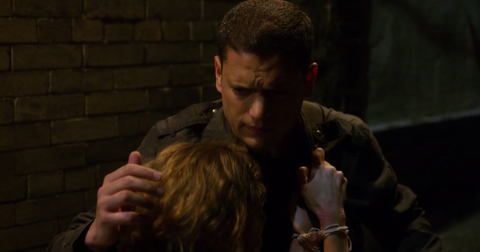 Nate works for the "2-4," or NYPD's 24th Precinct, in layman's terms. As he's dealing with his "methhead" perp in the cop car, a woman, Rena West, runs across the street with a sheet wrapped around herself. When he identifies himself, she admits that she's been raped.
"Superficial knife wounds and wrist restraints, doc says no semen but evidence of tearing," Officer Kendall tells Stabler and Benson. "Everything was bagged, tagged and sent to forensics."
And while Benson and Stabler can't see Kendall out the door quickly enough, and he can't wait to leave SVU either ("I don't like victims, they cling," he admits to the officers), the victim refuses to talk to anyone but Kendall himself.
Captain Cragen decides that the only way to solve this case is to keep Nate on the SVU squad for the time being. "We're out of options," he says. "Either work with him, or I'll find somebody who will."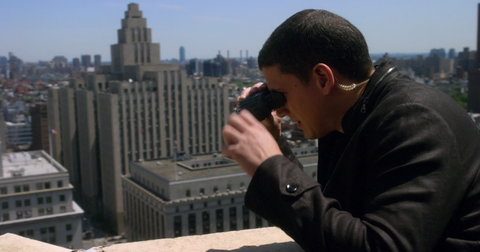 As it turns out, however, Nate Kendall isn't just hard to work with. He's also incapable of talking to trauma victims. When Rena refuses to speak without him, and Benson has to explain that she will have to tell her stories several times so they can catch the man who raped her, Kendall doubles down.
"You aren't going anywhere," he orders. "The bastard who did you is out hunting his next mark. You gonna let her get screwed because you're fragile?" While the squad is appalled at his tactics, which later involve him crashing into a suspect who is trying to flee on foot and even later, assaulting that suspect's crack-smoking ex-wife, his dubious methods work on Rena, who opens up to him completely.
Detective Kendall is also shown to be incredibly sympathetic towards children, and says at one point that some underage victims remind him of his late 10-year-old daughter Kelly. We learn that after his ex-wife and daughter moved away to Seattle, they both died after his ex got involved with a drug dealer who blew up their house while preparing meth.
We look forward to seeing him 10 years since his last appearance when Season 21 of SVU picks up where the Season 11 premiere left off. After all, the rapist ends up killing himself at the end of the episode, and we're not sure whether the victims will get justice at all.
New episodes air Thursdays at 10 p.m. on NBC.