Jennifer Lopez Broke Into Spanish During Her Inauguration Performance — Here's What She Said
During her inauguration performance, Jennifer Lopez paused to recite the last few lines of The Pledge of Allegiance in Spanish.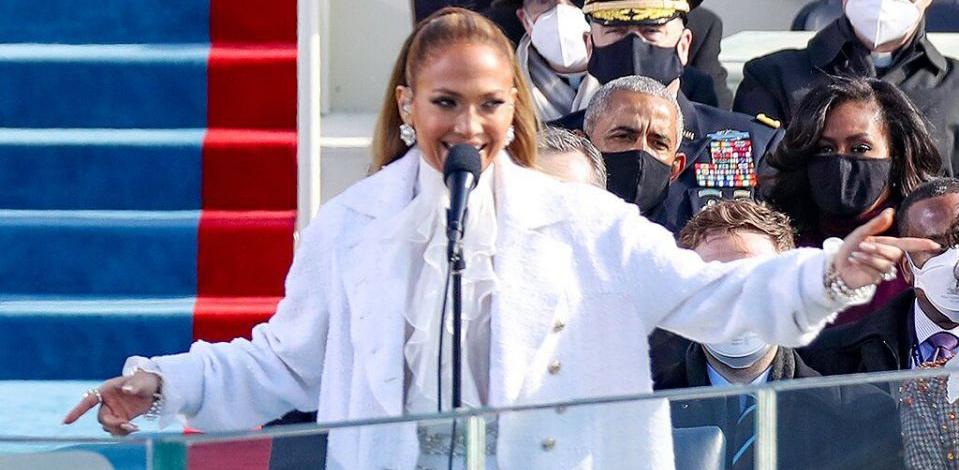 On Jan. 20, a long list of high-profile celebrities joined President Joe Biden and Vice President Kamala Harris in Washington, D.C. to commemorate a history-making occasion — made even more historic with Jennifer Lopez's performance of "This Land Is Our Land" and "America the Beautiful."
While most of us were mesmerized by Jennifer's all-white ensemble and ageless skin, many non-bilingual fans are wondering what exactly J.Lo shouted in Spanish in the middle of her Inauguration Day performance.
Article continues below advertisement
So, what did J.Lo say in Spanish during her inaugural performance?
Before the end of J.Lo's inaugural performance, she paused to recite the last few lines of The Pledge of Allegiance in Spanish. She shouted, "¡Una nación, bajo Dios, indivisible, con libertad y justicia para todos!" which — translated into English — means "One nation, under God, indivisible, with liberty and justice for all."
While this may be J-Lo's first Inauguration Day, she isn't new to promoting cultural representation on major stages — she's true to it. Last year, Jennifer and Shakira nearly broke the internet with their Super Bowl Halftime performance that featured J-Lo draped in a feather cape resembling a Puerto Rican flag and if that isn't doing it for the culture, we don't know what is.
Article continues below advertisement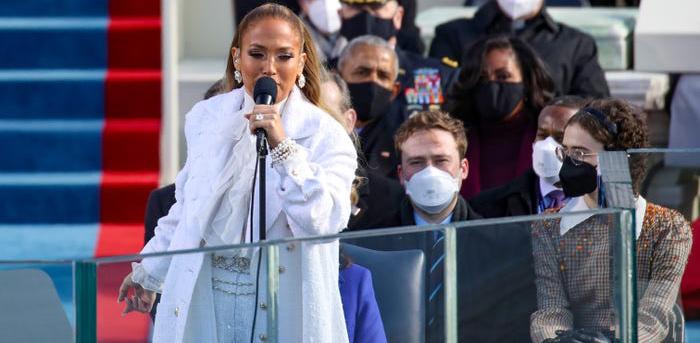 After spending the last two decades packing stadiums and arenas with adoring fans, you would think that, for J-Lo, performing at the White House would be a piece of cake, but according to her fiancé Alex Rodriguez, today's performance hit quite differently for the entertainer.
Article continues below advertisement
He told Jimmy Fallon on The Tonight Show, "What's interesting is she's most nervous about Washington, D.C., because of the responsibility, and she wants more than anything, like all of us, to bring people together, to inspire. And you know, music and sports does that better than anything."
Jennifer has a long-standing relationship with politics.
During the 2020 election, Jennifer — who has a history of being vocal about politics — publicly backed Biden and made a strong call to action regarding voting in a recent interview with Elle, "I've told everybody who works around me, all my family, 'Don't even talk to me if you haven't voted.'"
Article continues below advertisement
She concluded, "The world right now is so confusing to me, because I feel like we all know that things need to change. It doesn't matter if you're Republican or Democrat, if you're looking at the world right now, you know that we can do better — you know that. We can't stay with this administration, we just can't. It's the definition of insanity."
What did Jennifer Lopez wear to the 2021 Inauguration?
If there's one thing about Jennifer Lopez, she didn't come to play — and this was especially true when it came to her Inauguration Day 2021 outfit, which quickly gained popularity online after her performance. For Jenny's inaugural day slay, the 51-year-old entertainer wore an all-white, floor-length tweed Chanel coat over a ruffled silk blouse and sequined wide-leg pants. She wore Chanel pearl earrings with a matching bracelet and belt in support of Harris.