Did Zach "Emotionally Cheat" on Mindy in 'Married at First Sight'?
Arguably the most mismatched couple on 'Married at First Sight', what did Zach do to Mindy for her to feel emotionally cheated and who lied about it?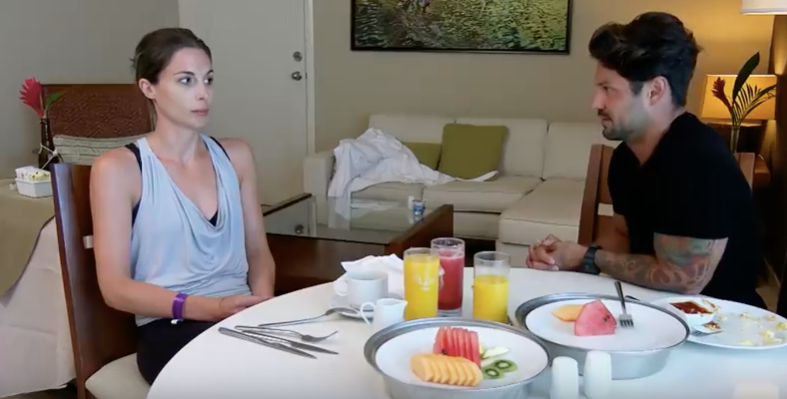 If you've been watching Season 10 of Married at First Sight, then you might as well have been watching the Zach Acts Like a Jerk for an Hour Show. You'd be hard pressed to find a fan of the series who is actually rooting for Zach Justice or who believes he hasn't totally slighted his now-wife Mindy Shiben.
Article continues below advertisement
He said that he wasn't attracted to her, ignored her when she tried to talk about what she was missing in the relationship, and refused to move in together after the honeymoon like he initially agreed to. But is there even more happening under the surface? Rumor has it that Mindy will be accusing Zach of having an "emotional affair", but did he really? Who's lying and who is telling the truth?
Article continues below advertisement
According to a 'MAFS' fan account, Mindy says that Zach lied and cheated. But did he?
Not many people are big fans of Zach's, including the other couples, who don't think he's taking what he signed up for seriously. And, according to @mafsfan on Instagram, there might be more of a reason to think he's not taking the show as seriously as he agreed to.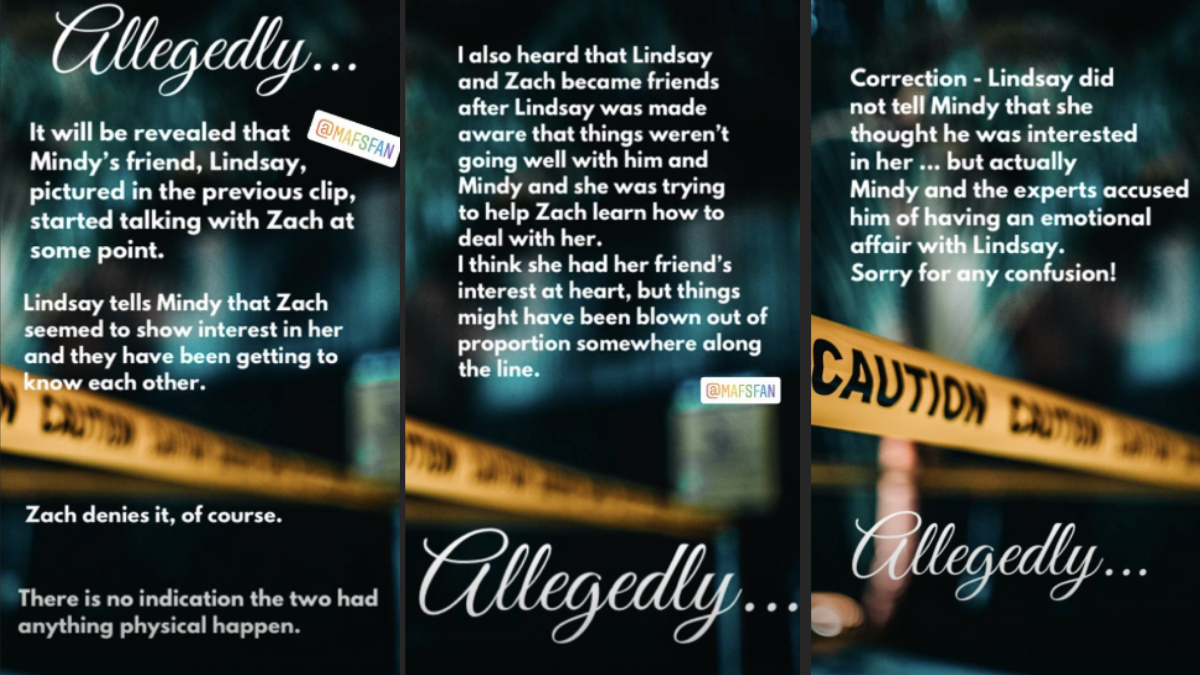 Article continues below advertisement
According to @mafsfan, Mindy and the MAFS experts are going to accuse Zach of "emotionally cheating" on his bride. We met Mindy's friend Lindsay at the wedding, but she might just play an important role later in the season. Allegedly, Lindsay and Zach will develop somewhat of a friendship and that he may even talk to Lindsay about his marriage issues. But Lindsay will become uncomfortable with what's happening and will let Mindy know that her husband has been contacting her.
The problem is we don't quite know what the nature of their relationship is.
Mindy and the experts allegedly accuse Zach of emotionally cheating on his wife after finding out about Lindsay. But supposedly, Zach never actually shows any interest in Lindsay. Nothing physical goes down either.
Article continues below advertisement
And, rumor has it, he even only went to Lindsay to see if she had any advice with how to communicate with his wife better, as she's Mindy's best friend and of course knows her quite a bit better than he does. And we've already seen on the show that Mindy's friends have gotten involved over their concern for her marriage.
Article continues below advertisement
So are Mindy and the experts lying about what Zach has been up to? Or is Zach going to lie himself to get out of doing something a lot worse than just not wanting to wear a ring? One has to question, if Zach really was just trying to learn to be better for his wife, how much of the season has been Zach acting like a real jerk and how much of it might have just been clever editing?
We'll most likely never know that for sure, but we can find out if Mindy really does accuse Zach of cheating by catching a new episode of MAFS on Wednesday at 8 p.m. on Lifetime.