Kamala's Broken Necklace in 'Ms. Marvel' Has Several Layers of Meaning
What does Kamala's broken necklace mean in 'Ms. Marvel'? It's an iconic part of her Ms. Marvel comic book costume, but also has another meaning.
Spoiler alert: The following article contains spoilers for both the Ms. Marvel TV show (Episode 5) as well as the comics.
How does Kamala Khan's (Iman Vellani) broken necklace act as part of the shape of her new identity as the superhero Ms. Marvel? The Disney Plus series is slowly but surely explaining how Kamala's iconic Ms. Marvel comic book costume was created, piece by piece.
Kamala has yet to call herself Ms. Marvel in the television series. She's still figuring out who Kamala Khan is, let alone who she is as a superhero!
Article continues below advertisement
Kamala still doesn't believe that she's a legitimate superhero. How can she save others when she doesn't believe in herself? What Kamala must do is forge her superhero identity, without losing what makes Kamala so unique without powers.
That's why pieces of Kamala's Ms. Marvel costume, like her broken necklace, are so vital to her character development.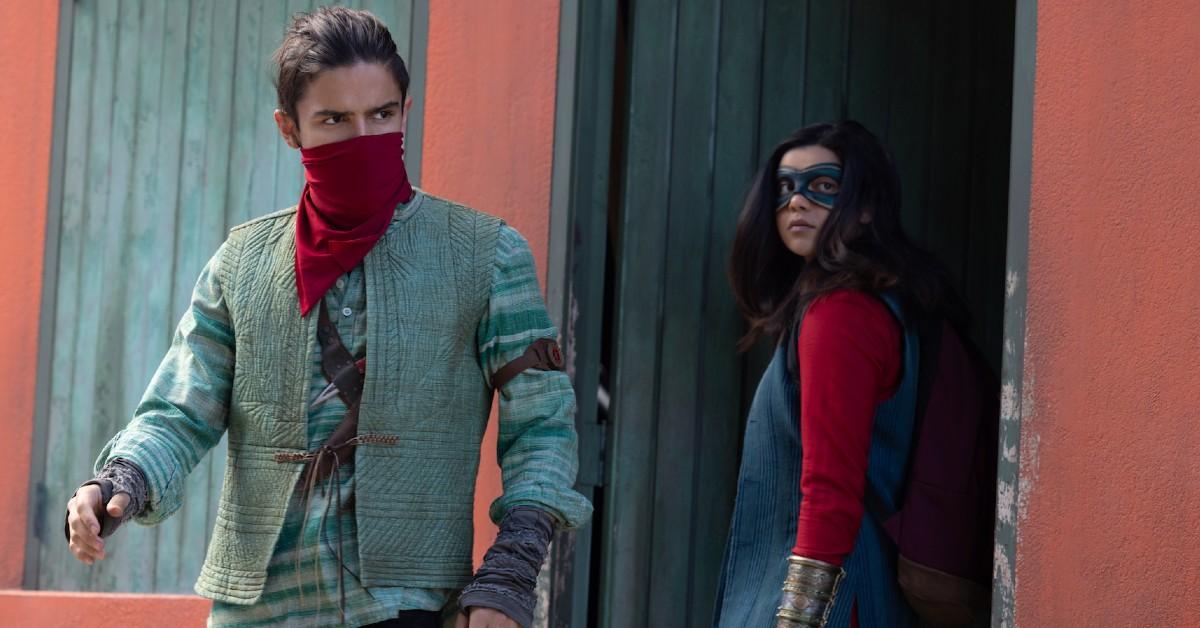 Article continues below advertisement
What does the broken necklace mean in 'Ms. Marvel'?
After Muneeba (Zenobia Shroff) and Sana (Samina Ahmad) reunite with Kamala in Ms. Marvel Episode 5, Kamala runs off to bid farewell to Kareem (Aramis Knight). Kareem gives her his red scarf, adding another layer to Kamala's iconic comic book costume.
Meanwhile, Muneeba finds Kamala's necklace. She holds it up to examine it, telling Sana, "It's Kamala's. It broke." Although the broken necklace does look like a lightning bolt, there's actually a deeper meaning to the shape!
The original, unbroken necklace spelled out Kamala's first name in Arabic. While the broken shape does resemble a lightning bolt, it also appears to look like the letter "K" in Arabic.
So even though Kamala is working on crafting her own superhero identity as Ms. Marvel, she never truly loses herself as Kamala Khan— and nothing encapsulates that better than her broken necklace.
Article continues below advertisement
Kamala's broken necklace also has another meaning in the 'Ms. Marvel' comics.
It's no secret at this point that Kamala hero-worships Carol Danvers (aka Captain Marvel) in the Ms. Marvel television series and the original Ms. Marvel comics. Kamala finally meets Carol at one point in the comics, and fails miserably at keeping it cool.
Thankfully, comic book Carol is super kind to Kamala and gives her a locator pendant with a lightning bolt on it, in case Kamala ever needs her help, per the official Marvel website.
Kamala might idolize Carol, but she's on the fast track to molding her own identity as a legitimate superhero. Now that she's got her iconic necklace, red scarf, blue vest, and face mask, all our heroine needs now is genuine confidence in her abilities. Because that is the greatest superpower of them all.
The Ms. Marvel finale airs on Wednesday, July 13, 2022, only on Disney Plus.