19-Year-Old TikToker Cooper Noriega's Cause of Death Confirmed by Coroner
What happened to Cooper Noriega? The TikToker and social media influencer died at age 19. What happened? Read on to learn more.
Model and social media influencer Cooper Noriega, who obtained 2.8 million TikTok and 599,000 Instagram followers with a series of posts exploring his day-to-day life in Los Angeles, died at the age of 19 in June of 2022. The star, who frequently collaborated with the likes of Nessa Barrett and Jordan Huxhold, was found dead on the 500 block of North First Street in Burbank, Calif. What happened to Cooper?
Article continues below advertisement
Cooper Noriega, a successful content creator and model, died at 19 years old.
Article continues below advertisement
A recovering substance addict, Cooper occasionally talked about his experiences with managing mental ill health and going clean. He announced his decision to launch a Discord channel to discuss mental health-related queries on Monday, June 6, 2022.
Cooper Noriega's cause of death was confirmed in December of 2022.
On Dec. 19, 2022, the Los Angeles County Medical Examiner-Coroner released information regarding Cooper's death. He died from the combined effects of fentanyl, lorazepam, and Xanax. His death was found to be accidental.
Article continues below advertisement
Cooper Noriega posted a chilling video on TikTok hours before his tragic death.
Cooper took to TikTok to post a short clip on Thursday, June 9, 2022. In the video, he can be seen lying in bed. He chose the caption, "Who else be thinking they gon' die young af [sic]." The video has since been deleted.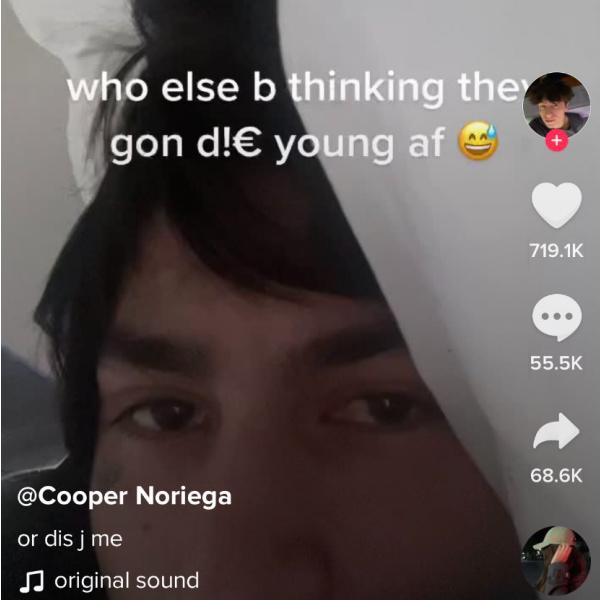 Article continues below advertisement
Cooper Noriega celebrated a year of sobriety in October 2021.
Cooper previously discussed his experiences with substance addiction. He shared with his followers that his struggles began when he was 9 years old. "You may think that's crazy, but that's the life I've been dealt," Cooper explained, via Metro.
Cooper would take to Twitter to celebrate his sobriety anniversaries, via the Sun. On Jan 10, 2021, he marked his 90th day sober. On Feb. 21, 2021, he reported to Twitter that he had been clean for 131 days.
Cooper shared another update on May 19, 2022. "Yes, I've been taking care of myself. I mean y'all probably saw my [Instagram] story, I literally was just up f--ing trading stocks and making money moves. I've been doing really good ... mentally, so yeah. Also been on my work grind got a lot for y'all ... Be ready," he tweeted.
Article continues below advertisement
Sabrina "Sab" Quesada, Nessa Barrett, and others paid tribute to Cooper.
Sabrina shared a post commemorating Cooper's spirit on Saturday, June 11, 2022. "The light of my life, you're the best thing that ever happened to me. I'm so sorry, my love. May we meet again," she wrote in the caption.
Article continues below advertisement
Nessa addressed Cooper's passing on Sunday, June 12, 2022.
"I've spent the past two days trying to comprehend how this could be real. There's simply no way of processing the loss of your best friend," she wrote. "I'll spend the rest of my life finishing everything we've ever dreamed of. I want to make you proud."
Cooper's sister, Parker, also made a statement. "Hi, everyone. On behalf of our family, we want to thank you all for the kind words of our little Coop. His passing is an absolute tragedy to our family and loved ones. We pray that we all as a community can continue on his legacy. He loved each and everyone of you. Please feel free to reach out to us as we love feeling all the support. Bless you all … with love, his sister," she wrote on Instagram on Sunday, June 12, 2022.