Genya Undergoes a Terrifying Transformation in 'Demon Slayer' — Here's What Really Happened
What happened to Genya Shinazugawa in 'Demon Slayer: Kimetsu no Yaiba'?
Spoiler alert! This article contains plot details for Demon Slayer: Kimetsu no Yaiba.
Any fan of Demon Slayer: Kimetsu no Yaiba will know that there is a blurry line between human and demon. The series primarily follows Tanjiro Kamado, a young man who decides to become a Demon Slayer in order to help his younger sister Nezuko, who forcibly became a demon but has since maintained much of her humanity. Tanjiro soon joins the Demon Slayer Corps and fights alongside other formidable Demon Slayers to take on increasingly powerful demons.
Article continues below advertisement
Among his many allies and rivals, there's Genya Shinazugawa. Though he briefly appeared in the first season as one of the successful candidates for the Demon Slayer Corps' Final Selection alongside Tanjiro, he is formally introduced in Season 3, which premiered in April 2023.
His personality comes off as harsh and abrasive, concentrating on little else other than slaying demons. But as the Swordsmith Village Arc continues, Genya is revealed to hold a terrifying power. What happened to him in Season 3, Episode 5?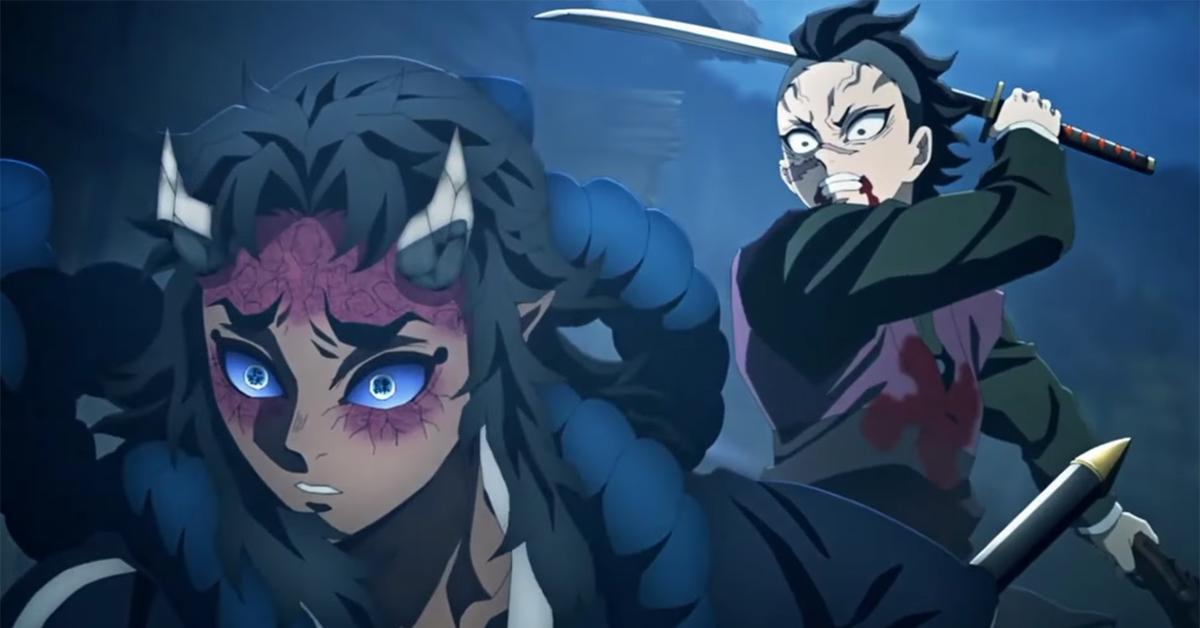 Article continues below advertisement
What happened to Genya in 'Demon Slayer'? Let's break it down.
Genya appears more substantially than he has before in the Swordsmith Village Arc of Demon Slayer. He is the younger brother of the Wind Hashira Sanemi who often rebukes Tanjiro's attempts at hospitality and friendliness. Nevertheless, they inadvertently ally with each other against a group of high-ranking demons. While Tanjiro and Nezuko hold their own, Genya is shown to have inhuman durability that allows him to survive blows that would otherwise prove fatal.
Working together with his sister, Tanjiro is able to overcome his foes by tapping into some of his new abilities. When he goes to check on Genya, however, he finds that he has completely beheaded his opponent. While initially relieved at Genya's victory, Tanjiro soon realizes that Genya's appearance has changed. He turns to Tanjiro to reveal his black eyes and sharp fangs. In other words, Genya's appearance is remarkably similar to that of a demon's.
Article continues below advertisement
The ongoing anime season will no doubt explore Genya's abilities in greater detail, but for fans who have already read the manga, they will already know full well what exactly what Genya has up his sleeve.
Article continues below advertisement
Is Genya a demon?
From the outset, it appears as if Genya was a demon in disguise. Of course, there's more to it than that.
In the manga, it is revealed that Genya became a Demon Slayer without using a Breathing Style, thought to be a fundamental technique among Demon Slayers. He has a variety of powerful abilities in his arsenal, but one of them involves consuming demons.
Genya possesses unusually powerful jaws and a unique digestive system, allowing him to consume demon flesh without any adverse effects. What's more, he gains abilities and powers based on the strength of the demon whose flesh he devours. Typically, this process alters Genya's appearance to look more demonic, but this does not actually make him a demon. Instead, he uses his unique set of skills to his advantage, compensating for his lack of traditional Demon Slayer techniques with his inherent strength.
New episodes of Demon Slayer premiere every Sunday on Crunchyroll.