Vachik Mangassarian, the Star of 'NCIS' and 'Lost and Found in Armenia,' Has Died at Age 78
'NCIS' actor Vachik Mangassarian passed away in January 2022 after contracting COVID-19. Read on to find out which character he portrayed on 'NCIS.'
Actor and The Armenian National Network host Vachik Mangassarian has passed away at age 78.
Born in Iran in 1943, the Armenian actor moved to the U.S. when he was 23, per NBC News. He landed one of his first roles in 1978, playing Vache Mangar in Samuel Khachikian's crime-drama thriller, The South's Shark. A prolific actor, Vachik had almost 50 acting credits. What happened to the actor? In which shows and movies did he appear? Who did he play in NCIS?
Article continues below advertisement
Who did Vachik Mangassarian play in 'NCIS'?
In a Season 1 episode of NCIS, he portrayed Sadiki Hassan, an Egyptian arms dealer. He returned to the show a few years later, playing a character dubbed as "Fake Iranian President" in Season 10, Episode 24.
Article continues below advertisement
Vachik died of COVID-19 complications, his manager, Valerie McCaffrey, told CNN. Valerie told NBC News that Vachik was vaccinated.
With a career spanning over almost five decades, he landed roles in a varied range of TV shows and movies.
Vachik Mangassarian appeared in 'Curb Your Enthusiasm,' 'Agents of S.H.I.E.L.D.' and 'The Mentalist.'
Vachik also appeared in the Season 9 premiere of Curb Your Enthusiasm. He got cast in the role of the "Cleric." In Season 1, Episode 3 of Agents of S.H.I.E.L.D., he played an eminent architect, Qasim Zaghlul.
Article continues below advertisement
Vachik also took on several arthouse projects, including Dylan Bank's Price for Freedom. The movie revolves around a dentist who suffers irredeemable losses during the Iranian Revolution. Based on Dr. Marc Benhuri's best-selling book, the drama casts new light on the bloodshed that ensued because of the political calamity.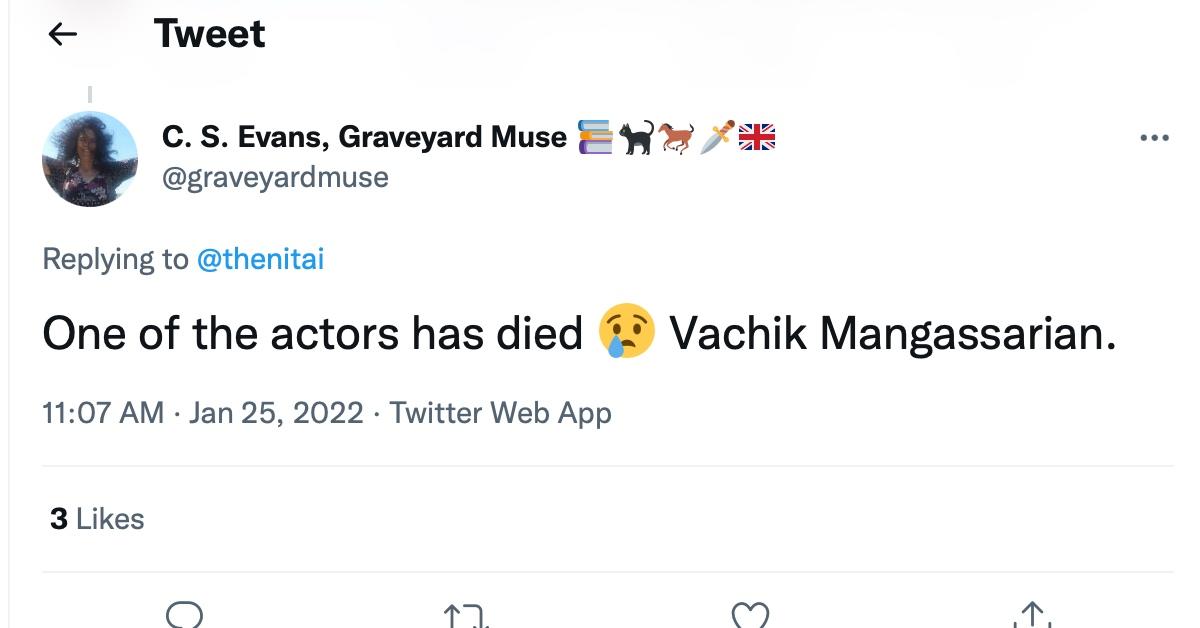 Vachik's other movies include The Stoning of Soraya M., an adaptation of French-Iranian journalist Freidoune Sahebjam's 1990 book with the same title. Vachik also appeared in Lost and Found in Armenia, a 2012 comedy about a heartbroken U.S. citizen who ends up in Armenia after a parasailing adventure takes an unexpected turn. In Lost and Found in Armenia, Vachik portrayed Josef.