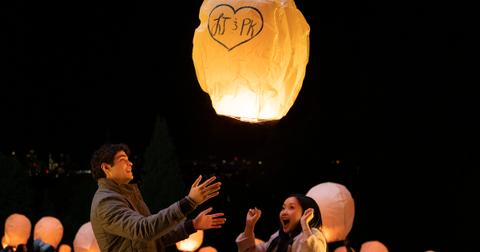 Lara Jean Ends Up With This Lucky Guy in the 'To All the Boys' Sequel (SPOILERS)
By Lizzy Rosenberg

Updated
Whether you're a 13-year-old girl or a 38-year-old man, there's a pretty likely chance you watched To All the Boys I Loved Before on Netflix — because really — who hasn't? The rom-com, based on a YA novel, stars Noah Centineo and Lana Condor. And in all seriousness, it was probably the most charming film I watched in all of 2018.
Article continues below advertisement
With the sequel now on Netflix, avid fans like myself may be a little hesitant to get invested in the story without knowing who Lara Jean does end up with in To All the Boys I've Loved Before: P.S. I Still Love You. What kinds of trouble will Kitty get herself into this time? Here is everything you should know about the film's love triangle and who Lara Jean picks in the end. But beware: there are some serious spoilers ahead.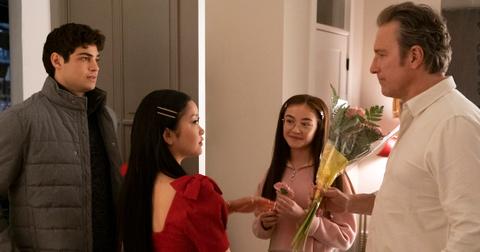 Article continues below advertisement
Apparently, the first book ended a little differently than the movie did.
If you don't quite remember the ending to Netflix's To All the Boys I've Loved Before film adaptation, let me jog your memory: Peter and Lara Jean had gotten in a fight over the fact that videos of them kissing in a hot tub during a ski trip were spread around their high school. But in the end, they make up, and get back together.
The ending to the first book, however, was a bit different. According to Bustle, at the end of the novel, Lara Jean and Peter are still broken up, but it ends with the line "Dear Peter," implying she writes him a love letter. Readers don't know what the letter is about or if she delivers it to him, but we know the story isn't over just yet.
Article continues below advertisement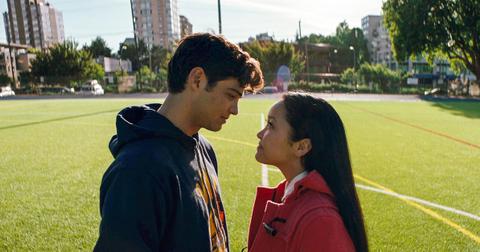 But here's what happens in the book, 'P.S. I Still Love You.'
Early on in the To All the Boys I've Loved Before book sequel, according to PopBuzz, Peter and Lara Jean make up and get back together. Shortly after, Lara Jean receives a response from John Ambrose McClaren, one of the five original boys who received a love letter in the first movie. Despite the fact John has obvious feelings for Lara Jean, they become pen pals.
Article continues below advertisement
In the book series, John wasn't a friend from Model U.N. — he had been childhood friends with Lara Jean, Peter, and Genevieve (now Lara Jean's ex BFF). Lara Jean ends up inviting John to a reunion party with Peter, and Peter ends up bringing Genevieve. This stirs the pot between Peter and Lara Jean, and Peter admits he invited Gen because her father has been involved in an affair. They step away from the matter and meet up later, to ultimately profess their love to each other. Aw.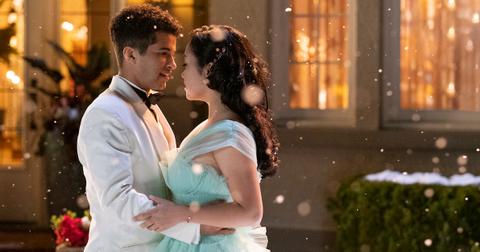 Article continues below advertisement
That's not exactly how it went down in the movie, 'P.S. I Still Love You.'
In the sequel, like the book it's based on, John and Gen both play a role in making Peter and Lara Jean question their relationship. Peter and his ex are caught hugging in a photo and, by that point, Lara Jean had had enough. She was tired of feeling second best in Peter's eyes and decided to break up with him. At the same time, she was getting much closer to John Ambrose.
But when Lara Jean talks to Gen, her ex-best friend confesses that Peter is supporting her while her parents are going through a difficult divorce because he too can relate to that situation. She admits that Peter tells her constantly how much he loves Lara Jean.
Despite knowing that Peter is still desperately in love with her, she ends up kissing John Ambrose — which only solidifies for her how much she only wants Peter. In the end, Lara Jean returns to Peter, deciding that he is her only love.
Netflix's film adaptation of To All the Boys I've Loved Before: P.S. I Still Love You is available now, so get the tissues ready and be prepared to both happy and sad cry.