Who Is Charithra Chandran in Season 2 of 'Bridgerton'? You Can Viscount on Us for Answers
We are mere weeks away from Season 2 of 'Bridgerton' and we are positively screaming. Let's meet Charithra Chandran and learn who she is this season.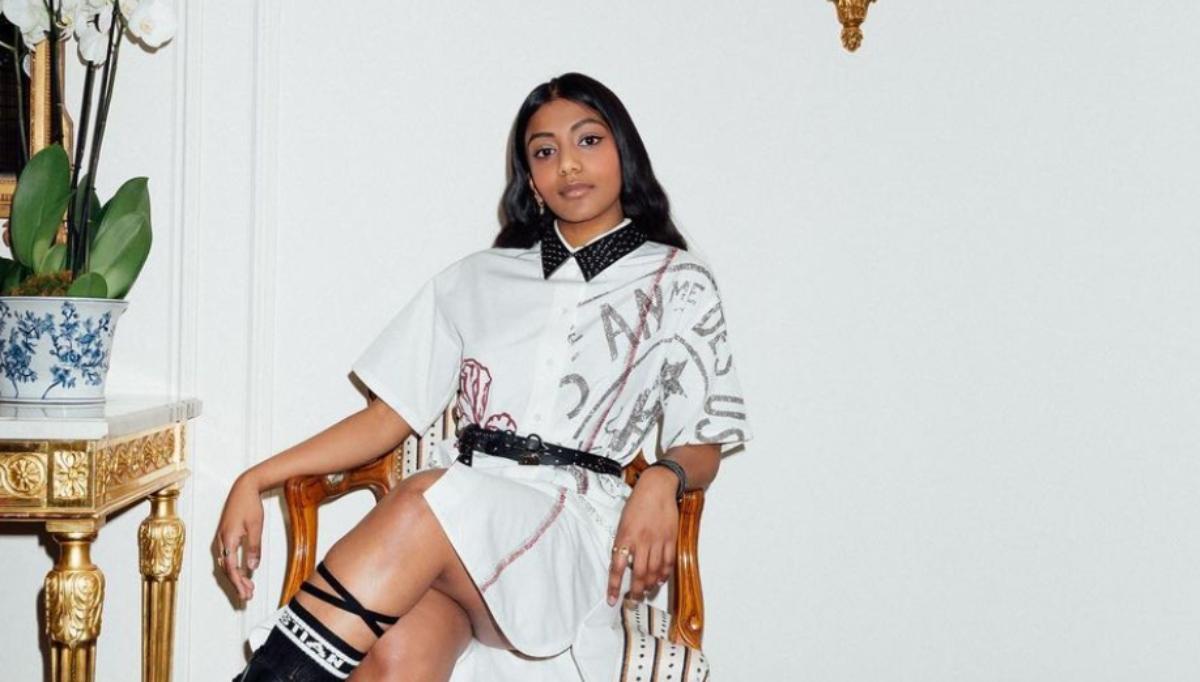 The full Season 2 trailer of Netflix's Bridgerton dropped March 9, and it's filled with a ton of sassy gossip worthy of Lady Whistledown herself. Like the second book in the series the show is based on, this season pivots away from the horniness of Daphne Bridgerton (Phoebe Dynevor) and the Duke (Regé-Jean Page) and over to Daphne's brother, the Viscount (Jonathan Bailey). Don't worry, the books are bodice-rippers, which means bodices and breeches won't remain on for very long.
Article continues below advertisement
Since the purpose of the new season is to find a lady for Viscount Anthony Bridgerton, there will be plenty of ladies in waiting. One of which is actress Charithra Chandran, who plays a prominent role in the new trailer. Who is Charithra Chandran from Season 2 of Bridgerton? No need to wait for Lady Whistledown; we have all the hot deets.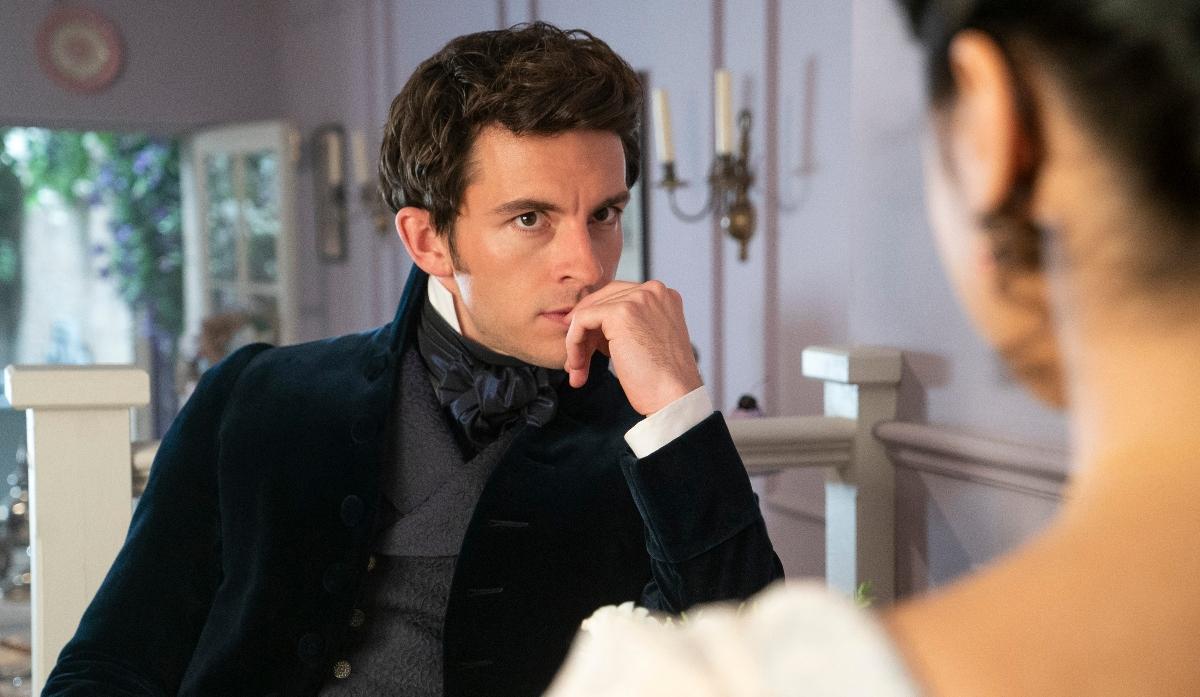 Article continues below advertisement
Who is Charithra Chandran from 'Bridgerton' Season 2?
Born and raised in Oxford, Charithra Chandran graduated from Oxford University in 2019 with a degree in politics, philosophy, and economics. While at school, she had become part of Oxford's theater scene, according to the Daily Mail.
After graduation, Charithra — who also trained with the National Youth Theatre from a young age, per the outlet — secured a job at a consultancy firm in London but decided to take a gap year before starting, during which she continued to act in local plays and short films.
Two years later, Charithra got her big break when she landed the role of Sabina Pleasance on Season 2 of the British spy drama Alex Rider. Funnily enough, Season 2 of Alex Rider and Season 2 of Bridgerton both begin March 25, although it's likely that Charithra auditioned for Bridgerton first. During a panel for Season 2 of Bridgerton, Charitha said she auditioned for Season 2 before Bridgerton even aired. After watching the show she thought, "I really want this now."
Article continues below advertisement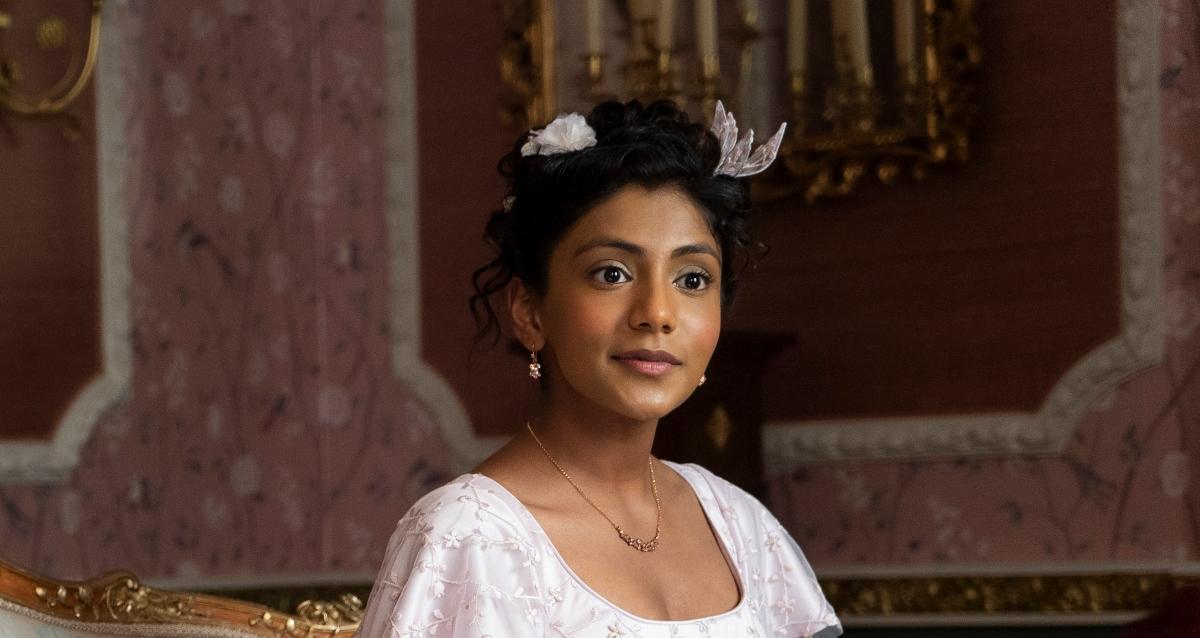 When asked by panel member Nicola Coughlan, who plays Penelope Featherington on the show, how she felt about joining the cast, Charithra said she didn't actually think it was going to happen. Both she and her mother are fans of the Pride & Prejudice series with Colin Firth and the Emma movie with Gwyneth Paltrow, both of which feature an all-white cast. "I never ever imagined that someone who looked like me would be in those outfits, in a show like that," she admitted during the panel.
Article continues below advertisement
We're excited to meet Charithra's character on 'Bridgerton.'
The trailer for Season 2 lays it all out for us when Lady Violet Bridgerton (Ruth Gemmell) announces at a ball, "This is the season the Viscount intends to find a wife." We then meet the two women who will be part of the the love triangle of the century, Kate Sharma (Simone Ashley) and her sister — Charithra Chandran's Edwina Sharma.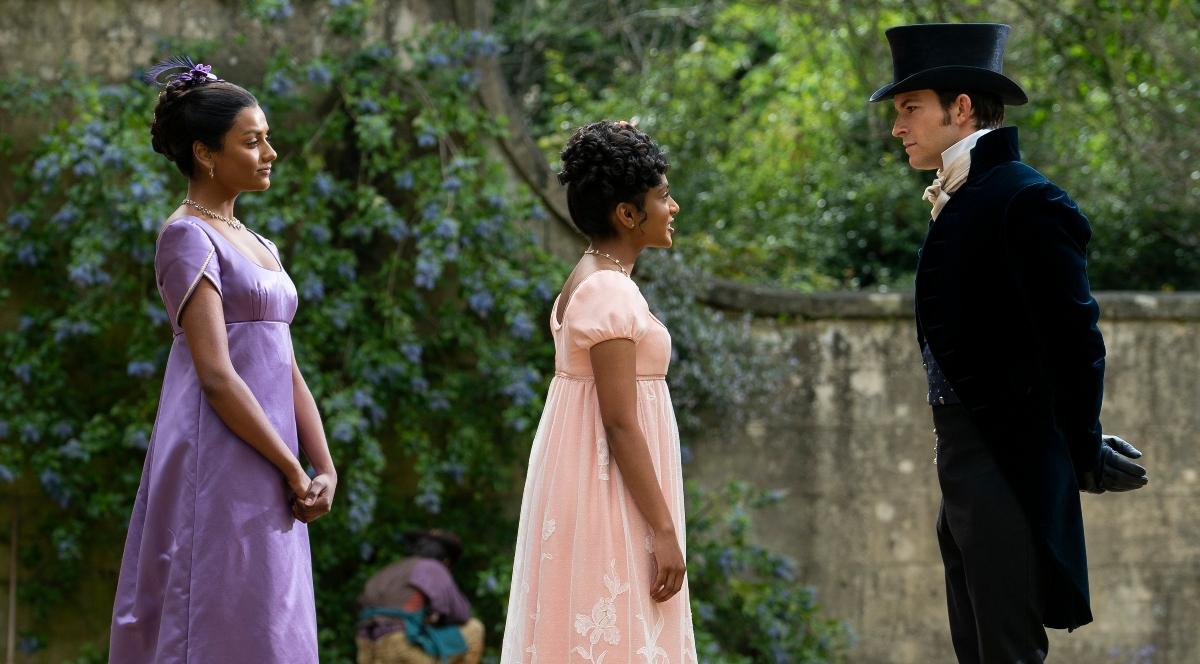 Article continues below advertisement
In an interview with World Is One News, Charithra described Edwina as someone who is "full of surprises," and who goes on a "huge journey this season."
According to the trailer, Edwina is looking for "someone charming, and handsome of course." That certainly describes the Viscount, who vows to look for a wife using his head and not his heart.
In order to get to Edwina, the Viscount will have to go through her sister Kate who is a tough nut to crack. It would appear we're in for some light Mr. Darcy–Elizabeth Bennet treatment with two strong-willed people denying their attraction for each other. Speaking of Pride & Prejudice, at one point the Viscount accidentally falls into some water, which we assume is a light nod to a wet Colin Firth–as–Mr. Darcy scene.
The battle between true love and duty will play out in this season of Bridgerton, and the prize is of course happiness. Who will the Viscount choose? We'll have to tune in and find out.
Season 2 of Bridgerton will be available to stream on Netflix March 25.