Hannah Brown Will Be Looking for Love on the New Show 'Celebrity Dating Game'
Who is Hannah Brown dating? It appears that things may have come to an end with Adam Woolard, as Hannah will be on 'Celebrity Dating Game.'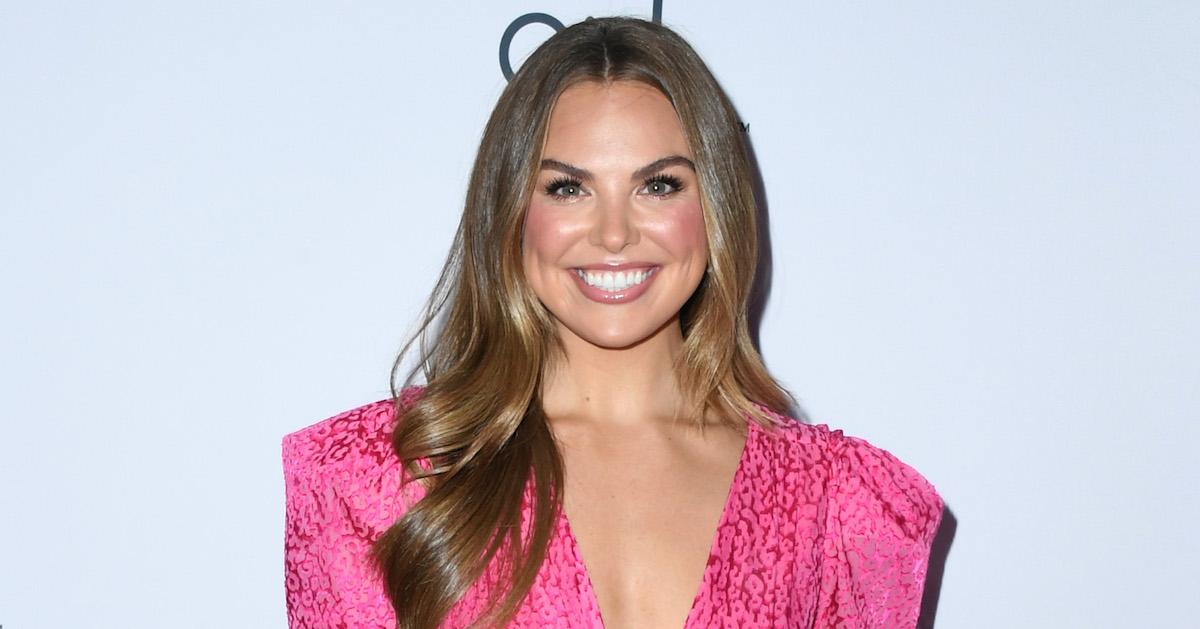 After she eliminated 24 suitors on ABC's The Bachelorette, it appeared as if Hannah Brown had finally found her match in aspiring country singer Jed Wyatt. Sure, we were disappointed that she eliminated Tyler Cameron, who fans have said is quite possibly the hottest guy to ever appear in the franchise, but perhaps she was charmed by Jed's guitar and his unique voice.
Article continues below advertisement
Alas, the couple was not meant to be, as Jed's girlfriend came forward and said that the two had been going strong until the moment he stepped foot in the Bachelor mansion. Hannah emerged from the show single, and fans were excited with her take-charge attitude and ability to call Jed on his BS.
When she was a contestant on Dancing With the Stars, rumors started flying that she was possibly dating her show partner, Alan Bersten. But a few months later, fans were convinced she was dating Tyler, after staying with the "quaran-team" at the beginning of the pandemic. Recently, the bombshell has been linked to a model. Now, she is set to appear on a new dating show. But who is Hannah Brown really dating?
Article continues below advertisement
Hannah is looking for love on 'The Celebrity Dating Game.'
Hannah is determined to find her perfect match! After watching the highs and lows of Hannah's dating life, fans of the Bachelorette alum have been hoping that she could finally meet the man of her dreams. And it looks like she's been given another shot in front of the cameras to make that happen.
Article continues below advertisement
People reports that Hannah will be one of the many celebrities that will appear on The Celebrity Dating Game hosted by Michael Bolton and Zooey Deschanel. A far cry from other dating reality shows, The Celebrity Dating Game gives stars the chance to pick between three people based on their answers to a variety of questions.
On the flip side, the suitors will have to guess who the celebrities are based on clues given to them — via song — by Michael Bolton's soothing voice.
Article continues below advertisement
The kicker is that the celebrities are not able to see how each bachelor or bachelorette looks. So, this game show takes the element of physical attraction out of the mix, in an effort to help celebs find a possible match on a deeper level.
Did Hannah Brown meet her new boyfriend on 'The Celebrity Dating Game'?
Back in January 2021, an alleged insider close to Hannah told E! News that she is dating model Adam Woolard. The insider said that Hannah is "smitten" with him and that she's happier than she's been in a while.
"Hannah feels she has finally found someone who is on the same page as her," the insider shared. "She could tell his intentions were pure and loves that Adam shares the same values. She also loves that he is involved in multiple charities and is just a straight-up good guy."
Article continues below advertisement
In a candid Q&A she posted to her YouTube channel shortly after that, Hannah dished on all the details about her relationship with Adam. Although he wasn't present in the video, Hannah's new boo submitted his answers ahead of time, which she read to fans on camera.
When one fan asked Adam what his initial thoughts about Hannah were when he met her, his response was that she was "effortlessly beautiful and vibrant and a little frantic, but so beautiful. Instant spark."
Article continues below advertisement
Hannah gushed to fans during the video, saying, "Every day is so great. He's just awesome." She is clearly ecstatic about her latest love interest. "I'm telling y'all, he's the nicest person I've ever met," she continued.
On her feelings prior to meeting Adam, Hannah admitted that she was "just very hesitant [to fall in love]," then added, "I don't know why I'd be hesitant about love or relationships. Weird." It's clear now that the couple is very much in love, gushing about each other on social media and in interviews.
Article continues below advertisement
After Hannah quarantined with Tyler Brown's famous "quaran-team" in March 2020, where she and Tyler flirted and made TikTok videos together, fans were convinced they resumed dating once again. But Tyler confirmed that their relationship isn't romantic, which made sense, as Hannah previously said she was taking a much-needed dating hiatus at the time.
Apparently, that hiatus lasted until she met Adam. The duo officially confirmed their relationship on Valentine's Day 2021.
Article continues below advertisement
Since Hannah is appearing on The Celebrity Dating Game, fans are wondering if she and Adam met on the show. It appears that Hannah and Adam first met on a dating app, according to People. And due to the timing of her going public with Adam, it's likely that the show filmed before Hannah started her coupledom with him (People reports the show was filmed in February 2021).
So, if fans were hoping to see the Bachelorette alum make a long-lasting connection with a suitor on the show, it seems they're going to be disappointed.
We wish Hannah and Adam all the best on their relationship!
Catch the premiere of The Celebrity Dating Game on June 14, 2021, at 10 p.m. on ABC.