A Wedding Singer Recently Made Her Debut on 'This Is Us' — What's Next For Her and Kevin?
Season 6, Episode 13 of This Is Us transports viewers to Kate (Chrissy Metz) and Philip's (Chris Geere) wedding, with a series of epic scenes capturing the wedding performances by Kate's mom, Rebecca (Mandy Moore), and a wedding singer who seems to hit it off with Kevin (Justin Hartley). What's there to know about the mystery woman? Who is the wedding singer on This Is Us?
Article continues below advertisement
A certain wedding singer made her debut on Season 6, Episode 13 of 'This Is Us.' Who is she?
Season 6, Episode 13 of This Is Us flash-forwards the narrative with a few years, taking viewers straight to Kate's and Philip's wedding. Philip is music teacher and Kate's co-worker; Kate and Philip go on their first date in Season 6, Episode 12 of This Is Us, the same episode which chronicles Kate's divorce from Toby (Chris Sullivan).
This episode also brings us face-to-face with wedding singer Arielle, with Inventing Anna alumna Katie Lowes stepping into the role and immediately causing a stir.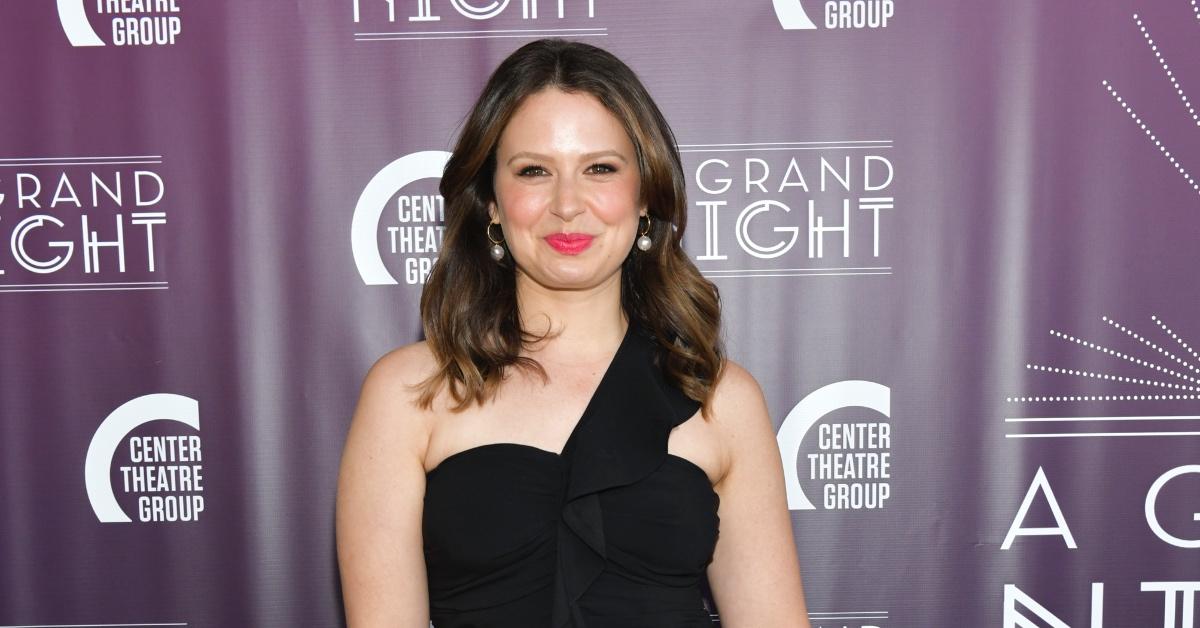 Article continues below advertisement
The episode kicks off with a scene illustrating Kate's well-balanced dynamic with Philip, who comes to her rescue and successfully calms her down when she gets too stressed out about Rebecca's performance. In the episode, Rebecca's struggles with Alzheimer's reach a new stage, triggering worries about whether she would be able to play music. However, Rebecca knocks the "Forever Now" song out of the park.
Meanwhile, a mystery is brewing. An earlier flash-forward to the wedding showed hints that a mystery woman had been inside Kevin's room with him, leaving behind a few personal items — including a wrap. Arielle appears in one of the later scenes as one of the women suspected of leaving her wrap in Kevin's room, thus intertwining her with the mess of Kevin's love life.
Sophie Inman (Alexandra Breckenridge), Kevin's ex-wife and Kate's childhood friend, and Cassidy (Jennifer Morrison), his former friend-with-benefits, quickly become the subject of similar rumors as well. At the ceremony, Kevin delivers an inopportune speech which gets the laughs from exactly one person: Sophie. She and Kevin frequently make eye-contact throughout the ceremony, as well.
Article continues below advertisement
The prospect of Kevin ending up with the wedding singer garnered mixed responses from 'This Is Us' fans.
Essentially, Kevin has three potential relationship prospects. In a montage, Kevin takes a stroll around a vineyard with Sophie, visits a bar with Arielle at a bar, and walks into a hotel room with Cassidy. "I don't know yet," he says at the end of the montage, referring to who he wants to be with. The scenes sparked a heated debate on Twitter, with several This Is Us fans coming out in support of Sophie.
"If Kevin ends up with a random wedding singer and not with Sophie after all these years, I'm going to be so mad," tweeted @isaaxca.
Article continues below advertisement
"The only ending I want for Kevin is to finally be with the love of his life, Sophie. He loves her for over 30 years. He has grown so much as a person, and he is finally ready to be with her. They both deserve happiness!" tweeted @DimitraAntonia7.
Article continues below advertisement
However, not everyone was feeling enthused about the prospect of their rekindling.
"If I sat through all these seasons just to watch Kevin get back with Sophie, I will be entitled to financial compensation," tweeted @WIZKAELIFA.
At this stage, it's uncertain which woman Kevin will end up embarking on a relationship with. Season 6, Episode 13 will likely have a few revelations in store for fans.
New episodes of This Is Us air Tuesdays at 9 p.m. EST on NBC.