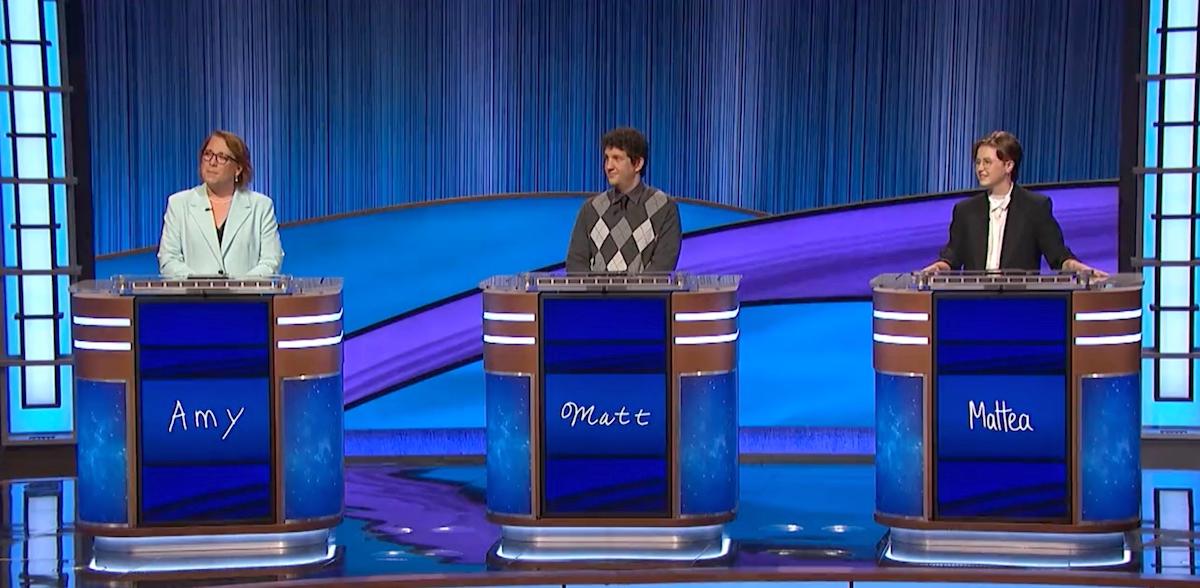 Chances Are You Won't Be Able to Watch the 'Jeopardy! Exhibition Match on TV
Due to Election Day coverage, Jeopardy! is changing things up to ensure fans don't miss any of its highly popular Tournament of Champions.
To do this, the trivia game show will be holding an exhibition match between contestants Matt Amodio, Amy Schneider, and Mattea Roach. However, fans are still nervous about potentially missing this showdown due to the local news covering election results.
Article continues below advertisement
"Tomorrow's Amy-Matt-Mattea exhibition showdown was planned specifically to avoid Election Day pre-emptions in many market," host Ken Jennings tweeted, reassuring viewers. "Consult local listings, as they say, to find out when and where your affiliate will wind up airing it."
In case you can't watch Jeopardy! in real time, here is everything you need to know about the exhibition match, including who won.
The 'Jeopardy!' exhibition match will have no prize money.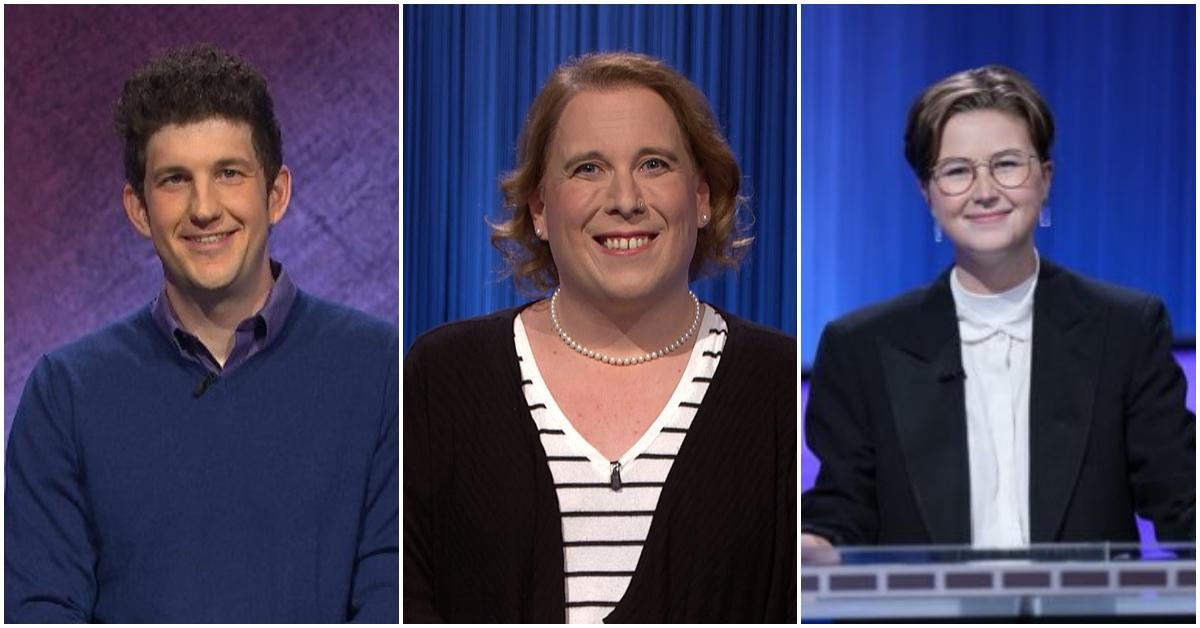 The exhibition match will take place between Amy Schneider, who won 40 consecutive games, Matt Amodio, 38 games, and Mattea Roach, 23 games — in what is being called a little warmup before they all take the stage for the semi-finals.
Schneider is the early favorite due to her impressive streak and $1.3 million in winnings. However, the exhibition match will not be played like your typical Jeopardy! match.
Article continues below advertisement
"The three players here on the stage with me became record holders not only in Season 38 but in the Jeopardy! history books," Ken said of the match on the show. "As a result, we saw fit to seed them straight into the semifinals, but what that means is that they did not get the chance to compete in a quarterfinal match. So, this is a rehearsal of sorts for them. No prize money is at stake, just the chance to compete on the Alex Trebek stage on this, the second anniversary of his passing."
Article continues below advertisement
Ken explained the rules a bit further on Twitter, writing, "There will still be contestant wagers on Daily Doubles and Final Jeopardy! But YOU THE VIEWER should not be wagering!"
So, who "wins" the 'Jeopardy!' exhibition match?
The Tournament of Champions and the highly anticipated exhibition match between Amy, Matt, and Mattea was taped in September 2022 in Los Angeles.
While we don't know who "wins" the match yet, we do know the Final Jeopardy! clue for the Nov. 8 episode.
Article continues below advertisement
Following the exhibition match, the TOC semifinals will begin Wednesday, Nov. 9, featuring Amy against contestants Maureen O'Neil and Tyler Rhode. Matt will face off against John Focht and Sam Buttrey on Nov. 10 and Mattea will follow against Eric Ahasic and Andrew He.
The winners of those three games will advance to the finals, which will start on Monday, Nov. 14, and will be a best-of-seven series.
The winner of the tournament will walk away with a grand prize of $250,000, and join the list of acclaimed TOC winners including James Holzhauer, Buzzy Cohen, and Brad Rutter.