Homelander's Severe Mommy Issues Led to His Disturbing Milk Obsession
Why does Homelander like milk so much in 'The Boys'? Here's everything we know about the supe's disturbing obsession with the beverage.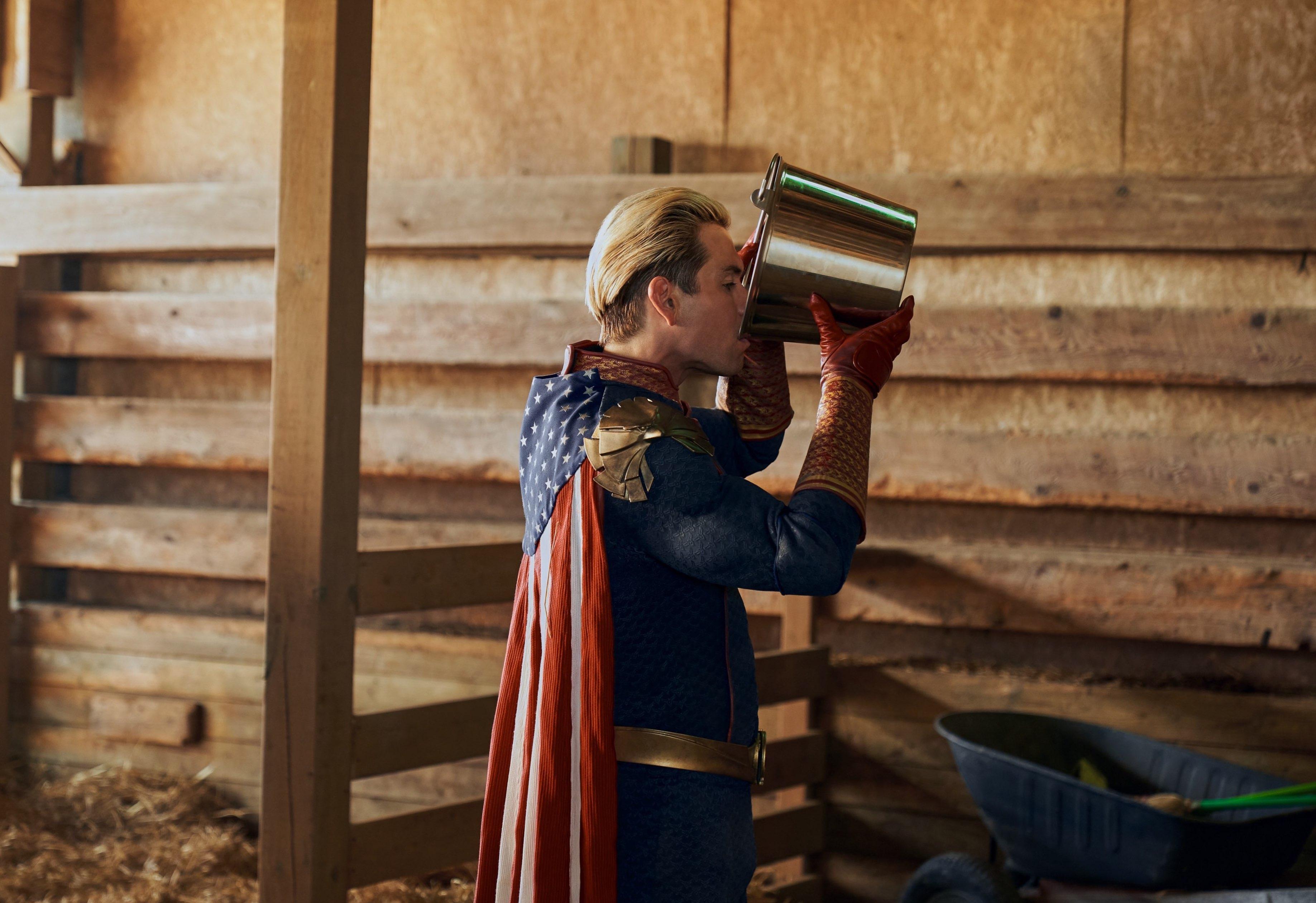 We can all agree that Homelander is the most intimidating supe in The Boys, right?
He's one of the vilest characters to grace the small screen, and he's, without a doubt, the worst type of person to possess superpowers because he cares for nothing and no one. Overall, Homey is just one sadistic chap.
Article continues below advertisement
With that said, we need to remember that virtually every superhero has a weakness; although it may seem like Homey is void of all human emotion and feeling, he does have his own kryptonite — milk. There's much more to it, but we'll delve into that later.
For now, let's figure out why Homelander likes milk so much.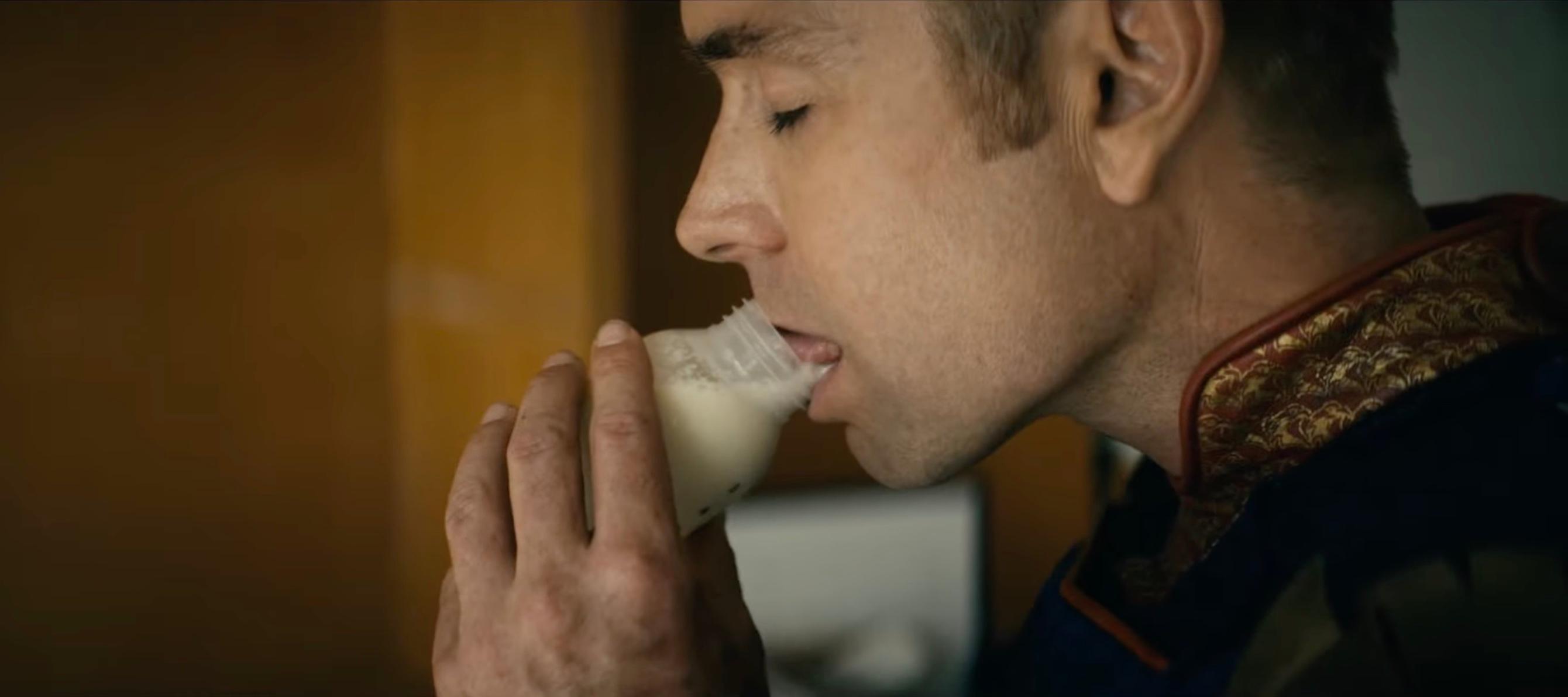 Article continues below advertisement
So, why does Homelander like milk?
If you're curious to understand why Homey likes milk, we have two words for you: mommy issues.
Throughout Season 1, Homey has an uncanny obsession with Madelyn Stillwell. He secretly watches her pump breast milk and becomes increasingly jealous of her infant son. Homey's jealousy reaches its peak when he sees Madelyn breastfeeding her son in private, further suggesting that he desires a motherly figure who will nurture him in a similar fashion.
OK, we're in no way defending him or excusing his homicidal actions, but we feel bad for Homey.
He never had a chance to experience humanity — he was born and raised in a lab, surrounded by scientists who constantly conducted experiments on him throughout his childhood. Even worse, Homey spent most of his young life restrained with a hydrogen bomb strapped to him until he cooperated. No child should ever be treated like that.
Article continues below advertisement
Now, the second season is where Homey's obsession with breast milk deepens further.
In the Season 2 premiere, the supe walks around Madelyn's empty office and mourns her death. Nevertheless, he cannot stop himself from taking the last bottle of her breast milk and downing it in a matter of seconds. The scene is quite unsettling.
Article continues below advertisement
Homey's obsession swiftly takes a turn as he soon drinks from a jug of store-bought milk. While that seems pretty ordinary, the way he reacts is almost orgasmic.
Speaking of, Homey even milks a cow in Season 3 and appears to derive sexual pleasure from the act. After all is said and done, Homey drinks the cow's milk from a bucket and looks relieved to have a taste. So weird.
Antony Starr said Homelander's milk obsession was a "total surprise."
In September 2020, Antony Starr — who portrays Homey in the superhero series — spoke with Collider about Season 2 and addressed his character's obsession with milk, saying that the storyline was a "total surprise."
"It's funny, it started off with one scene," Antony confessed. "And then, that was so weird that whenever I had a scene where I could throw it in, I did. And I encouraged [Ryan] to drink milk."
Article continues below advertisement
"There are some pretty weird moments through the season. As soon as we figured out where that could go, Eric said, 'Hell yeah, let's run with it!' That was it. It became the motif of the season for Homelander's weakness and neediness," he continued.
"I've gotta be honest, some of the biggest laughs of the season when we were shooting were around trying desperately to work milk in. Some have stayed and some of them went," Antony added. "Actually, maybe that was my biggest challenge, going back to the prior question. The biggest challenge for me was trying to get milk into scenes, as much as possible."
The Season 3 finale of The Boys drops July 8, only on Prime Video.