Why Is Joe Exotic Rocking a Knee Brace in So Many Scenes on 'Tiger King'?
"Why does Joe Exotic have a knee brace?" It's a question many 'Tiger King' viewers had after streaming the most popular series on Netflix right now.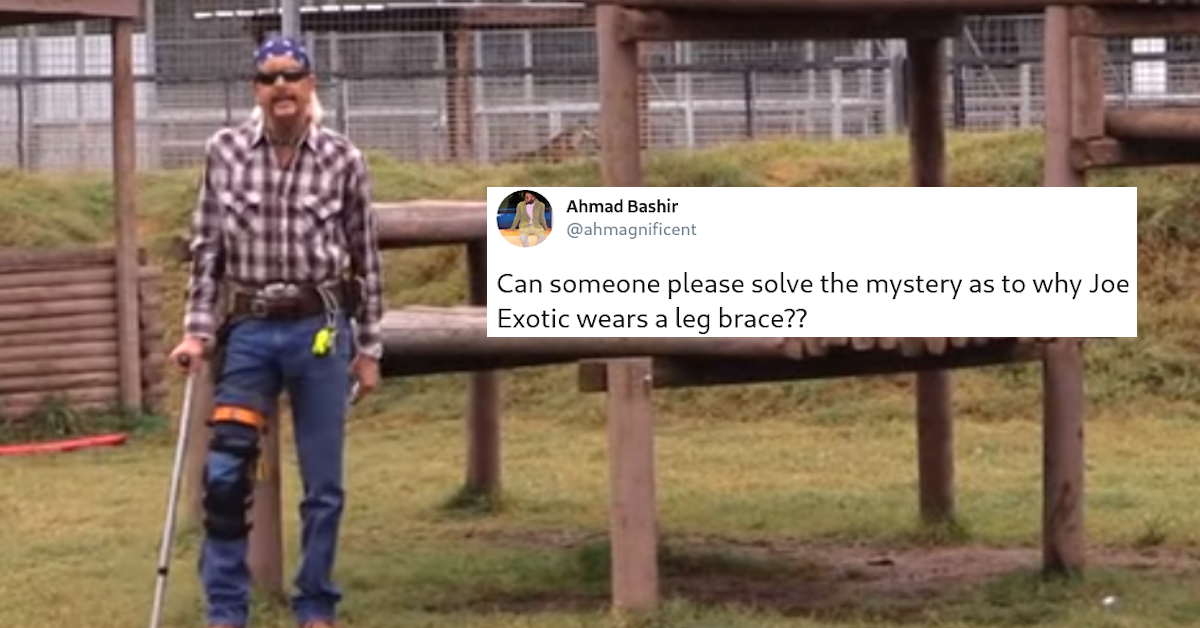 Netflix's Tiger King is a brilliantly bizarre train wreck presented in such a thoughtful, inventive, and masterful way that it's almost impossible to look away. If you're like me, then your eyes were glued to the screen and maybe you've even gone back and watched a few of your favorite sequences a couple of times. When you do that, however, it just ends up raising more questions. And a big one people have is why Joe Exotic has a knee brace on for so much of the series.
Article continues below advertisement
Why does Joe Exotic walk with a cane?
Reports indicate that a 2018 car accident is the reason Joe has to not only wear a knee brace but must walk with a cane. The unfortunate event occurred while Joe was attempting to run for Oklahoma State Governor, and the zoo owner/country music singer/exotic animal breeder/polyandrist/mullet believer sustained a litany of injuries both internal and external, along with damage to his head as a result of the crash.
Article continues below advertisement
The reason he's wearing a brace, however, could also date back to a much older injury Joe suffered after driving his truck off of a bridge as a teenager when he came out as gay to his parents. After being spurned by his father, Joe tried taking his own life. It could be that the harm done to his body from the suicide attempt caught up with him down the line.
Some people were confused about the frequency in which Joe appears to wear the leg brace and other times where he does not. It led a few folks to think that perhaps Joe played up the use of the leg brace in a bid to try and garner sympathy from those around him, and maybe any potential viewers on camera.
Article continues below advertisement
One of the more unfavorable character traits of Joe's that's put on display in the documentary is the selfish, often callous ways he acts in response to the personal tragedies of others. When Saff, an employee who gets their arm ripped off, is lying on the ground, Joe seems more concerned with being "financially ruined" than his worker's safety.
Article continues below advertisement
At the funeral of his departed husband, Travis Maldonado, Joe delivered a truly awful, profanity-laced, and vulgar eulogy that was so disrespectful it looked like something straight out of a dark comedy.
Article continues below advertisement
The documentary definitely portrayed Joe as someone who plays up his depression in an effort to get more attention, something that he appeared to be doing during Thanksgiving, and with his weird monument to Travis that was erected at the GW Zoo.
Article continues below advertisement
I'm personally wondering if his usage of the cane and brace had anything to do with a tiger-related attack he sustained while running the zoo. However, it seemed like a pretty big deal when one of the big cats grabbed his boot and started dragging the zookeeper on the ground.
Article continues below advertisement
Joe alleges his boots were sprayed with perfume and the "accident" that could've turned very ugly was actually an attempt on his life, as no one came to his aid during the altercation.
Article continues below advertisement
Was Joe Exotic recently hospitalized in jail?
The Tiger King himself has been under medical surveillance while incarcerated after fellow inmates tested positive for COVID-19. He's currently being held at Fort Worth FMC, which is a medical center that's run by the Federal Bureau of Prisons. So he not only has to worry about walking with a knee brace, but now the viral threat of the coronavirus pandemic.
Tiger King is currently streaming on Netflix, and Kate McKinnon's working on a scripted comedy series based on the rivalry between Carole Baskin and Joe Exotic.