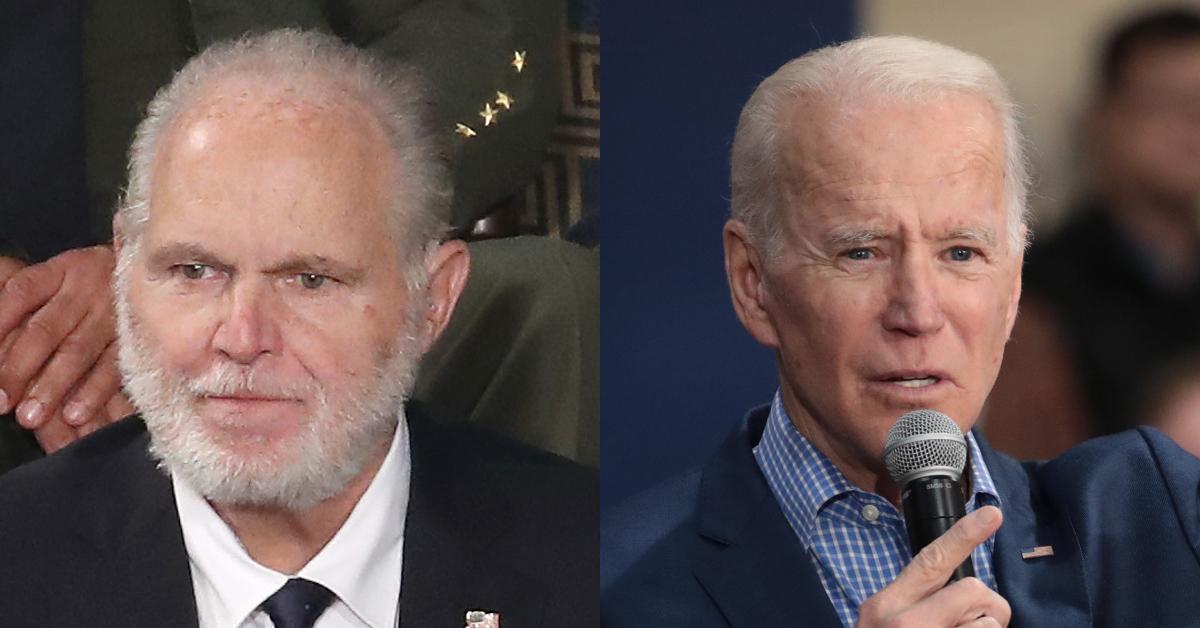 What Does Rush Limbaugh Call Joe Biden "Plugs"? It's a Dig at His Hair
While every single journalism class will espouse the importance of maintaining an ethical, unbiased stance when it comes to reporting the news and discussing issues of both local and national significance, those exhortations fall on deaf ears. Most mainstream media outlets display clear biases because, quite frankly, sensationalist headlines and playing to your base is what helps garner views. It could be a big reason why Rush Limbaugh refers to Joe Biden as "Plugs."
Article continues below advertisement
Why does Rush Limbaugh call Joe Biden "Plugs"? It's a dig at the man's hair.
Politics has become an increasingly nasty game, it seems, over the years, with candidates taking digs at each other not just in political advertisements but in campaigns as well. Donald Trump launched his political career being overly critical of President Barack Obama's administration and using incendiary language, including swearing, in order to get his points across.
However, to pretend like Donald Trump invented playing dirty in politics would be foolish: Everyone knows just how vicious political parties can get when it comes to trying to get their specific candidate elected. Plenty of movies have been directed about it, books written about it, and many a career has been built on advocating for or decrying a particular governmental leader.
Article continues below advertisement
Rush Limbaugh's name-calling of Joe Biden is just another instance of this time-honored and sad fact of American politics these days. Much has been said about Joe Biden's physical appearance in the lead up to the 2020 presidential election, especially his health, both physical and mental. Many DNC and Biden antagonists have pointed to the "work" he's gotten done in order to create the illusion of robustness and competence.
Article continues below advertisement
A New York Post article stated that cosmetic surgical experts weighed in on whether or not Joe Biden underwent any cosmetic surgery, and they rattled off the supposed procedures he had done, which included hair plugs. Which is why Rush Limbaugh refers to Joe Biden pejoratively as "Plugs."
Article continues below advertisement
It's a name that's stuck by folks who are strongly advocating against a DNC victory, which naturally includes many GOP supporters and conservative media outlets, who will often use the nickname while simultaneously pointing out some moments from the candidate's political career that have been put under the microscope of criticism leading up to the election.
Rush also has a habit of calling Joe Biden "Buy-Den" to denote that he's been "bought out" by either corporate or foreign interests, or a combination of both.
Interestingly enough, critics of Donald Trump also point out the supposed scalp procedure he underwent to maintain a "full" head of hair. Along with his penchant for spray-tanning to maintain a more youthful demeanor.