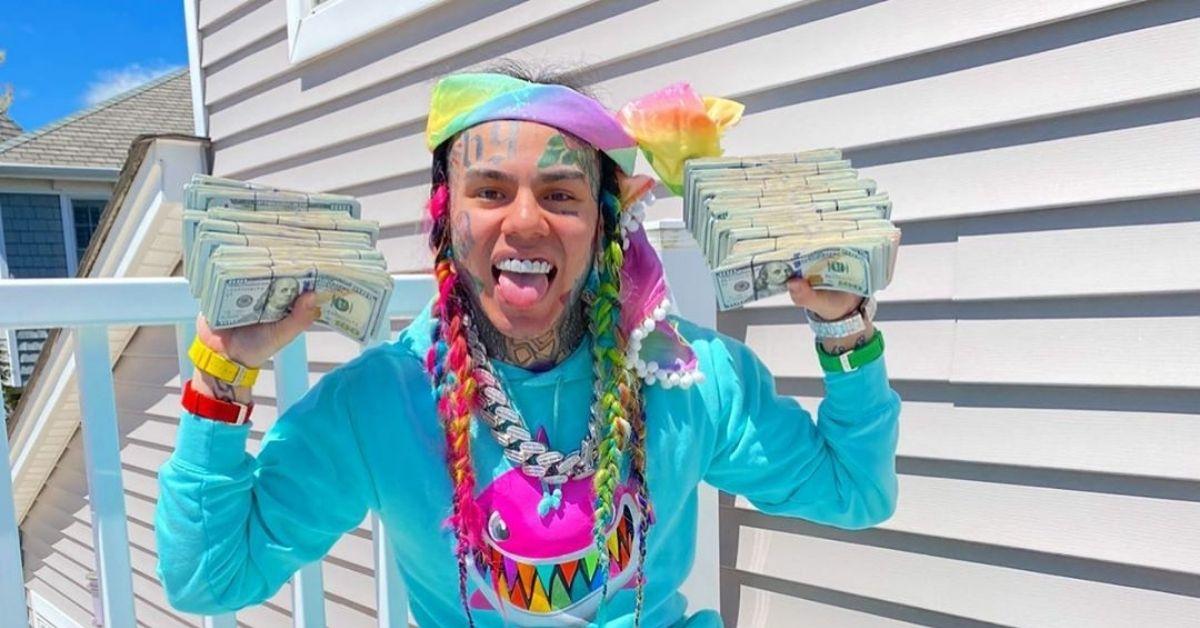 Tekashi 6ix9ine Was Reportedly Hospitalized Due to an "Overdose"
The world is not the happiest place in 2020, and it seems like there is a lot of negativity out in the world. It feels like bad news after bad news, and for family and friends of rapper Tekashi 6ix9ine, more bad news came when it was reported he was hospitalized due to a health issue. So, why was 6ix9ine in the hospital, and is he OK now? Here's what we know.
Article continues below advertisement
Why was Tekashi 6ix9ine in the hospital?
According to Complex, the 24-year-old rapper was released from the hospital on Oct. 1, 2020 after spending a few days admitted for observation. The news was first shared via Gossip of the City, and the account alleged he was "at the hospital because he overdosed but you didn't hear it from me."
Article continues below advertisement
Overdosing would be a serious issue, not only because of his health and well-being, but it would also have meant a violation of his very strict probation rules. However, questions about his reason for being at the hospital were cleared up shortly after via the Shade Room (TSR).
The rapper confirmed to TSR that he was hospitalized for two days, but he is home now and is said to be "doing fine." He did appear to have an "overdose" of sorts, but it's not what people would assume.
"So get this Roommates, Tekashi was hospitalized two days ago in Florida after he had 2 Hydroxycut pills, instead of the recommended 1 per day, which increased his heart rate and caused him to sweat excessively while in front of his computer," TSR reported.
Article continues below advertisement
"Tekashi tells us that this, along with drinking a McDonald's coffee, kicked his overdose reaction into gear. If you aren't familiar, hydroxycut is a weight-loss brand," the site continued. The rapper confirmed with the site that he wasn't taking any illegal drugs and that's not what caused his issue that sent him to the hospital.
"Tekashi also tells us that he was only taking hydroxycut and not drugs—not just because he doesn't do drugs—but because of his strict probation that would send him right back to the slammer if he was poppianna," they reported.
Article continues below advertisement
Apparently, 6ix9ine has been concerned over his weight since leaving prison. He told TSR that he "gained a lot of weight" after getting home from his sentence. "He's currently down almost 25 lbs and plans to keep going until he's at his goal weight of 150 lbs before he makes his return to the 'gram," speaking of why he's been so absent on social media.
Article continues below advertisement
This isn't the first time we've heard that 6ix9ine was concerned about his weight.
During a 2019 interview with Complex, Tekashi 6ix9ine's former tour DJ, Blue Diamond, said 6ix9ine has been very strict about his workout routine and diet regime—and very concerned about his weight.
Article continues below advertisement
"On tour I guess, I don't know who told him he was fat," Blue Diamond said. "He was very concerned about losing weight, so literally he would eat salads all day and drink water and a lot of lime. A lot of lime ... He wouldn't really eat much. He would eat probably a salad for breakfast and then snack on fruits throughout the day and be in the gym."