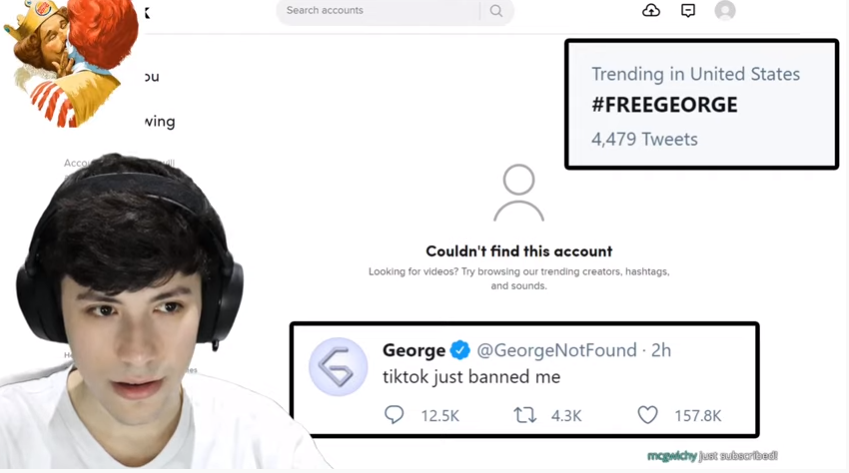 People Have No Idea Why GeorgeNotFound Was Banned From TikTok
It's no secret that social media networks with young userbases are quick to drop the hammer on streamers, no matter how popular they are, and get them effectively removed from their respective platforms. Sometimes, the reasons for doing so are pretty well known, like a slew of Twitch talent who were found guilty of predatory behavior, or when tons of pro Super Smash Bros. players were closet pedophiles. But what happened with popular YouTuber GeorgeNotFound? Why was he banned from TikTok?
Article continues below advertisement
It seems that there's no inkling online, whatsoever, that explains why GeorgeNotFound was banned from TikTok.
Seriously. Nothing. Zip. Nada, and so on and so forth and other synonyms for "zero." Many of his followers on social media have called George one of the least problematic popular streamers on TikTok, and others find it absolutely "crazy" that he's been banned from the video sharing site for what seems to be absolutely no reason.
What's really troubling is that these major platforms are usually tight-lipped about why a user was banned. This has irked more than a few streamers, who believe that luring in top talent, who dedicate years of their lives to growing a mass following and bringing in new, paying users to the platform, to only pull the rug out from under their feet seems like a pretty frightening prospect.
Article continues below advertisement
Dr. Disrespect is a prime example of this phenomenon. The popular Twitch streamer has landed on his feet following the surprise move from Twitch, but to this day no one knows exactly why his contract was terminated with the live-streaming powerhouse. What's most troubling about the Doctor's ban is that he was pretty much Twitch's poster boy. He was a big part of the brand's marketing and had just entered into a huge deal with the company.
Article continues below advertisement
While there were plenty of rumors surrounding Dr. Disrespect's Twitch ban, with many people jumping the gun on rumors and some Twitter users intimating it was something unforgivably bad, there's really nothing to suggest that GeorgeNotFound did anything that would violate TikTok's user policy.
Article continues below advertisement
Some even speculated that Addison Rae was involved because of George's victory over her in Mr. Beast's creator games.
But there's nothing to really support that this is indeed the case. If you haven't seen their face-off, however, it's a pretty great watch.
Article continues below advertisement
Which is why GeorgeNotFound joined forces with fellow streamers Quackity and Dream to find out why he was banned from TikTok.
They posted their results online and the biggest clue they may have found to his ban was an image he had used in one of his TikTok videos of the Burger King making out with Ronald McDonald. It could be that because GeorgeNotFound has such a highly followed account that BK wasn't too keen on their logo, which is on the King's crown, being displayed in an image where he's effectively making out "with the enemy."
Article continues below advertisement
The fact that their logo was used in his video at all could've been a reason for the temporary ban. Yes, you heard that right — the ban was just a temporary one and @GeorgeNotFound is back on TikTok with all of his 4.1 million fans intact.
Article continues below advertisement
People are still joking on Twitter as to the reason why GeorgeNotFound was banned, with some claiming that it's because he "attacked" people who love salad. Others are saying it's because he failed to upload a vlog at a specific time.
Article continues below advertisement
Then there were folks who speculated that Vegan Teacher had something to do with GeorgeNotFound's TikTok ban.
But this also seems highly unlikely. Although, with the Vegan Teacher, who really knows?
Article continues below advertisement
What do you think is the reason for @GeorgeNotFound's TikTok account being banned? Was it just an algorithm messing up after it detected the BK logo? Or was it really the salad police?