Aaron B. Comes Back on 'The Bachelorette' and Proves He's Here for Charity
Aaron B. returns to Season 20 of 'The Bachelorette' after he was sent home, but could he still go on to be the next 'Bachelor' lead?
It takes a special Bachelorette contestant to make it to the final four and Charity Lawson's season is no different. Even though she can only pick one of the guys in the end, the other men made it this far because they're all ready for commitment. So it wouldn't be out of the question to ask if one of Charity's final four, Aaron B., could be the next Bachelor.
Article continues below advertisement
There's a chance that no one from Charity's season will be the 2024 Bachelor lead, however it's hard not to see the nearly perfect edit that Aaron B. and his family received during Bachelorette hometown dates. Similar to when Charity and her family left an impact during Zach Shallcross's season of The Bachelor and his hometown dates, Aaron B. and his close-knit fam have viewers talking.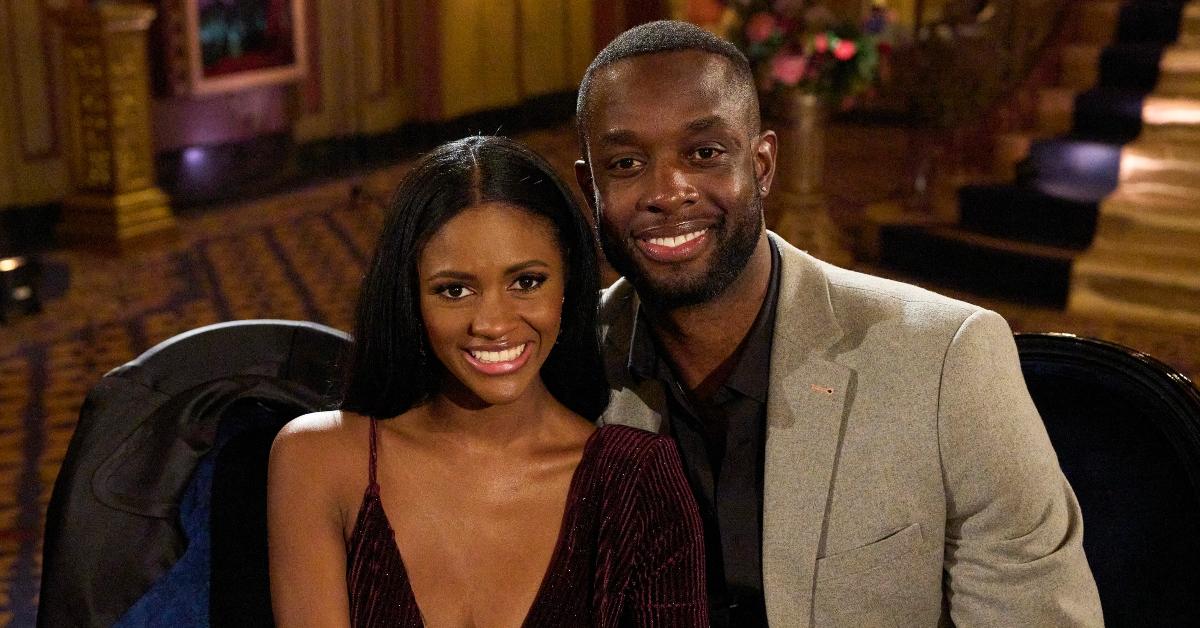 Article continues below advertisement
Again, we don't want to get too excited or ahead of ourselves here. Sometimes, producers do the unthinkable and choose a lead from several seasons before the most recent one. Ahem, looking at you, Arie Luyendyk Jr. OK, so maybe that works out sometimes. But if someone from Charity's season is named as the next Bachelor, we may have our answer now that those those hometown dates are over.
Will Aaron B. be the next 'Bachelor'?
During the Season 20 hometown dates on The Bachelorette, Charity meets Aaron B.'s family and viewers see how open with communication and supportive they are. Things seem to go well with Charity too. Sadly, we see Charity choose to send Aaron B. home before fantasy suite dates.
But if you found yourself drawn to Aaron B.'s family, you aren't the only one. It's hard to not see them as the perfect family to help him out in a future season of The Bachelor.
Article continues below advertisement
At this time, producers haven't revealed who the next Bachelor is in 2024. But Aaron B. seems like a logical option from Charity's season. Aaron B. and his family's portion of the hometown episode shows how much thought Aaron B. has put into taking a leap like proposing and starting a future with Charity. And Aaron B.'s brother specifically stands out as he admits to Aaron B. that he could see in Aaron B.'s face that he cares deeply for Charity.
Article continues below advertisement
Aaron B. does return to the show when he flies to Fiji to try and sway Charity to givr him another chance, though. If she allows him to stay and he proposes and she says no, then Aaron B. is almost assuredly in the running for The Bachelor.
Given Aaron B.'s edit during hometowns and his very unproblematic behavior in the season overall, he would make a solid Bachelor lead.
Article continues below advertisement
Joey is another contender from Charity's season of 'The Bachelorette.'
If we're looking at Charity's season as a whole, though, another potential Bachelor suitor could be Joey, who makes it to at least the final three and fantasy suite dates. His uncle isn't totally sure if he's ready for this big of a commitment and Joey senses some hesitation from Charity, but Joey has been all-in and genuine from the start.
Viewers can see how sincere and serious Joey is about this journey. If Charity doesn't pick him in the end and he doesn't get the chance to propose, then The Bachelor is a natural next step for him. Provided, of course, that Aaron B. isn't offered the gig.
At the very least, nice guy Joey could benefit from finding love on Bachelor in Paradise. We just aren't ready to say goodbye to him yet, even if Charity might be, OK?
Watch The Bachelorette on Mondays at 8 p.m. EST on ABC.