Say It Ain't So! McDonald's Is No Longer Serving the Grimace Shake — Will It Ever Return?
After McDonald's released Grimace's Birthday Meal in June 2023, the limited-time purple Grimace shake went viral on TikTok. Will it ever return?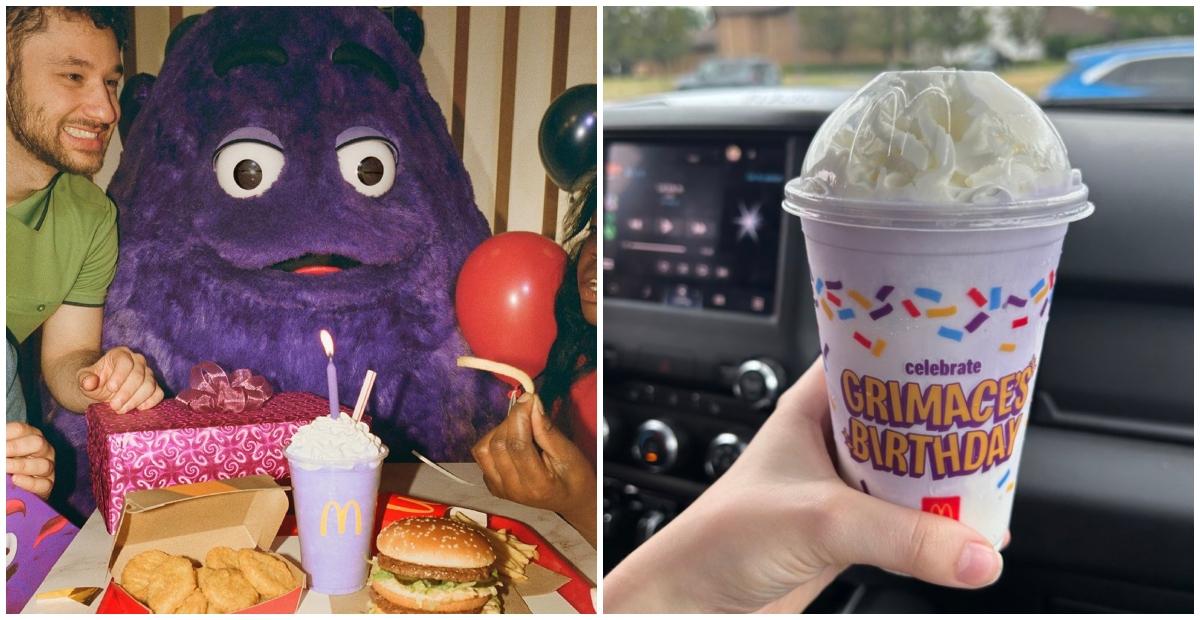 In June 2023, McDonald's released a limited edition meal to celebrate the 52nd birthday of Ronald McDonald's purple pal Grimace.
The Grimace Birthday Meal came with the choice of either a Big Mac or a 10-piece McNuggets, and fries. It also included a purple shake — better known as the Grimace shake. The internet, to say the least, had a field day with this shake.
Article continues below advertisement
As some fancied the flavor, others grimaced at it. While McDonald's had initially kept the shake's flavor a mystery, social media users quickly concluded that it was a blend of berry and vanilla. They also decided to have a little fun with it online because it's not every day you see a purple-colored shake.
People claimed that after drinking the shake, weird things started to happen to them. "Drank the grimace shake and got pregnant," one customer teased on Instagram. Others made videos on TikTok pretending the shake had made them sick or put them under some type of spell. Even celebrities got in on the trend as Courteney Cox shared a video of her dog accidentally drinking it and then consequently transforming into a monster.
Article continues below advertisement
While Grimace's birthday fell on June 12, the meal was available to order until July 6th or supplies lasted. However, it seemed many locations ran out of the shake early — as customers complained on Twitter.
Given how unbelievably popular Grimace and his specialty shake was, people have been wondering whether the fan-crazed drink return in 2024? Here's what we know.
Article continues below advertisement
Will the Grimace Shake return in 2024?
McDonald's has not yet confirmed whether or not the Grimace shake will return. But given the buzz around this promotional drink, there is a chance that the chain will bring it back in 2024 for the character's 53rd birthday. If we're lucky, it could very much become a seasonal beverage like the Shamrock shake.
Article continues below advertisement
That said, if McDonald's does decide to bring back the Grimace shake, we hope it will be a stand-alone menu item. Many customers were peeved by the fact that they couldn't purchase the shake on its own and had to buy the entire Grimace Birthday Meal.
Until we get some more clarity on the situation, we'll be thinking of Grimace. Hopefully, this is not a goodbye, but a "see you soon."