The 'Yellowjackets' Season 1 Recap You Need Before Season 2 Airs
'Yellowjackets' Season 2 premieres on March 24, 2023, so here's a recap of Season 1 so you can catch up on all the details.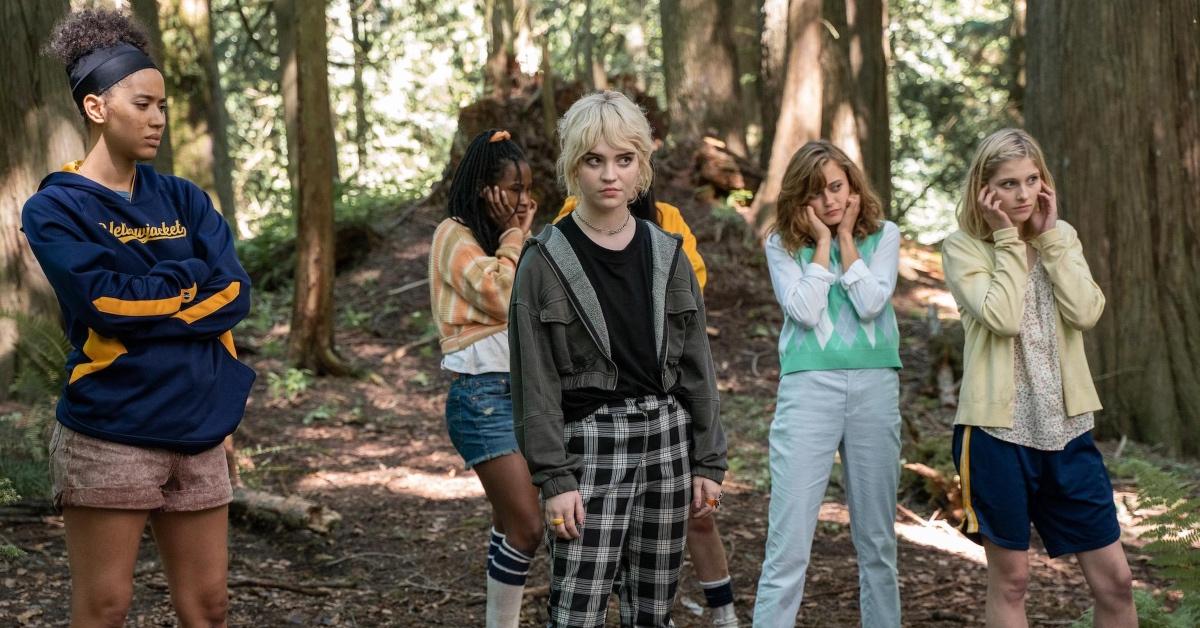 It's time to return to the wilderness once more as Showtime hit series Yellowjackets prepares to return for Season 2. The show's first season earned several Emmy nominations, including for Outstanding Drama Series, Lead Actress in a Drama Series, and Supporting Actress in a Drama Series.
Article continues below advertisement
If you haven't re-watched before Season 2, here's a recap of Yellowjackets Season 1 to remind you of every burning question that the show left unanswered.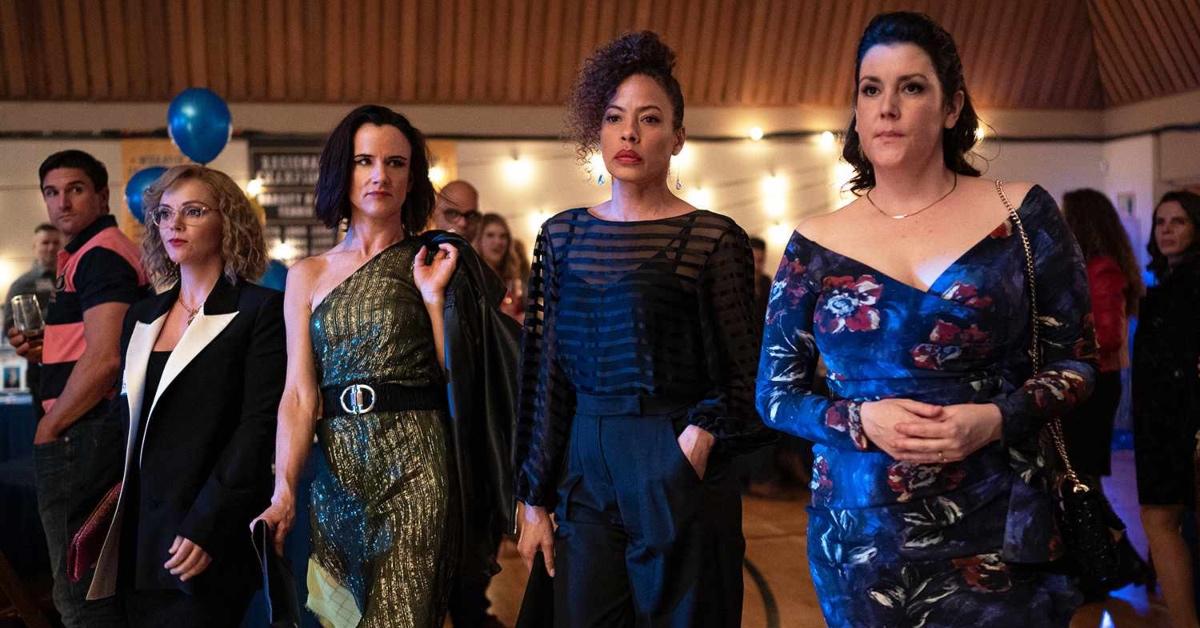 Article continues below advertisement
Here's your recap of 'Yellowjackets' Season 1.
Yellowjackets is split between two timelines: 1996 and the present day, New Jersey. In 1996, the main characters fly to Seattle for a soccer championship tournament. On the way, their plane crashes in the Canadian wilderness. While many teammates, including their coach, die instantly, the survivors are stranded for eighteen months.
In 1996, the girls fight for survival.
Misty (Sammi Hanratty) destroys the plane's emergency transmitter after feeling "needed" by the group for her survival skills. The group learns to hunt from Assistant Coach Scott (Steven Krueger), who also lost part of his leg in the plane crash. Natalie (Sophie Thatcher) and Travis (Kevin Alves), one of the deceased coach's sons, grow close.
Article continues below advertisement
Early on, the group discovers an old hunting cabin not far from where their plane crashed, stocked with a singular gun and several other tools. The group finds a lake nearby the cabin. After several days of a mysterious smell, the survivors discover the corpse of the cabin's previous owner alongside mysterious symbols carved into the floor.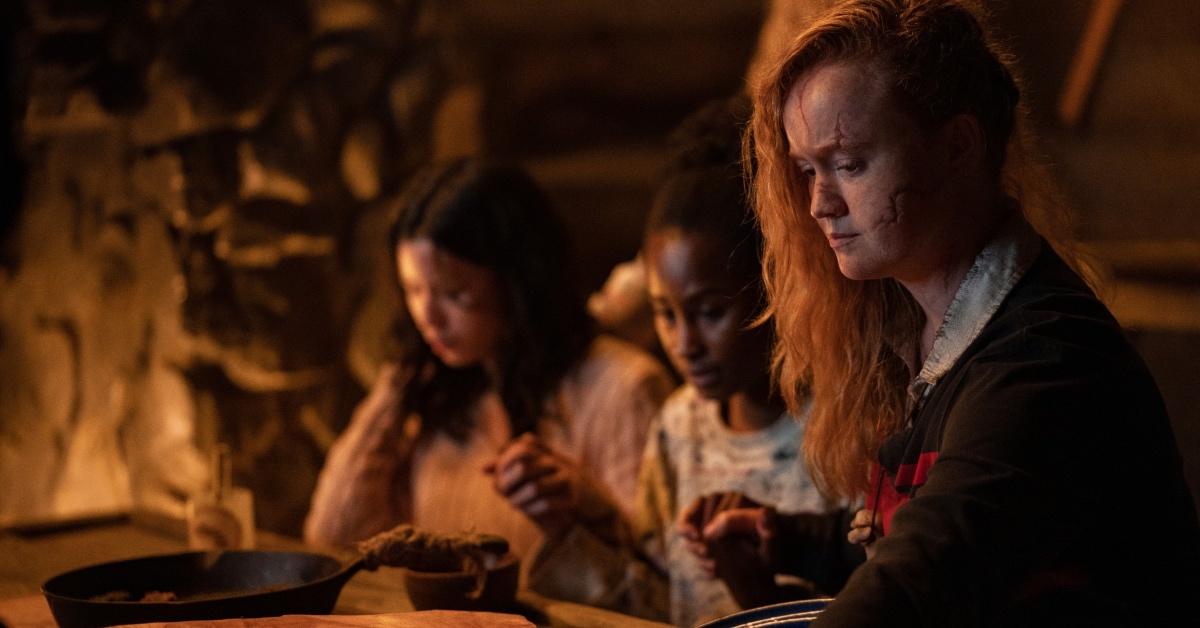 Article continues below advertisement
The survivors decide to hold a seance to talk to the dead man from the cabin. The seance immediately runs foul, with Lottie (Courtney Eaton) becoming seemingly possessed and speaking French, translated poorly by Jackie (Ella Purnell), who says it means something about being hungry and needing blood.
Later, the group finds an old Cessna plane in the woods with a full tank of gas. Religious team member Laura Lee (Jane Widdop) decides to pilot the plane to seek help, but the plane crashes, sending Lottie into a spiral. Tai (Jasmin Savoy Brown) leads a group expedition to see if they can find a route out of the woods, but their team is attacked by wolves, leaving Tai's girlfriend, Van (Liv Hewson), half-dead and deeply scarred.
Article continues below advertisement
Desperate and upset, the group throws a "Doomcoming" party, where Misty accidentally doses them all with hallucinogenic mushrooms. Jackie coerces Travis to hook up with her, which spurs the drugged Yellowjackets team into a frenzy, where they chase Travis with knives, believing he is a deer. Natalie stops Shauna (Sophie Nélisse) from hurting Travis just in time, and Travis' younger brother, Javi (Luciano Leroux), who witnesses the event, runs off into the woods.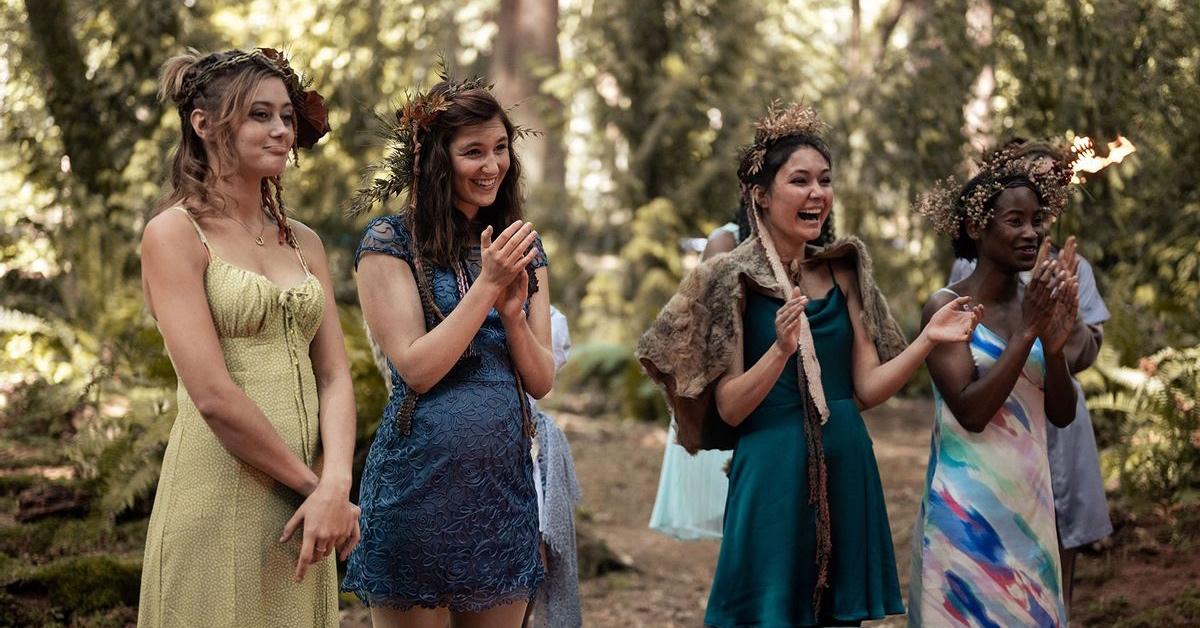 Article continues below advertisement
Shauna reveals to the group that she is pregnant but refuses to say who the father is until Jackie reads her journal. Jackie discovers that Shauna has been sleeping with Jeff, her boyfriend, behind her back and tries to exile Shauna from the cabin, only to be exiled herself. That night, Jackie freezes to death.
As winter arrives, the group is increasingly worried about food. Lottie discovers a bear roaming near the cabin, which she walks up to and kills. The group found a tree trunk with the mysterious symbol from the cabin, where Lottie places the bear's heart as an offering and says, "let darkness run free."
Article continues below advertisement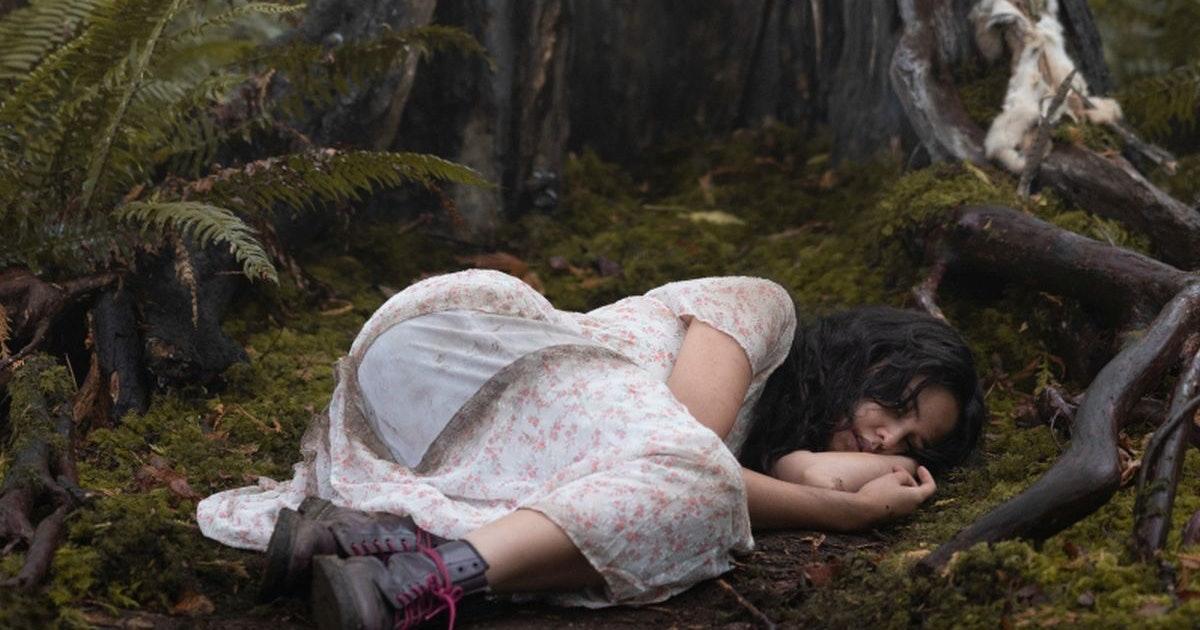 In the present day, the now-adult Yellowjackets discover the past is back to haunt them.
Those who survived the wilderness have returned to civilization for twenty-five years without incident. The group begins receiving postcards with the mystery symbol from the cabin and texts requesting $50,000 in blackmail.
Natalie (Juliette Lewis) leaves rehab to find Misty (Christina Ricci) and interrogate her about the postcard. Taissa (Tawny Cypress) is running for State Senate, and Shauna (Melanie Lynskey) is now a housewife. The group reluctantly reunites to figure out who is blackmailing them.
Article continues below advertisement
A "reporter" named Jessica Roberts (here) shows up, looking for information about the Yellowjackets' past. Shauna discovers Jessica is not a reporter. Misty reveals that she has located Travis (Andres Soto) to Natalie, who immediately tries to find him.
Meanwhile, Shauna gets in a car accident with an attractive stranger, Adam Martin (Peter Gadiot). Shauna and Adam begin an affair after Shauna catches her husband Jeff (Warren Kole)'s text messages to a mystery woman.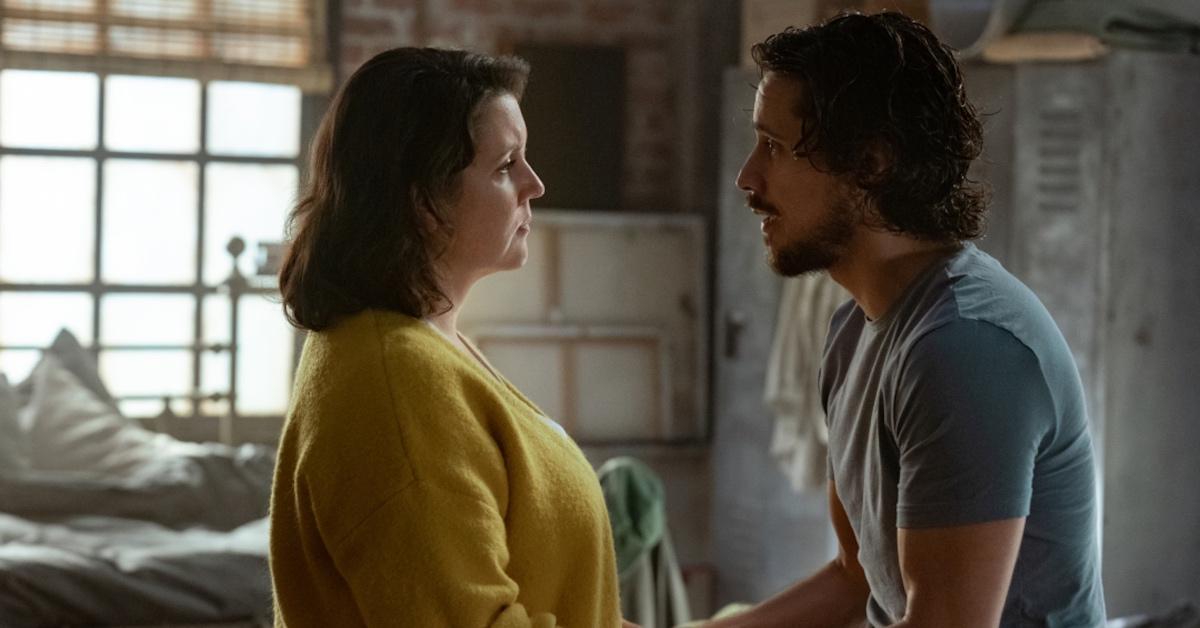 Article continues below advertisement
Natalie and Misty discover Travis' body hanging in the barn on the ranch where he works, leaving Natalie distraught. Misty steals crime scene photos and reveals that the site of Travis' death was surrounded by the wilderness symbol.
Shauna starts to believe that Adam is the blackmailer and confronts him, killing him. Jeff reveals he is the blackmailer, and the Yellowjackets work together to cover up Adam's murder.
In the finale, Taissa wins her Senate race after nearly withdrawing due to the return of her strange sleepwalking habit, which spooks her wife, Simone, and son, Sammy. However, Simone discovers a hidden altar with the wild symbol in their home and panics, taking Sammy with her.
Article continues below advertisement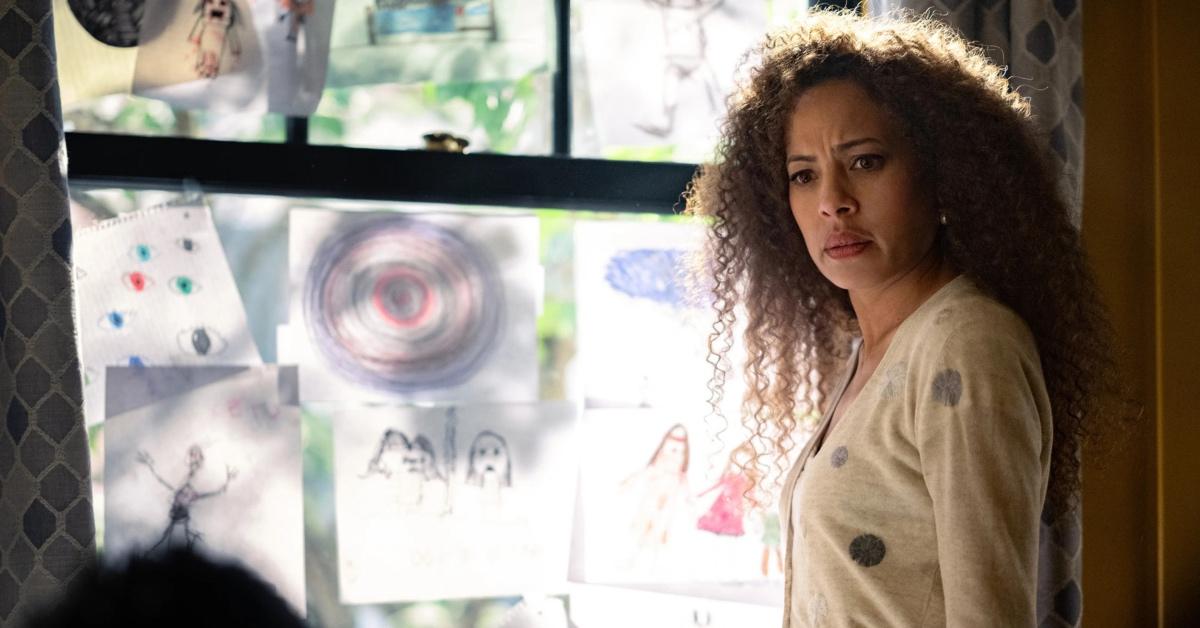 Natalie attempts to take her own life but, at the last second, receives a call from her former sponsor, who has been investigating Travis' bank account statements. Natalie is kidnapped by a mysterious group as the sponsor reveals Lottie Matthews has drained Travis' bank account.
Yellowjackets Season 2 is available for Showtime subscribers on March 24, 2023. Episodes will then be released weekly on Sundays at 10 p.m. ET.