Netflix Renews 'You' for a Season 5 — but It's Sadly the End of the Road
Just weeks after the second part of Season 4 premiered, Netflix announced that Season 5 of 'You' will be its last. Details inside.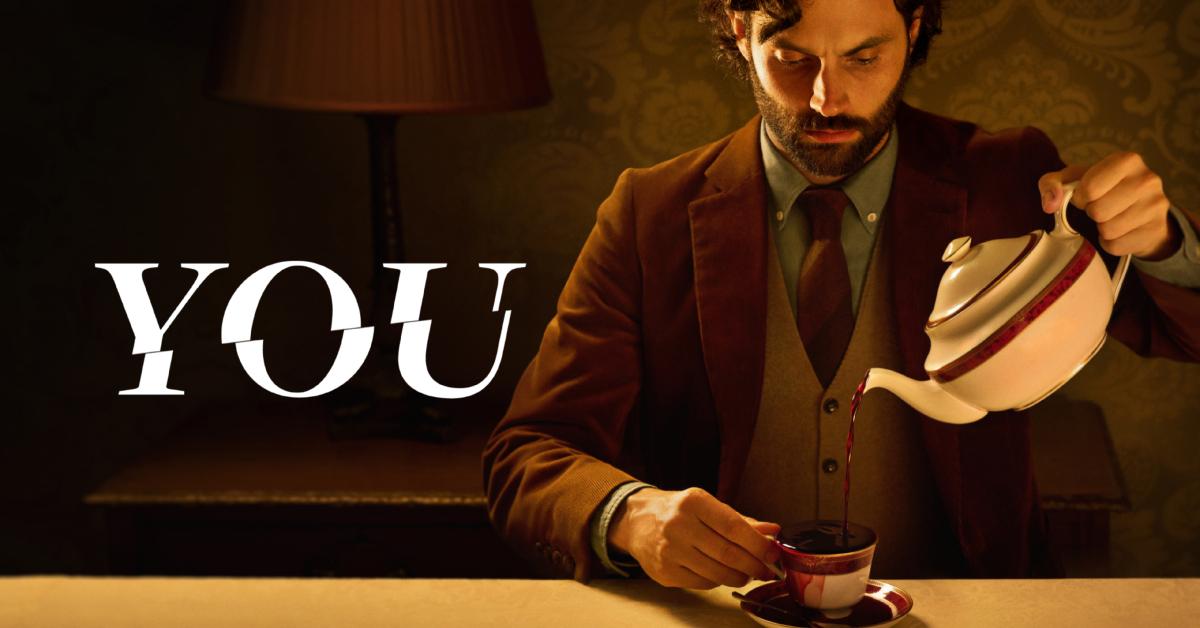 Even if a wildly popular and successful Netflix show manages to avoid having the plug suddenly pulled on it, the wait between seasons on the streaming service can already feel like an eternity. Binge-watch culture can have you blow through an entire new season in a day, leaving you starved for another new installment to help satiate your obsessive streaming habits.
For instance, many are already experiencing You withdrawal after the new season started streaming.
Article continues below advertisement
The psychological thriller series follows Joe Goldberg (Penn Badgley), a serial killer, stalker, and former bookstore manager who harbors a toxic and sinister obsession with different love interests in each season. Season 4 has been streaming in its entirety for only a few weeks, yet fans are already wondering about Season 5.
Luckily, a fifth season is in the works ... but we have some bad news.
Article continues below advertisement
'You' Season 5 will be the final season.
On March 24, Netflix announced that You would return with a fifth and final season in 2024.
The streaming giant also revealed that showrunner Sera Gamble, who developed the series alongside Greg Berlanti, is stepping down from her day-to-day role on the series, with fellow executive producers Michael Foley and Justin W. Lo taking over as co-showrunners. Sera will still remain credited as an executive producer.
"As I step back from day-to-day showrunning to focus on new projects, I'm immensely grateful to co-creator and all-around genius Greg Berlanti, [author] Caroline Kepnes, my friends at Berlanti Productions and Alloy Entertainment, and our steadfast partners at Warner Bros and Netflix," Sera said in a press release.
Article continues below advertisement
She added, "Making the show alongside our writers, producers, directors, cast, and crew has been an honor and ridiculously fun. And I feel lucky to have worked with an artist as gifted and thoughtful as Penn Badgley. I'm proud of what we've all accomplished and feel privileged to pass the torch. I'm excited to watch and support the You team as they bring Joe Goldberg's journey to its delightfully twisted conclusion."
Article continues below advertisement
EP's Greg Berlanti and Sarah Schechter thanked Sera for her hard work and dedication to the series over the years, noting they look forward to working with Michael Foley and Justin W. Lo.
"We are so incredibly grateful to Netflix and Sera and everyone that has been a part of this show from the beginning. Sera is the most brilliant writer and partner, and she will remain a key part of the You family as an executive producer. We intend to bring her every idea we can from our company for years to come," they said. "We are excited to continue our relationship with Mike and Justin as they take over the reins as co-showrunners and prepare to bring Joe Goldberg home."
Michael and Justin added, "Working with Greg and Sera on You has been a highlight of our careers, and we're incredibly honored to be entrusted with the final chapter of Joe Goldberg's story."
Seasons 1–4 of You are now streaming on Netflix.