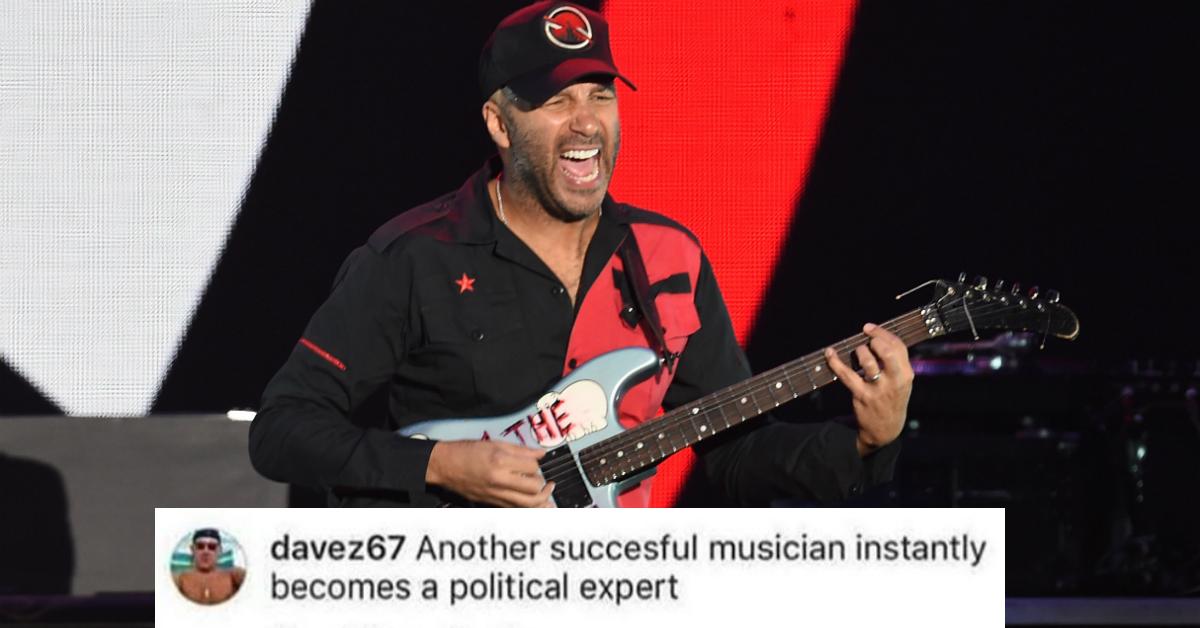 Trump Troll Goes After Rock Star For His Understanding Of Politics, And He Claps Back Hard
By Mustafa Gatollari
A great social media put down is probably one of the most satisfying things in the world to witness.
When you have an obnoxious troll who thinks they know everything and tries to put down someone while discussing a subject, only to be utterly destroyed, is one of the joys in life I relish the most.
Like the time this guy tried to mansplain global warming to astrophysicist Katie Mack, who annihilated him with this perfect tweet.
This kind of "proven qualification" clapback is one of my special favorites. This recent one from guitarist Tom Morello is up there with the greats.
Now, it's no secret that the successful musician isn't a huge fan of Donald Trump.
The Rage Against the Machine and Prophets of Rage guitarist has never turned away from sharing his political opinions about administrations, current events, and governmental leaders. In fact, if you've ever listened to any of his songs, it's pretty apparent that what he plays is politically charged.
Which makes sense, considering Morello's background. As a young man he was a political anarchist, his father participated in Kenya's Mau Mau uprising and his mother was a high school social studies teacher. Morello's pretty much always been involved with politics and furthered his interest in social studies when he attended and graduated from Harvard.
Assumably, though, Instagram user davez627 didn't know this about Morello. No, davez627 perhaps just thought Morello was a musician who knows nothing about the world except how to play the guitar. Which is possibly why he wrote this on Morello's Instagram post.
"Another successful musician instantly becomes a political expert."
Well, davez627 probably should've taken two seconds to realize whose post he was commenting on, because Morello was quick to post the dude's message along with a rebuttal that contained his credentials, and share that wonderful screenshot on his Instagram page.
Yeah, we're gonna need to send this guy to the burn unit, like, yesterday.
One thing I don't understand that seems to be a recurring theme that musicians and actors, for some reason, can't be allowed to have political opinions.
I really don't know how one can compute that logic.
Because like Morello says, you don't have to be a Harvard graduate to have opinions on politics in America.
But Morello is, so that just makes his argument that much more convincing.