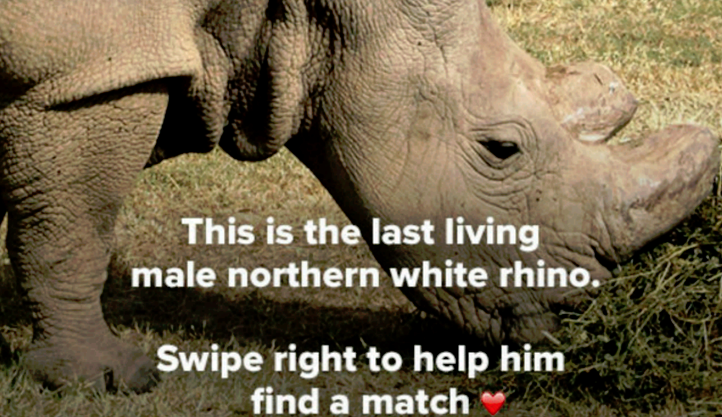 Last Male Northern White Rhino Is Now On Tinder And Needs You To Swipe Right
By Zachary Brenner
The other day I was scrolling through Tinder, like I do everyday, when I came across a picture of a rhino named Sudan. I swiped left because, and I hope this doesn't sound cocky, I think I could do better.

Turns out that was a mistake. Sudan is the last male northern white rhino on the planet and he needs to find some love in order to keep his species going.
If you are a female rhino, please swipe right on Sudan. The species needs your help. I'm going to go out on a limb and guess you are not a female northern white rhino. After all, there only two of them left. Both of whom are trying to get pregnant through IVF, although that has yet to happen.

That being the case, it may seem like Tinder is not the best place for Sudan, but he isn't really there to find a match. The account is a joint effort from Kenya's Ol Pejeta Conservancy and Tinder to help raise awareness and funds for Sudan and the survival of his species. They are hoping to raise nine million dollars to cover the cost of IVF and 24/7 security.
Poaching is the main reason for their near extinction numbers and why they have non-stop security today. In 1960, there were 2,000 northern white rhinos, but poachers caused that number to drop to just 15 by 1985.
A spokesperson from Tinder had the following to say about Sudan's account.
As a platform that makes millions of meaningful connections every day, raising awareness about Sudan the rhino and the importance of finding his match seemed like something we could support in a really impactful way. We've heard countless stories about Tinder babies, but this would be the first match to save a species.
Wouldn't that be something? If you are interested in helping Sudan and his species out, you can donate here.