Did Zooey Deschanel and Jonathan Scott Secretly Get Married? Details
Actor Zooey Deschanel and HGTV 'Property Brothers' star Jonathan Scott seem pretty smitten on Instagram. Did the couple secretly get married?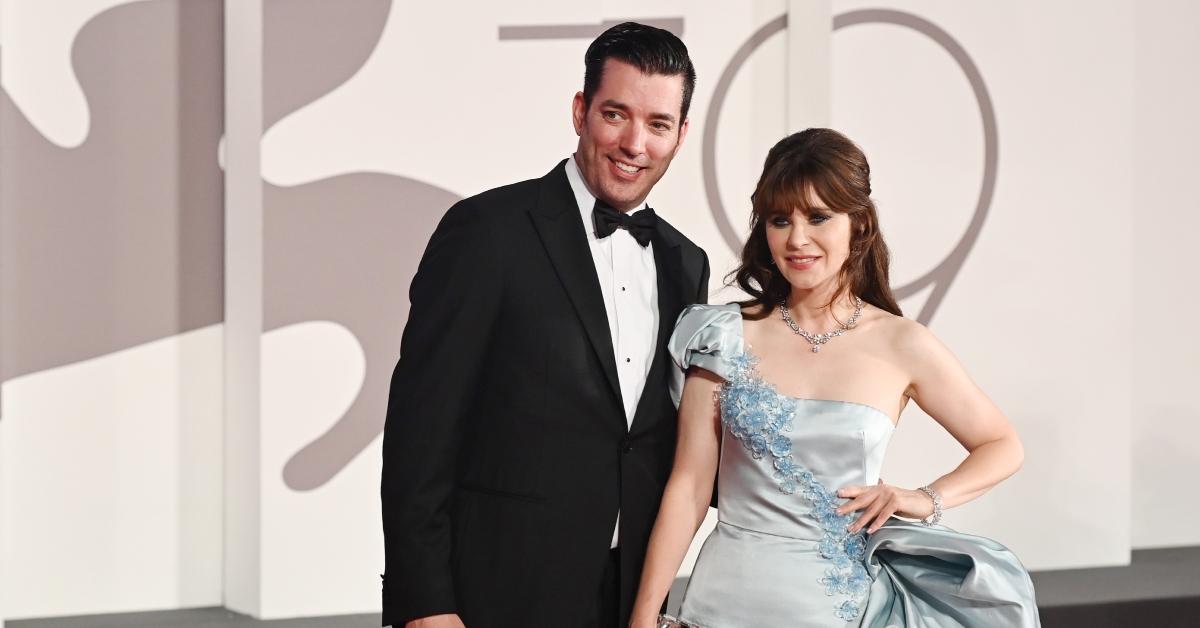 Take a gander at either Zooey Deschanel or Jonathan Scott's Instagram page and you'll see a flurry of adorable photos of them together. While you can't always take social media at face value, the New Girl alum and the HGTV star seem to be enjoying every moment together.
Article continues below advertisement
In 2021, the couple shared the exciting news that they purchased a house together. And given that they're committed to so much together, it makes us wonder: Are they married?
Are Zooey Deschanel and Jonathan Scott married?
Zooey and Jonathan are engaged, but they aren't married, yet!
There is always a slight chance that the couple secretly tied the knot in private, but as far as we know, they haven't said "I do" just yet.
Article continues below advertisement
The lovebirds met in 2019 while filming a siblings edition episode of Carpool Karaoke, joined by Drew Scott and Emily Deschanel. The two of them hit it off and started dating shortly after.
Article continues below advertisement
In August 2022, they celebrated three years together. "Hard to believe … scratch that … Easy to believe it's already been three years with this beautiful soul in my life. Zooey Deschanel, you make everything better," Jonathan wrote in a post, accompanying a photo of them together.
Article continues below advertisement
On Aug. 14, 2023, Zooey posted on Instagram that the duo had gotten engaged. "Forever starts now!!!" she captioned the picture where she displayed her beautiful ring.
PEOPLE reported that Jonathan actually proposed in Scotland as a nod to his heritage.
Have Zooey Deschanel or Jonathan Scott ever been married before?
This won't be Zooey or Jonathan's first marriage. They have both been married and divorced.
Zooey was previously married to Death Cab for Cutie front man Ben Gibbard from 2009 to 2012. In 2015, she tied the knot with film producer Jacob Pechenik, with whom she shares daughter Elsie (born in 2015) and son Charlie (born in 2017). They announced their separation in September 2019.
Article continues below advertisement
Meanwhile, Jonathan was previously married to a woman named Kelsy Ully from 2007 to 2013. He opened up about their tragic divorce in the memoir he penned with his brother Drew, dubbed It Takes Two: Our Story. "The pain ended up outlasting the marriage," Jonathan wrote. The Property Brothers star currently doesn't have any children of his own.