The 'Barbie' Movie Posters Have Arrived, and Twitter's Meme Game is Top-Tier
Tweets, memes, and even a 'Barbie' selfie generator quickly followed the 'Barbie' trailer. These are our favorite bits about the movie starring Margot Robbie.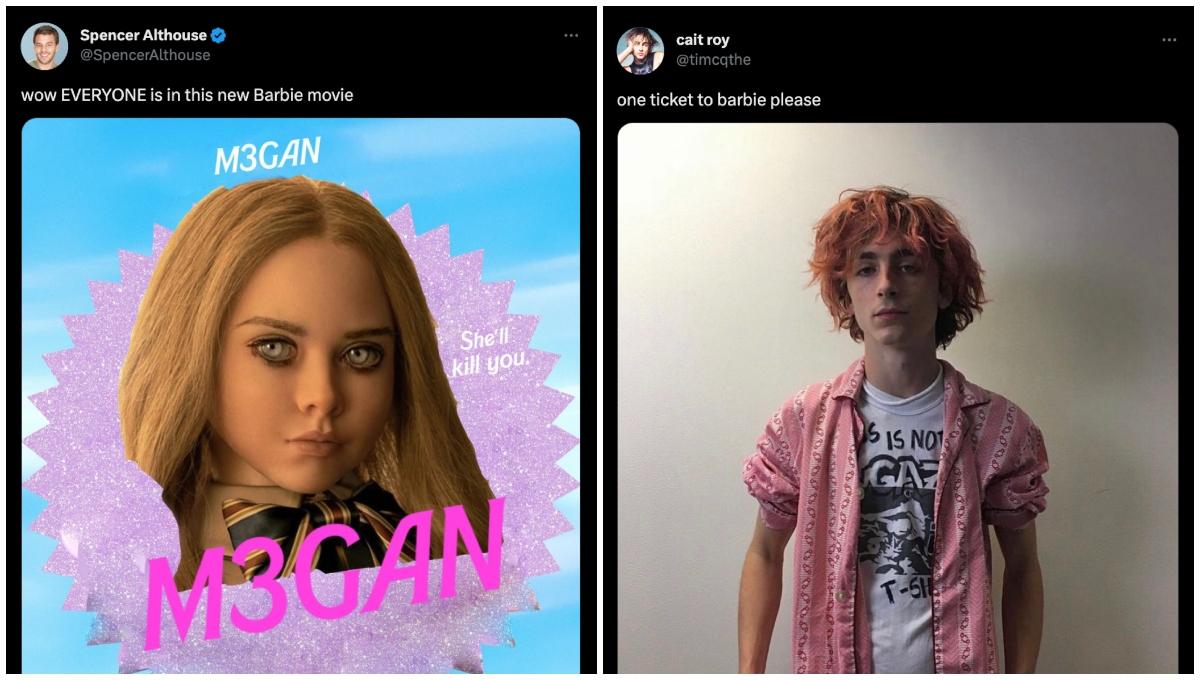 Warner Bros. Pictures' highly-anticipated film Barbie premieres in theaters on July 21, 2023. On April 4, the movie started dropping its official character posters for the flick on its Instagram and Twitter. The internet could not contain its excitement when it finally got to see the entire cast in full.
One unexpected cast member that was revealed is Michael Cera. The Scott Pilgrim vs. the World alum joins the star-studded cast, led by Margot Robbie as Barbie and Ryan Gosling as Ken.
Article continues below advertisement
Given the movie's gargantuan promotion efforts, tweets and memes have been popping up left and right. In fact, there are a few funny bits regarding Barbie that have really caught on.
We've laid out the best Barbie tweets and memes swirling across the internet right now.
Article continues below advertisement
Tickets to 'Barbie' memes:
No one said you had to look like Barbie or play with Barbie dolls to watch the movie. The internet is currently poking fun at unlikely moviegoers in these tweet-style memes.
Article continues below advertisement
Article continues below advertisement
"He's just Ken" memes:
As @keyon explained in the tweet above, Barbie is definitely the main character in this eponymous movie. She is the sun and Ken is just a planet orbiting her.
In fact, Barbie's tagline on her character poster reads "Barbie is everything." Meanwhile, Ken's tagline reads: "He's just Ken." Users cannot get over the way the movie did him dirty.
Article continues below advertisement
Article continues below advertisement
Fanmade character posters for 'Barbie'
The Twitterverse is also spoofing the Barbie character posters by editing their favorite celebrity or character in. Many are claiming that said person (for example, Harry Styles) is starring in the film as a joke.
Article continues below advertisement
While some of these fanmade character posters are obviously fake, some are almost believable.
Article continues below advertisement
Article continues below advertisement
There's also a 'Barbie' Selfie Generator for you to join in on the fun.
If you want to see how your face would look on a Barbie movie poster, head over to the recently-released Barbie Selfie Generator, and upload a picture of yourself. You can become the next member of the star-studded ensemble (or at least pretend to be in the best way possible).
The poster will even give you a top-tier profession (as do the posters for the movie). Who knows, you could be an astronaut, or the next great Nobel Prize-winning scientist.
In addition to Margot, Ryan, and Michael, Barbie also stars Kate McKinnon, Dua Lipa, America Ferrera, Issa Rae, Will Ferrell, Hari Nef, Emma Mackey, Simu Liu, and more.
Although Barbie dolls are typically marketed toward a young female audience, Barbie will be geared toward an older audience. According to the Motion Picture Association, Barbie has been rated PG-13, as it may feature content inappropriate for pre-teenagers.