'Beat Saber' Is Coming to PlayStation VR2 in The "Near Future" — Details on the Release Date
When is the release date for 'Beat Saber' on PSVR2? The popular VR title is coming to the new system, but there's little information at this time.
With a new year comes a new lineup of game releases. For 2023, that includes highly-anticipated titles like Final Fantasy XVI, The Legend of Zelda: Tears of the Kingdom, and the elusive Marvel's Spider-Man 2. As far as new systems are concerned, Sony aims to come out swinging with the upcoming release of their second virtual reality headset, the PlayStation VR2. PSVR2 will feature several new titles and upgraded classics, including the award-winning Beat Saber.
Article continues below advertisement
Beat Saber is a popular VR rhythm game in which players dual-wield a pair of laser sabers and must hit a flurry of oncoming blocks to the beat of a song. In the years since the game's launch in March 2019, Beat Saber has released several paid DLC packs from popular music artists and groups like BTS, Lady Gaga, and Lizzo. The modding community has even created maps for popular anime and video game songs.
Beat Saber will soon make its way to PSVR2. Here's what we know about the release date.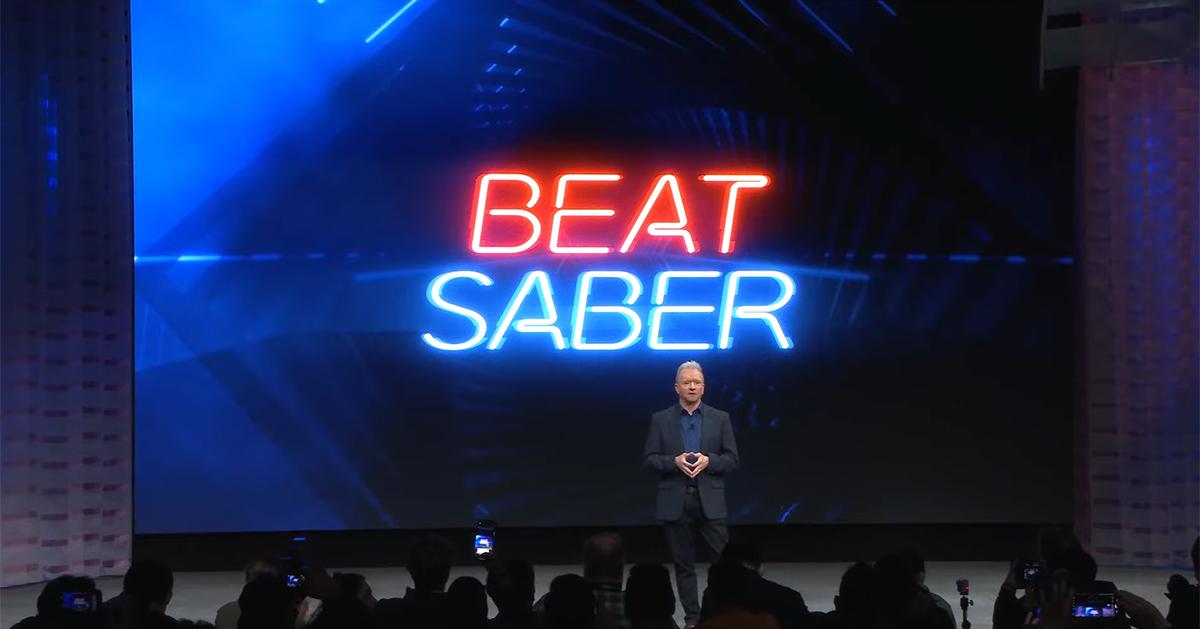 Article continues below advertisement
When is the release date for 'Beat Saber' on PSVR2?
During the Sony conference at the Consumer Electronics Show 2023, PlayStation CEO Jim Ryan revealed more details about the upcoming PSVR2. The new headset is set to be released on Feb. 22 with over 30 launch titles and new games. These include Horizon: Call of the Mountain, a VR version of Resident Evil: Village, and a newly-announced free VR upgrade for Gran Turismo 7.
Among these announcements and confirmations, Jim Ryan also revealed that Beat Saber is "in development" for PSVR2.
However, this announcement inadvertently came with a few caveats. For one, the game was not announced within the same breadth as PSVR2 launch titles, which could very well mean that this new Beat Saber iteration won't be available during the launch window for the new headset. The announcement itself was also remarkably light on details. While VR footage of Gran Turismo 7 was featured prominently during its reveal, Beat Saber received no such footage.
Article continues below advertisement
As of this writing, more information regarding the release of Beat Saber on PSVR2 will come "in the near future," according to Jim Ryan. There are no confirmed details on the release date for Beat Saber on PSVR2. Just as importantly, we don't yet know how the game will be released on the upcoming platform.
Article continues below advertisement
Details on new songs, updates, and backwards compatiblity are likely forthcoming.
There's little information to go around concerning when and how Beat Saber will arrive on PSVR2. What we can say for sure is that it will likely feature a list of new official tracks and rhythm maps for players to slice up.
At this point, it is also uncertain as to whether or not this VR-exclusive title will get a free upgrade in the vein of Gran Turismo 7.
Given that the PSVR2 lacks backward compatibility with older PSVR titles, the release method for Beat Saber on the new system may take on a whole new form when it eventually comes out.