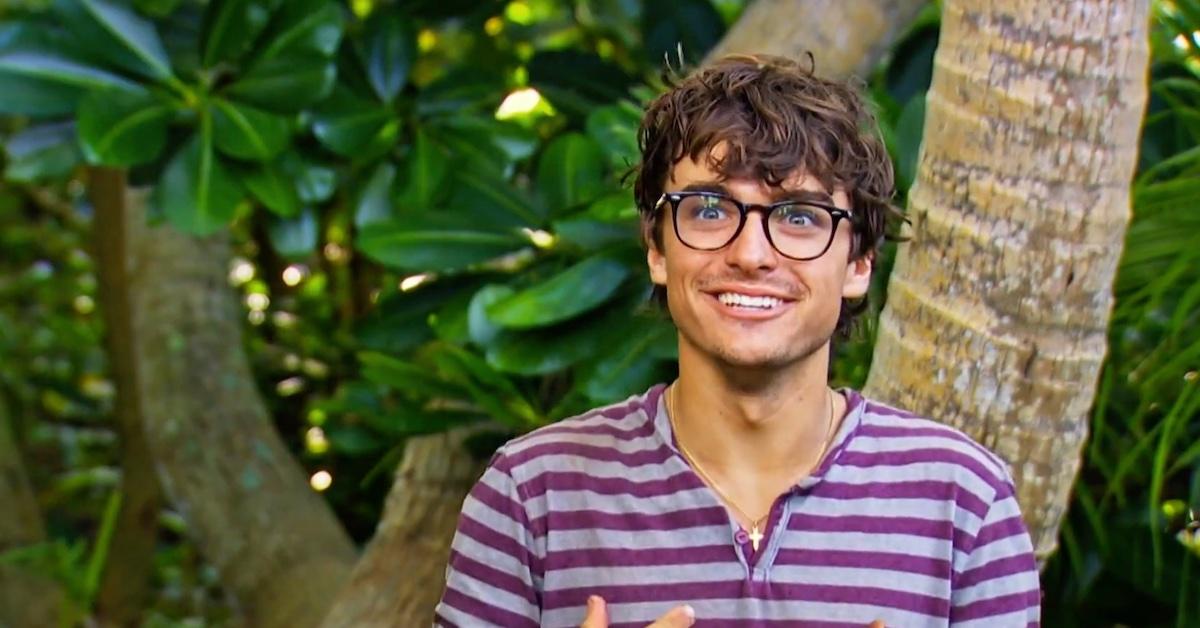 It's a Bird! It's a Plane! It's a Spaceship! No, It's Carson From 'Survivor'!
Who is 'Survivor 44' castaway Carson Garrett dating, if anyone? He's turning heads this season with his expert tree puzzle skills and confessionals.
Every season of Survivor has a standout player who also happens to be a heartthrob; this season, it's Carson Garrett. In the first episode of Survivor 44, Carson talks about how he's never had a girlfriend because he was perceived as a nerd. But he put on 30 pounds before going on Survivor. Now, the internet is *obsessed.* One could say we're CooCoo for Carson!
Article continues below advertisement
But there's much more to Carson behind his glasses and Tom Holland comparisons. So who is Carson when he's not on Survivor? Is he dating anyone, and if so, who? Survivor fans are eager to know who lights Carson's fire. Buckle up, Carsonauts! It's time to blast off into Carson's love life (and his life in general).
Article continues below advertisement
'Survivor 44' player Carson isn't dating anyone we're aware of.
As far as we know, Carson is single and ready to mingle. But this season of Survivor has done wonders for his romantic life … or so it seems. In the first episode, Carson reveals that he's never had a girlfriend, which shocked fans.
But so many fans were enamored by Chaotic Carson that he tweeted, "Note to future Survivor players: Don't announce on national TV that you're single; I'll never be able to respond to all my DMs again lol (and I hate having unread messages lmao)."
Article continues below advertisement
Carson is a self-professed "space nerd" and a NASA engineering student, so we doubt that dating is his number one priority. He hasn't shared much about his personal life since going on Survivor. Still, he spends time with his family, travels to beautiful scenic regions, and discovers the answers to our universe through science and engineering.
Article continues below advertisement
In his pre-season interview, Carson shared that his hobbies include "3D printing, Settlers of Catan, photography, Minecraft, strategic board games, space/engineering YouTube videos, Civilization V," but dating is not on that list. Perhaps that will change after this season of Survivor!
Carson wouldn't be the first young Survivor player to pick up a significant other after the season. Maryanne Oketch, who won Survivor 42, talked about her crush on Zach Wurtenberger onscreen. While she and Zach formed a great friendship, a guy similar to Zach named Konner Howell reached out to Maryanne, and they began dating! Perhaps the same could happen for Carson.
Article continues below advertisement
Some fans are also unsure of Carson's sexuality. Of course, that's for Carson alone to know and share. Even still, he tweeted that one of the reasons he's been single his whole life is because the gender breakdown of his university, Georgia Institute of Technology, is 63.4% male, so it's safe to assume that Carson is straight.
Article continues below advertisement
Carson mastered the 'Survivor' tree puzzle thanks to his 3D printer.
For folks who want to go on Survivor, getting a 3D printer seems to be the best way to prepare for challenges. In his introduction on the season, Carson shares how he 3D printed many of the common Survivor puzzles and practiced them at home. He doesn't share that with the other castaways since that would make him a major target, but he proves that practice makes perfect in the "merge-atory" challenge.
Article continues below advertisement
The challenge features the giant tree puzzle, which Carson "whipped through," according to host Jeff Probst. While many fans gave props to Carson for practicing at home, they were also quick to criticize Survivor for reusing puzzles. However, Jeff has said on the On Fire podcast that he likes when contestants practice at home before going on Survivor because it shows how passionate and dedicated they are to the game.
Others believe that 3D printing is "only for the rich," but Carson shared how most people can get their own 3D printers for about $200. It's an investment, but it isn't thousands of dollars like many fans may believe. Plus, the tree puzzle, plus many other Survivor puzzles, are available to purchase via Etsy.
New episodes of Survivor 44 air every Wednesday at 8 p.m. EST on CBS.