New 'Selling Sunset' Star Chelsea Lazkani Praises Her "Boss Woman" Mom
Chelsea Lazkani's mother is an award-winning corporate executive. See what the new 'Selling Sunset' star says about mom Elizabeth Adefioye.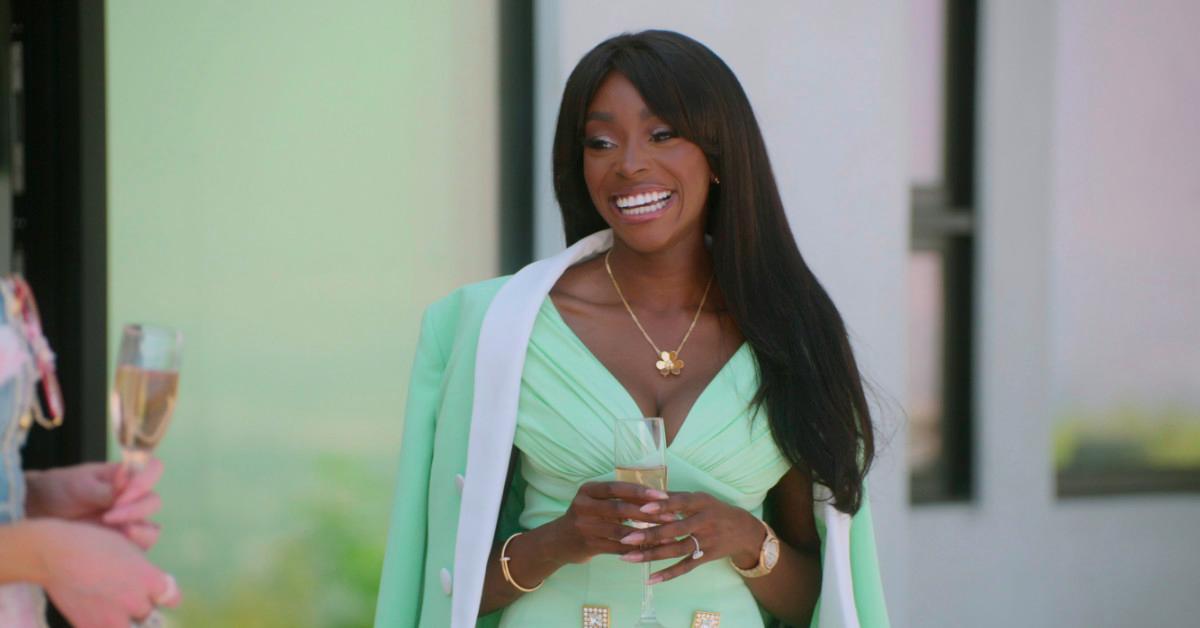 As Chelsea Lazkani made her Selling Sunset debut in the Netflix reality show's fifth season, the new Oppenheim Group hire gave big props to her mother.
"I do believe women can truly wear every single hat you want to wear," Chelsea said in Season 5's second episode. "I was raised by an incredibly hands-on and successful mother, one of the most successful Black women in corporate America."
Article continues below advertisement
So who is the businesswoman who inspired Chelsea to chart her own path to success? Here's what we know about Chelsea's award-winning mom…
Chelsea's mother, Elizabeth Adefioye, is a trailblazing HR executive.
Chelsea's mother is Elizabeth Adefioye, who became Emerson's first chief people officer when she joined the tech company's ranks last year. "In this role, she leads a newly consolidated human resources function, including accountability for culture, employee experience, end-to-end talent management, diversity, equity and inclusion, acquisition integration, organization development and effectiveness, total rewards, and digital HR," Elizabeth's corporate bio explains.
Article continues below advertisement
On Selling Sunset, Chelsea elaborated on her mom's influence. "I had that role model growing up, and I always believed that you can be an amazing wife, you can be an amazing mother, you can be a boss woman in the office, and you can find time to take care of yourself and be a role model not to just people of color, but to everybody," Chelsea said, as viewers saw her and husband Jeff Lazkani at home with their son, Maddox. "People can be like, 'Wow, she is breaking that proverbial glass ceiling.'"
Elizabeth has won multiple awards, including a "Most Powerful Women in Corporate America" honor.
Elizabeth earned a bachelor's degree in chemistry from Lagos State University, a postgraduate degree in human resources management from the University of Westminster in London, a diploma in leadership from Glasgow Caledonian University. Before her time with Emerson, she was a leader of human resources at Johnson & Johnson, Novartis Consumer Health, Medtronic, Bristol-Myers Squibb, and Ingredion.
Article continues below advertisement
But Elizabeth's bona fides don't end there: She was named one of Profiles in Diversity Journal's "Women Worth Watching" in 2018, one of Black Enterprise's "Most Powerful Women in Corporate America" in 2019, and one of Diversity Woman's "Elite 100 Extraordinary Black Women" last year. She's also an ambassador for the Network of Executive Women.
Article continues below advertisement
In Chelsea's Oppenheim Group bio, meanwhile, she credits Elizabeth for providing "inspiration for what could be possible for [Chelsea's] life but also afforded her the opportunity to travel and see the world, solidifying her love for design, culture, and people."
Chelsea's father is no slouch either. Her bio says her parents are "both highly accomplished in their respective fields." Her father is Segun Adefioye, an architect and property developer. His LinkedIn profile reveals that he earned degrees from King's College, Lagos; Ahmadu Bello University; and the University of Westminster; and that he worked as an architect for Nickson Borys & Partners and Seifert Architects before spending more than three decades as a consultant.
Chelsea's mom's ambition didn't come without sacrifices for the family.
Chelsea admits in Season 6 of Selling Sunset that when her mom moved to the U.S. for a job opportunity, she felt abandoned.
It seems that overall, the reality star admires her mom, but may have resented her drive early on. This duality likely informs her own motherhood journey, as she navigates success and fame.