Jamie Foxx's Daughter Corinne Explains Wikipedia Has Been Lying to Us About Her Real Name
Jamie Foxx's eldest daughter Corinne was born Corinne Foxx. However, Wikipedia says otherwise. Corinne explains the confusion around her last name.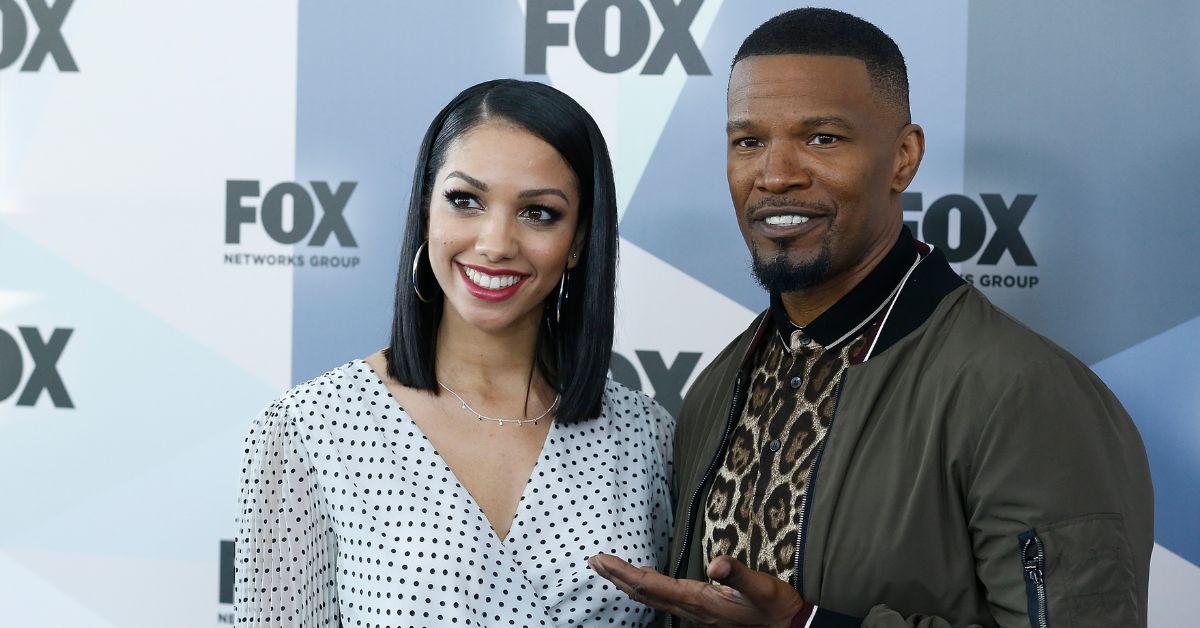 Remember in grade school when your class would have a substitute teacher and he or she would go down the attendance list and basically butcher the pronunciation of almost every student's name? You obviously know what your name is, but the substitute thinks it's something else and even if you correct them, they're probably going to forget anyways.
Article continues below advertisement
Well, imagine if it's more than just one substitute teacher who doesn't know your name. Imagine if the entire internet thought your name was something it's not.
This is the story of Dollface actress Corinne Foxx, who the world thought was born Corinne Bishop. This is also the story of why we can't always trust Wikipedia.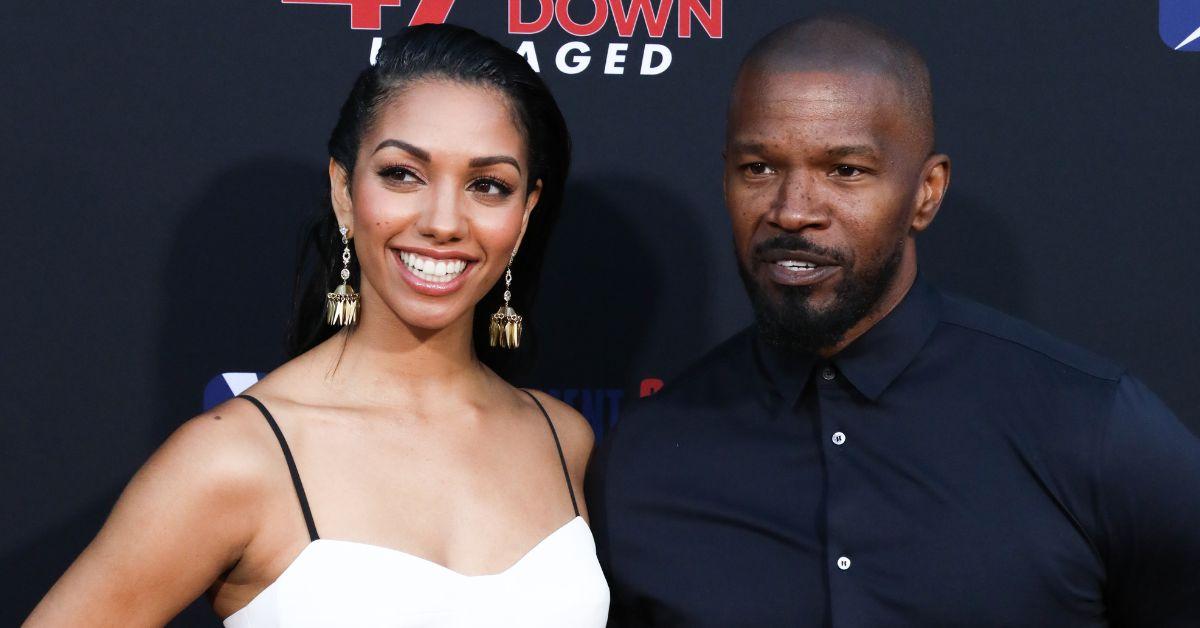 Article continues below advertisement
Jamie Foxx's daughter Corinne Foxx has a message for you.
OK, so we all know award-winning actor Jamie Foxx from movies like Sleepless and Baby Driver, right? Well, he has two daughters: Corinne and Annalise.
But as you also may already know, Jamie Foxx wasn't actually born Jamie Foxx. Born Eric Bishop, he adopted Jamie Foxx as his stage name years ago. Therefore, when he became a father, his daughters received the last name he was born with, right? Not exactly.
Corinne explains in a TikTok that her legal last name is actually Foxx and all you skeptics should listen up.
Article continues below advertisement
"So if you guys don't know, my dad was born Eric Bishop," Corinne says, adding "[but] when he moved to L.A. he changed his name to Jamie Foxx."
Article continues below advertisement
She explains that when her mom, Connie Kline, met him and got pregnant with Corinne, he went by Jamie Foxx and that was the last name they decided to legally bestow upon her.
"I was born Corinne Foxx, but you may not think that because my Wikipedia says otherwise," she says, as she pulls up the incorrect entry below.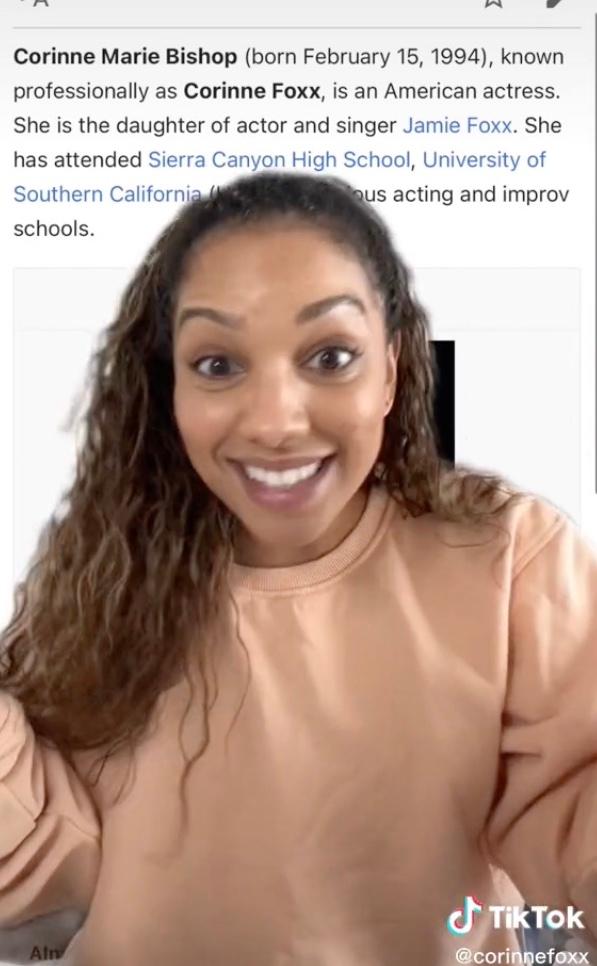 Article continues below advertisement
Per Wikipedia, she was born Corinne Marie Bishop and later adopted her father's stage surname, Foxx. But as Corinne explains, that's just not the truth. She's always been Corinne Foxx.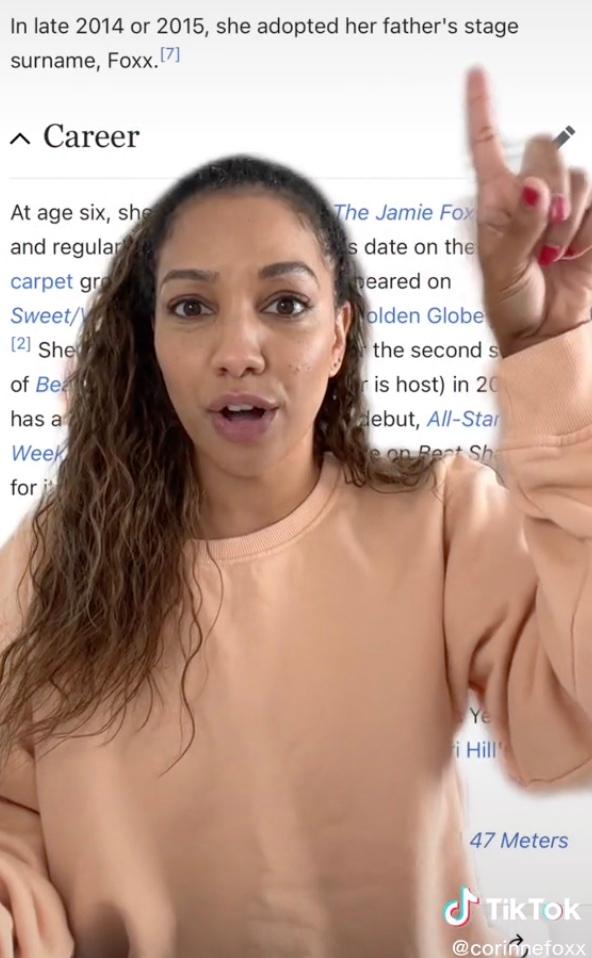 Article continues below advertisement
Corinne says Foxx is the last name on her birth certificate and it is the only name she's ever known her whole life. But Wikipedia's mistake has the internet convinced that she was born with the last name Bishop.
Furthermore, Corinne explains she's had her publicist reach out to the online encyclopedia to try and remedy this, but it refused to change her name because there are so many articles on the internet supporting this fake claim that she changed her last name to Foxx later in life.
"I guess one person wrote it and people have referenced that, and it keeps snowballing," she said.
Article continues below advertisement
As she ended her video, she said this, "My name is Corinne Foxx, it has always been. I never changed my name and that's just the truth."
Wikipedia finally corrected Corinne Foxx's page.
After Corinne shared her video, fans heard her loud and clear and tried to do what they could to help. "I just submitted the changes," one user wrote to her.
Article continues below advertisement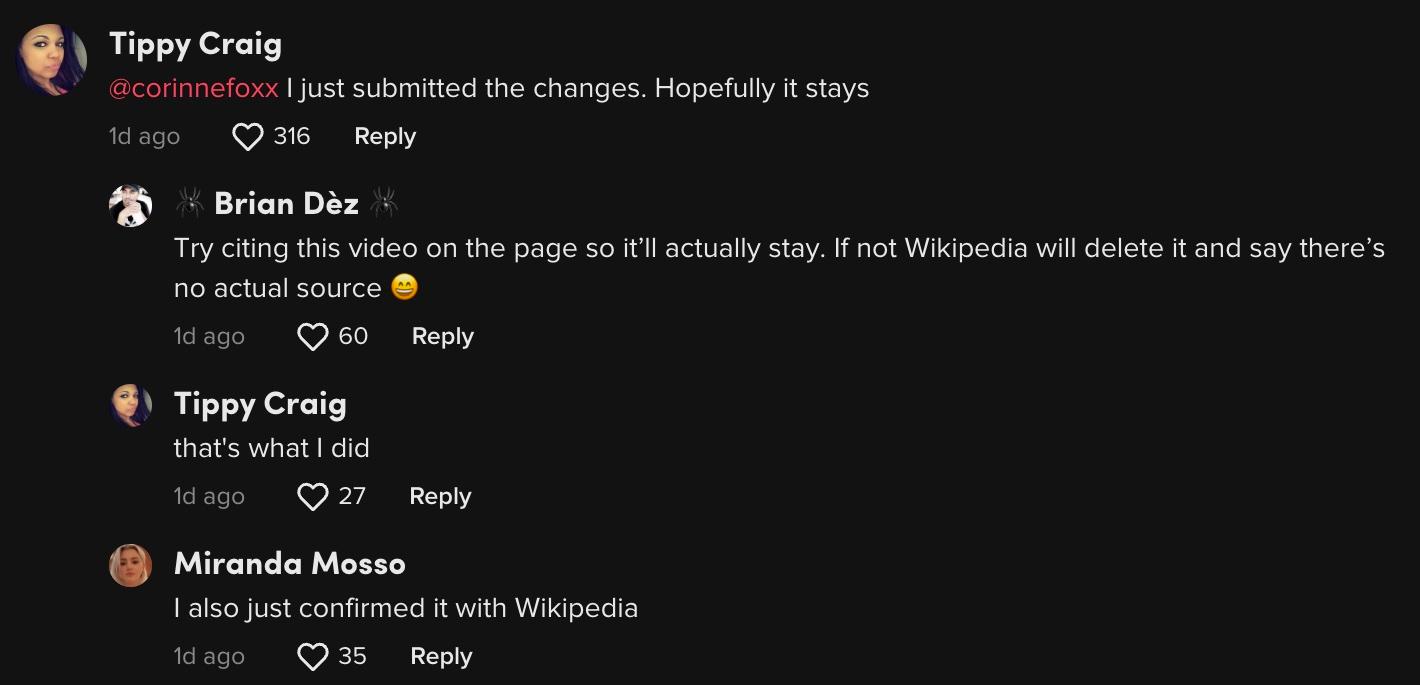 And apparently, that was all it took for Wikipedia to finally make the change. Wikipedia editors simply cited Corinne's TikTok as a source supporting the edit to the erroneous entry. "I just logged on and saw this so went to Wikipedia to look. It reads right and says it was updated one hour ago," another user wrote.
As of late, Corinne's name is currently Corrine Foxx on Wikipedia. It was finally fixed. Once again, TikTok has saved the day.