Is Chumlee From 'Pawn Stars' OK? Rumors Claim He Passed Away
Chumlee has been a fan favorite character on 'Pawn Stars' since the beginning. Now, rumors claim he passed away. Here is the real truth.
Since its debut in 2009, Pawn Stars has been one of the History Channel's most popular shows. The series follows the day-to-day operations of the World Famous Gold & Silver Pawn Shop, run by Rick Harrison and his son Corey "Big Hoss" Harrison.
Article continues below advertisement
From operating the store to negotiating with customers, there's never a dull moment. In each episode, patrons bring in their items (think: antique firearms, rare coins, vintage toys, and other collectibles) in hopes of pawning them for top dollar. Rick and Corey must then enlist the help of experts and their employees to determine if the items have any real value to them.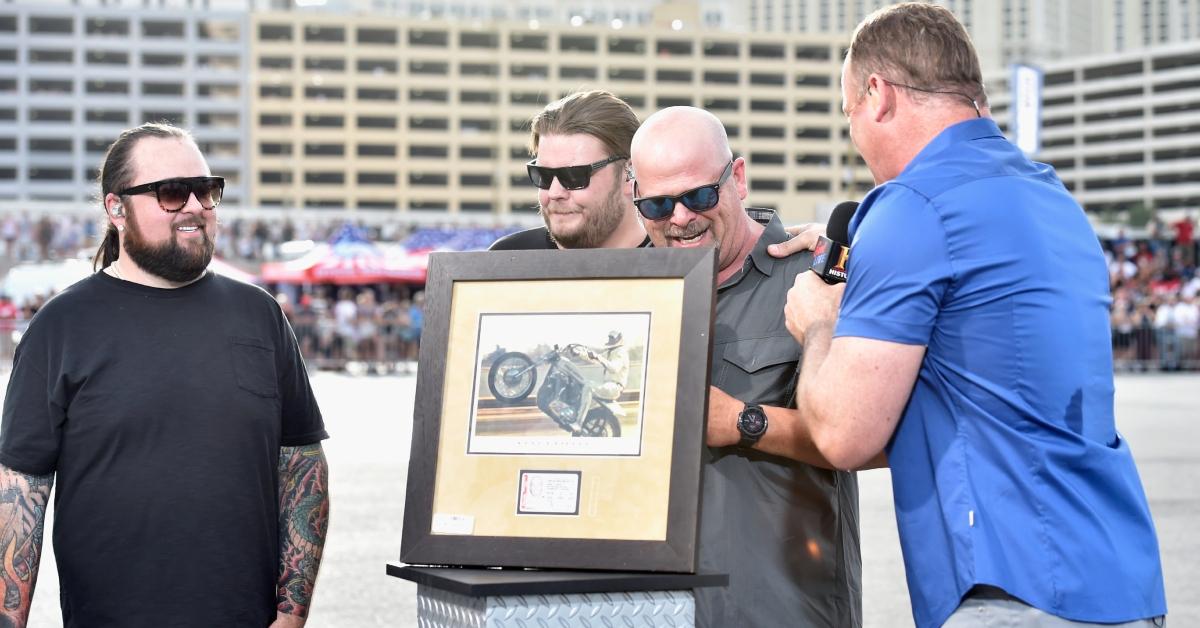 Article continues below advertisement
Chumlee (real name Austin Lee Russell), who works at the store, is often tapped to help evaluate and appraise items. A very humorous man, Chumlee has become a fan-favorite character. But as the show has progressed, he's been appearing on the show less and less. There's even been talk that he may have passed away.
So, what's the truth about Chumlee? Here's what we know.
Did Chumlee from 'Pawn Stars' die? No, but he has become the victim of several death hoaxes.
Chumlee is alive and very well despite the fact that vicious rumors have circulated over the years that he had passed away. In 2014, tweets began to appear on Twitter claiming that he had died. And while these tweets have been proven false time after time, they continue to make their way onto the platform every couple of years. It's unclear where these users are getting this false information from, but it is absolutely untrue.
Article continues below advertisement
Article continues below advertisement
Fortunately, Chumlee has been ignoring these bogus claims. These days, he's been actively posting on social media and continuing to tend to his candy shop, Chumlee's Candy on the Boulevard, which he opened in 2017. He also still appears on Pawn Stars from time to time.
In May 2023, he shared an update about the show alongside Rick and Corey in a video on Instagram.
Article continues below advertisement
Chumlee has had a few run-ins with the law in the past.
Over the years, Chumlee has had a few run-ins with the law. In the spring of 2016, his Las Vegas residence was raided in connection to sexual assault allegations where police officers found firearms, crystal meth, Xanax, marijuana, and traces of cocaine. He was arrested and later released after posting a $62,000 bond, per USA Today.
Article continues below advertisement
Two months later, he was charged with 20 felony counts, including unlawful possession of a firearm. He pleaded guilty to the felony firearms count and to a misdemeanor for having drugs. He was given three years of probation and had to attend counseling. His probation officially ended in 2019 and he wasn't ultimately charged in relation to the sexual assault allegation, according to KSNV.
Despite his criminal history, Rick and Corey have still allowed him to be a part of the show and their business.