Sam Claflin Picked up the Guitar for 'Daisy Jones & The Six' — What About Singing?
Amazon's 'Daisy Jones & The Six' sees the cast transform into rock stars, but fans wonder: Does Sam Claflin really sing in 'Daisy Jones & the Six'?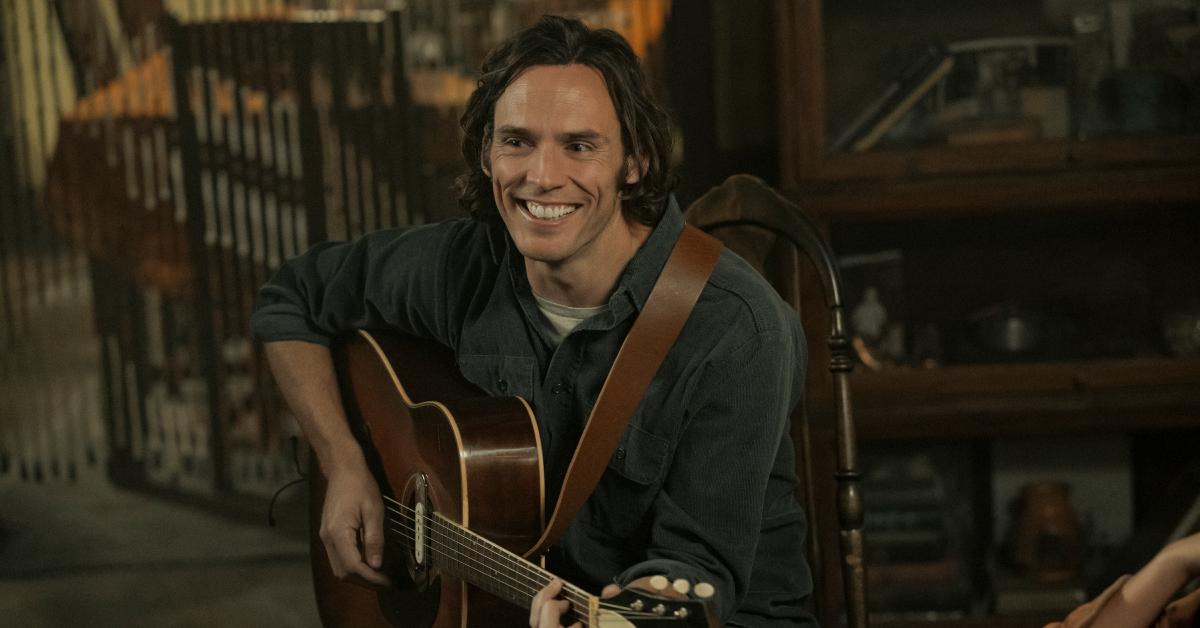 Article continues below advertisement
Ahead of its premiere, Prime Video offered fans the chance to hear the band, fronted by its two mesmerizing lead singers, Daisy Jones (Riley Keough) and Billy Dunne (Sam Claflin). As we bask in the glory of their album, "Aurora," many fans are dying to know — does Sam Claflin really sing in Daisy Jones & The Six? Keep reading to find out!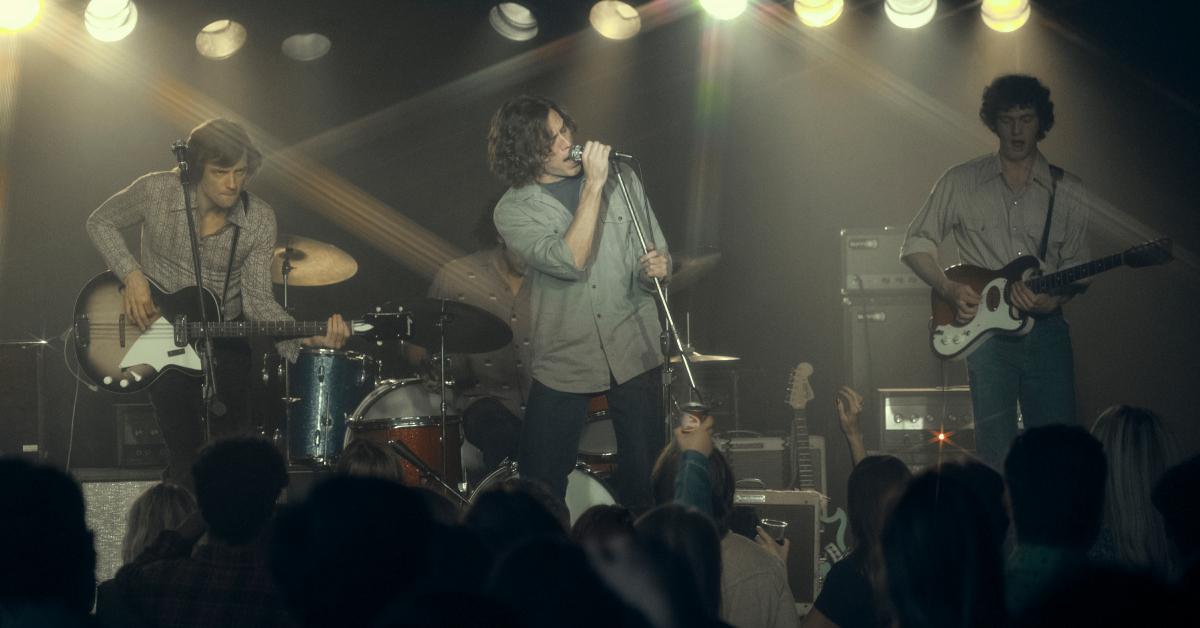 Article continues below advertisement
So, does Sam Claflin sing in 'Daisy Jones & The Six'?
Despite no prior musical experiences, Hunger Games alum Sam Claflin completely transforms into a '70s rock star in the show. And so, it's no surprise that he really does sing in Daisy Jones & The Six — there's no dubbing. In fact, all of the cast members play their own instruments in the series (that's how seriously each cast member takes their craft).
Like his co-star Riley Keough (aka Elvis Presley's literal granddaughter), the book-adaptation king worked with a vocal coach before filming began. He also worked with guitar teachers and learned the ins and outs of the rhythm guitar.
Article continues below advertisement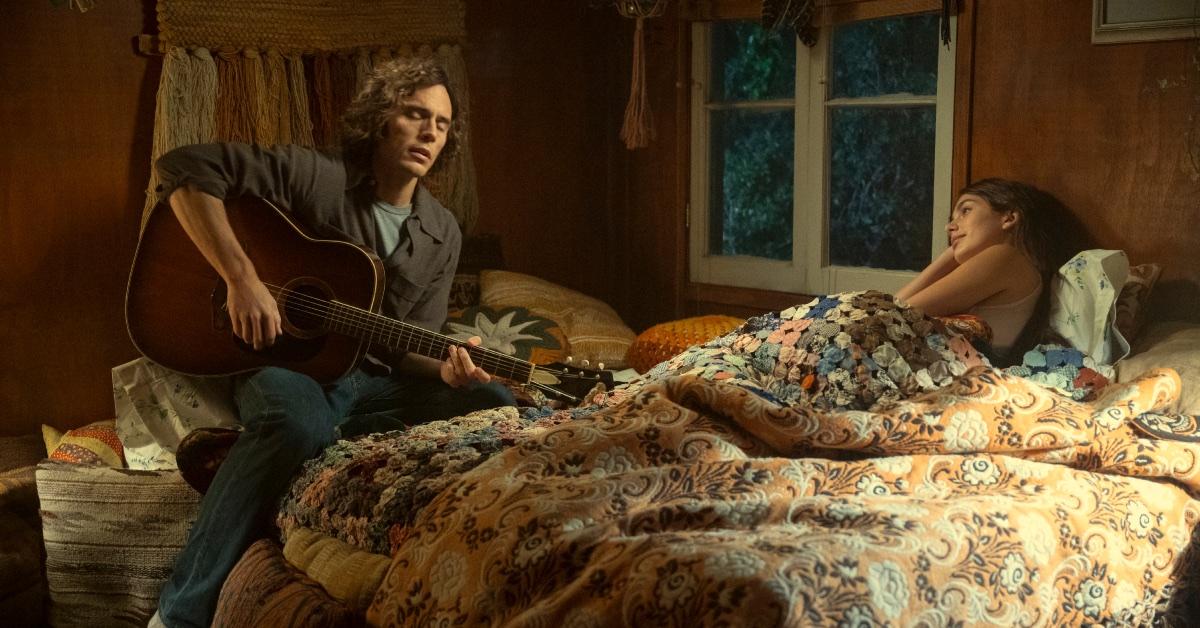 Ahead of the show's premiere, Sam spoke with Variety and revealed music has never been a big part of his life. So, when it came time to audition, he explored Apple Music and chose the only track he felt comfortable with: "Your Song" by Elton John.
Article continues below advertisement
"I went into a recording studio for the first time in my life, confronted with a microphone and people watching me in a fishbowl," Sam told the outlet. "I sang Elton John's 'Your Song.' Terribly."
Scott Neustadter, the showrunner of Daisy Jones & the Six, said the audition was "the train wreck of all train wrecks." Yet, he still wanted to give Sam a chance since he and the casting department had "seen him be a chameleon in so many other projects that he'd done — the range really made us feel like this guy can do anything."
Luckily, Sam got a second chance and eventually landed the role of the one and only Billy Dunne.
Article continues below advertisement
Sam did note that despite his excitement for the series, he was intimidated by the musical aspect: "I was f--king petrified," he told Variety. "Right from the f--king beginning, s--t scared. I remember my first guitar lesson, going, 'What the hell? How am I going to be singing whilst doing this, whilst also moving around?'"
EP Lauren Neustadter said Sam really transformed into Billy Dunne.
In December 2022, the entire cast and crew spoke with Vanity Fair and discussed what it was like making the limited series. The main cast originally had less than a month to learn how to sing and play their instruments — however, the COVID-19 pandemic shut down production for nearly a year and a half.
As a result, everyone honed in on their skills, especially Sam. He worked with his coaches and teachers over Zoom, completely transforming himself into the '70s rock star known as Billy Dunne.
Article continues below advertisement
"I get misty thinking about the transformation and the dedication," Lauren Neustadter told Vanity Fair. "During COVID, he was in England with his kids, and he was homeschooling them during the day, and he would take care of them, and then he would put them to sleep, and he would get on a Zoom to [learn how to] play the guitar."
She added, "And he also really changed. He transformed his body to really be like a '70s rock star. He would get on the Zoom and get on the guitar and he would work with his vocal coach. It was nonstop. He was really transforming into Billy, and Riley did the same [with Daisy]."
Daisy Jones & The Six premieres Friday, March 3, on Prime Video.
PS: Don't forget to check out "Aurora" — the album is now streaming on all music platforms!