"It's Giving" Is the Name of Doja Cat's New Clothing Line, and Twitter Thinks She Stole It
Clear some room in your closet because rapper Doja Cat is the latest celeb to launch her own clothing line — and already, it's giving us so much to talk about. The line is called "It's Giving" and it's currently available for pre-order here.
Article continues below advertisement
But ever since Doja (BTW, have you seen her new buzzcut?) introduced the line, not everyone has been impressed. Some folks think she stole the brand's name. Others are befuddled by the color palette she chose for the promotional video and website. What's going on with "It's Giving"? Keep scrolling to find out.
Article continues below advertisement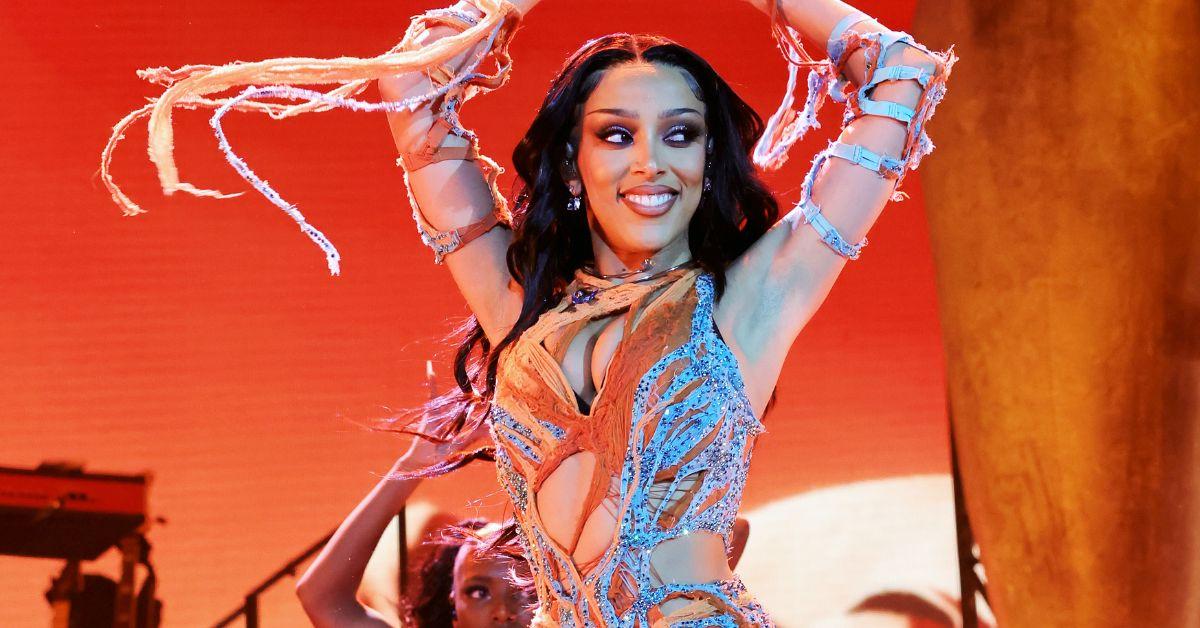 Influencer Rolling Ray claims Doja Cat stole the phrase "It's Giving" from him.
Article continues below advertisement
In a now-deleted tweet (via HipHopDX), Rolling Ray wrote, "This b--ch said let me steal from this handicap Black b--ch & copyrighted my saying uh whole year ago !! Lord i'm tired of fighting."
Fans of Rolling Ray also tweeted in support.
Article continues below advertisement
Paperwork on Twitter proved that Doja Cat had trademarked the phrase last year; however, it was still well after Rolling Ray had said it.
Fans of Doja came to her defense, claiming that Doja didn't do it intentionally. One user wrote: "I promise you Doja was not thinking about Rolling Ray when founding her clothing line. Please be so serious."
Meanwhile, some users took neither side and claimed that the phrase has been around for a while. "People been saying 'it's giving' for a while even before he said it lmao," wrote one person in response to a tweet claiming Rolling Ray was the creator of the phrase.
Doja Cat has not responded to any claims that she stole Rolling Ray's phrase for her clothing line.
Article continues below advertisement
Fans teased that Doja's line was *giving* Dunkin' Donuts vibes.
While some folks had things to say about the line's name, others were more focused on the colors Doja chose for her promo video above. In the clip, Doja is heard saying, "It was supposed to give but did not give what needed to be gave? To the highest of giving if that makes any sense."
As she spoke, the words flashed on the screen in giant white bubble letters over an orange background. A few words were adorned with a glitzy pink shade for emphasis. Fans began to point out that the color palette Doja chose was similar to that of Dunkin'.
"At first I thought this was an ad for Dunkin' Donuts," tweeted one user. Another wrote: "I'm still not entirely convinced this isn't secretly a Dunkin' Donuts campaign." Someone else pointed out that the font and colors used didn't just resemble those used at Dunkin', but also at Hooters and on Nickelodeon.
Article continues below advertisement
It seems that in different ways, folks on Twitter feel that Doja's line is not unique. Hopefully, she'll share the story behind the line's title and color scheme soon — and if necessary — give credit where it's due.
Doja Cat's "It's Giving" line is currently available for pre-order and will officially launch on Sept. 30.