"Did You Tip?" — DoorDash Driver Trolls Customer by Putting Food Order in Worst Possible Place
A DoorDash customer thinks their driver must've been trolling them for hanging their food order on the handle of their front door.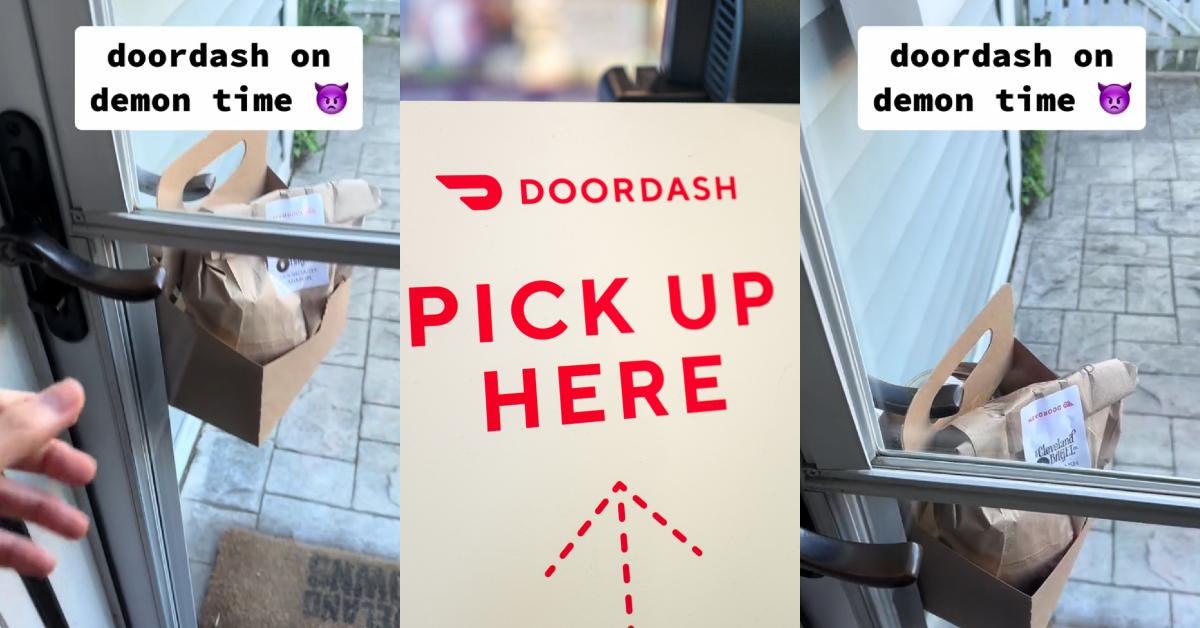 Thanks to food delivery applications like Uber Eats and DoorDash, folks are able to get some of their favorite food items, even spots that don't traditionally have teams of delivery drivers, brought straight to them.
Article continues below advertisement
While the aforementioned occurrences seem like egregious examples of wrongdoing against customers who were just simply waiting for their grub to arrive, there are other DoorDash faux pas that can be looked at in a more humorous light.
Article continues below advertisement
Like this one TikTok uploaded by user @jselly25 who was put in a bit of a predicament due to how their DoorDash driver decided to deliver their order: by hanging it on the handle of their screen door. The TikToker writes in a text overlay of the video: "DoorDash on demon time," intoning that they believe the delivery driver may have had mischievous intentions with how they placed the food order.
Article continues below advertisement
Typically, Dashers will just place a customer's grub on the ground, snap a photo, and then walk away, unless they are otherwise instructed to physically hand the food on over to the customer in question.
It seems like @jselly25 picked the former option, and in doing so, they were left in a real pickle: if they turned the door handle, then their food would crash to the ground.
Article continues below advertisement
Which left them with a few options: they could either climb out of a window and then go to the front door to lift the order off of the handle, or exit through the backdoor (if there was one.)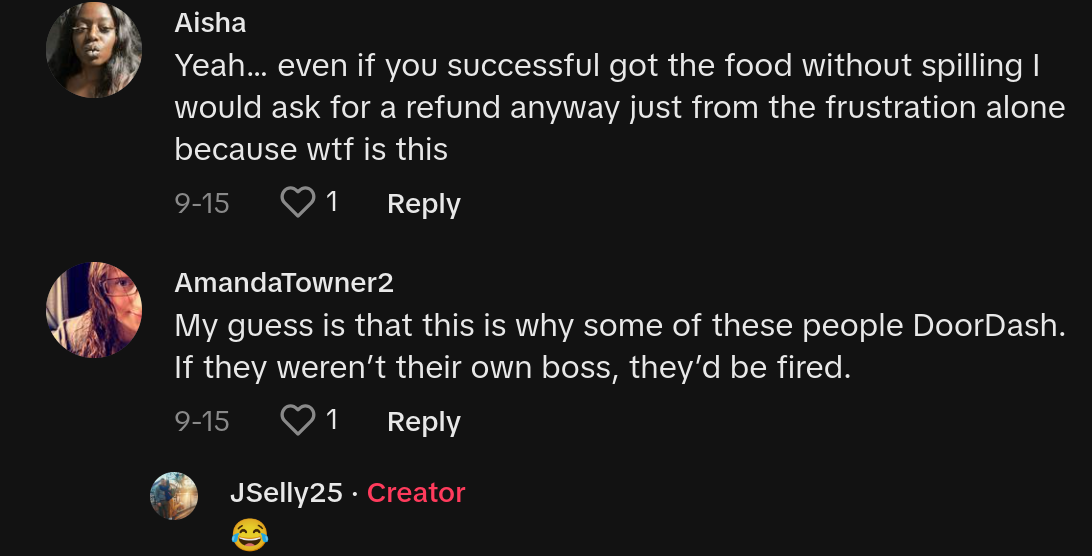 Article continues below advertisement
Several commenters who watched the video offered up some helpful tips of their own as to the best ways to go about handling grabbing the food without ruining the entirety of the order.
One person penned: "The handle works both ways, tilt it up," which was a recommendation offered by another TikTok user who said: "lift it all the way up and it will open without falling"
Article continues below advertisement
And then there were those who speculated why the driver would place the food on the door handle in the first place. One thought that their intentions in doing so were ultimately pure: "I think they were trying to make sure you don't step on it since the door opens outwards but didn't think this would be an issue"

Article continues below advertisement
While another user thought that it may have had something to do with the amount that @jselly25 gave them for a tip, if they tipped the driver at all: "Did you tip?"
One user straight up thought that there were malicious intentions behind the placement of the order: "Bro that dasher is evil"
Someone else said that they would've immediately requested a refund and complained to DoorDash upon seeing how the driver decided to deliver their food: "Oh that complaint and refund would've been quick ."
Article continues below advertisement
In the comments section of the video, @jselly25 clarified that the door the food was hanging from indeed was "the only door in the house"

Article continues below advertisement
They also clarified in a follow-up post that the door handle doesn't tilt upwards, meaning that there was only one way to get the food, and that was by pulling the handle down and hoping for the best.
How would you have handled the situation? Would you have hit up DoorDash customer support with a picture/recording of the food hanging from the doorknob to explain the issue? Or would you have had a neighbor come and help you out?