Gorehounds and Bakers Unite With TikTok's Halloween-Themed Cinnamon Rolls
TikTok's Halloween-themed cinnamon rolls are as delicious as they are ghastly. (Intestines, anyone?) Check out these recipes for Halloween weekend brunch!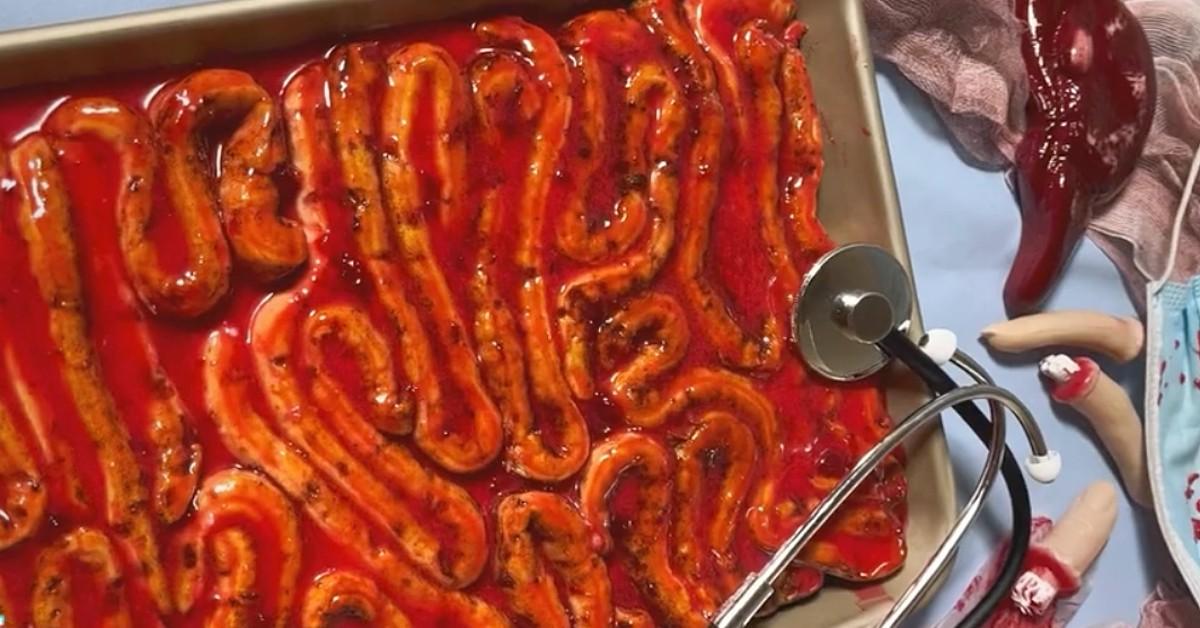 Whether it's Christmas, Halloween, Thanksgiving, or the Fourth of July (we hope you read that in Jennifer Coolidge's voice), creative chefs, bakers, and mixologists have a blast making holiday-themed edible creations, posting their kitschy masterpieces on TikTok. Obviously.
We've seen fizzy Hocus Pocus cocktails, Christmas tree brownies, Christmas cookie fudge, Thanksgiving turkey-shaped bread, and American flag charcuterie boards. But a gory new Halloween baking trend is, dare we say, taking the cake.
Article continues below advertisement
For Halloween 2022, cinnamon rolls are the star of the show, and you don't have to be experienced in the kitchen to take part in the fun. In fact, if you know how to open a tube of Pillsbury Cinnamon Rolls, you're halfway to the finish line.
While adorable cinnamon roll ghosts are making the rounds on TikTok (don't worry, we'll share one of those videos, too), we're more interested in the bloody, gooey, and undeniably grotesque intestine cinnamon rolls. Goodness, we just really love this whimsically morbid holiday.
Being more of an edible craft than it is a recipe, let's take a look at the clock app's grisly Halloween cinnamon roll craze.
Article continues below advertisement
These graphic confections might just make us toss our cookies.
Posted by So Yummy, this version of "edible intestines" requires ready-to-bake cinnamon rolls, glaze, and strawberry jam. That's it! By unraveling store-bought cinnamon rolls and arranging them in squished squiggly lines on a sheet pan, they resemble intestines. Go figure.
From there, pop the pan in the oven for 15 minutes at 400 degrees, and then thoroughly coat the "organs" in a thick layer of a glaze-and-jam mixture. You'll be left with a masterpiece plucked from the likes of films like Re-Animator (if you know, you know).
Is strawberry jam not your jam? These zombie guts are for you.
TikTok user @homesweethalloween urges people to use generic brand cinnamon rolls, as they apparently unfurl more easily than Pillsbury. Other than that, this version's bloody topping is void of strawberry jam, as it's made from icing and red food coloring. But don't fret, no gore was compromised.
Article continues below advertisement
These adorable cinnamon roll ghosts are more spoopy than spooky.
We get it, not everyone wants to pretend they're Hannibal Lecter when gorging on cinnamon-flavored confections. If you're grossed out by the idea of consuming faux intestines, these sweet little cinnamon roll phantoms from TikTok user Kristen Sellentin will put a smile on your face. Just look at those edible eyes!
These festive orange-and-black cinnamon rolls are just plain mouthwatering.
She had us at cream cheese and lemon frosting. Though this Halloween cinnamon roll recipe doesn't involve shaping strips of dough, it's too good not to share.
With almost 2 million views, TikTok user Sugar Pusher turned a Cinnabon copycat recipe into a stunning treat worthy of any Halloween gala. (Pro tip: Pour a cup of heavy whipping cream over the rolls prior to baking them to "make them nice and gooey.)