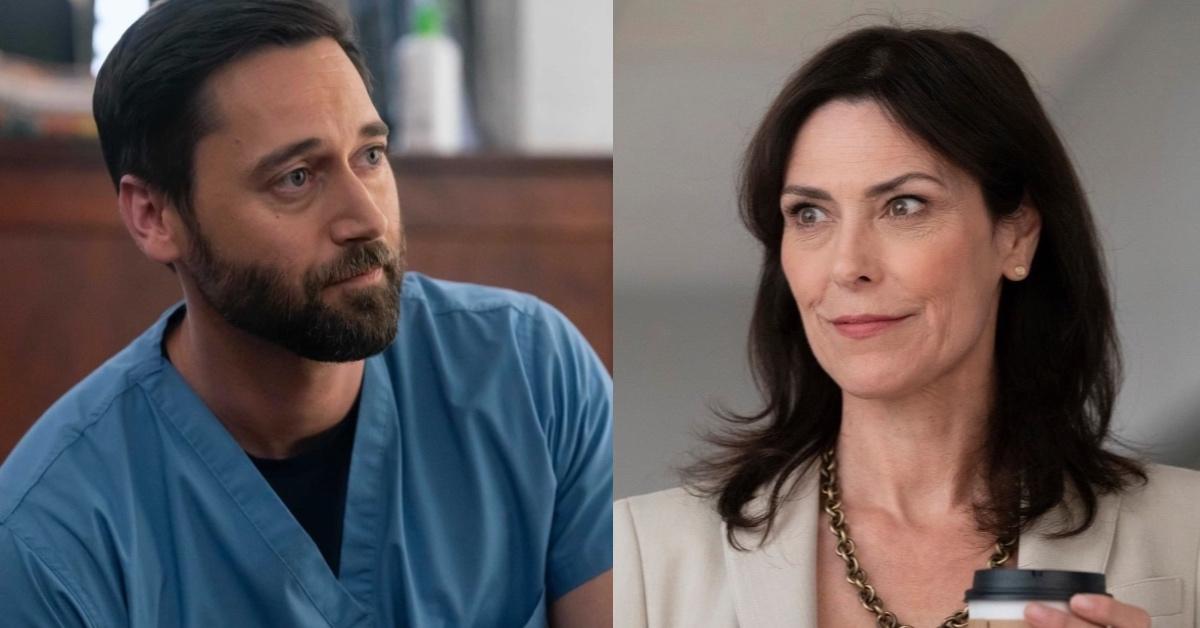 What Exactly Went Down Between Max and Veronica? 'New Amsterdam' Fans Are Very Curious
The arrival of a new character on New Amsterdam could easily cast doubt on Dr. Helen Sharpe (Freema Agyeman) and Dr. Max Goodwin's (Ryan Eggold) plans to start a new life in the U.K. Dr. Veronica Fuentes (Michelle Forbes) first appeared in Season 4, Episode 2 of New Amsterdam and made it abundantly clear that things will turn upside down at the hospital under her direction. But how does she know Max?
Article continues below advertisement
Veronica and Max seem to have some history — how do they know each other?
"I trained under her. She is the exact wrong person for the job. She is ruthless, corporate, financially motivated, she completely lacks the New Amsterdam spirit," Max angrily proclaimed in a teaser trailer for Season 4, Episode 4 of New Amsterdam.
With only a few weeks left until his departure to London, Max faces increasing pressure to find some common ground with Veronica. So, how well do they know each other?
Article continues below advertisement
The antagonism between Veronica and Max immediately caught the attention of the viewers.
"I'm sorry, but I'm loving this Max and Veronica dynamic already," tweeted @WatchWithHamda.
"Now, what is Max's history with Veronica?! Why [do] I feel like she fired him from somewhere before?" tweeted @byeDeee.
What went down between Veronica and Max is unknown.
Season 4 of New Amsterdam is bound to flesh out further details about their rocky relationship. Did Veronica fire Max? Did she steal a job opportunity from right under his nose? Or was it something else that ignited the conflict?
Article continues below advertisement
"This hasn't been fun for me," says Michelle Forbes, the actress playing Veronica on 'New Amsterdam.'
Michelle Forbes, the talented actress who previously appeared in shows like Big Sky, discussed what drew her to Veronica's character in an interview with Parade. As Michelle said, Veronica is among the few baddies she doesn't enjoy playing.
"What kind of person does it take to keep institutions alive? That, to me, was a really important question. It's probably one of the most important questions we have in our country right now," Michelle said. "I wanted to be a part of that."
Article continues below advertisement
Veronica is an extremely resourceful, results-oriented, ultra-pragmatic person whose worldview is uncannily similar to your standard balance sheet equation, with assets on one side and liabilities and equities on the other.
Article continues below advertisement
"She feels like she needs to strip it down to its bare bones and resurrect it. None of it is personal in her eyes," Michelle explained. "Everything is a number to her. It's all about getting the job done and everything is a number."
In the interview, Michelle also confirmed that New Amsterdam fans will eventually learn what went down between Veronica and Max.
"[It] will be revealed down the line," she said. "I'm going to tease that and say that it will be revealed down the line."
Catch new episodes of New Amsterdam every Tuesday at 10 p.m. EST on NBC.