Discord Is Now Allowing PlayStation Users to Connect Their Accounts — Here's What to Know
After much fan demand, Discord is finally allowing PlayStation users to link their accounts to the messenging app. Here's what to know.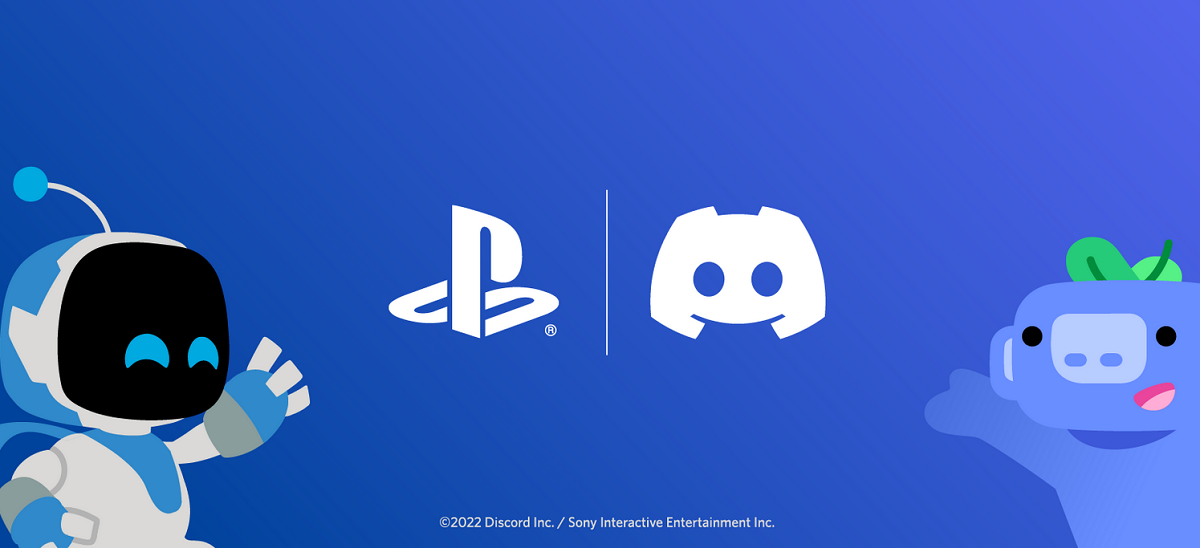 There are few better ways for gamers to keep in touch than through Discord. Though you can use it for any of your messaging purposes, the app has plenty of features that allow you to game while you're chatting with your friends online. As helpful as it is for gamers, you'd think that PlayStation users would be able to take advantage of a connection by now. Well, you're in luck. Discord is finally allowing PlayStation fans to connect their accounts. What does that mean for gamers?
Article continues below advertisement
PlayStation partnered up with Discord back in May 2021. According to a press statement delivered by Sony Interactive Entertainment CEO Jim Ryan, the two entities joined forces to connect PS fans' social media and gaming habits together:
"Our goal is to bring the Discord and PlayStation experiences closer together on console and mobile."
After almost a year since the initial announcement, we finally have some new PlayStation features on Discord.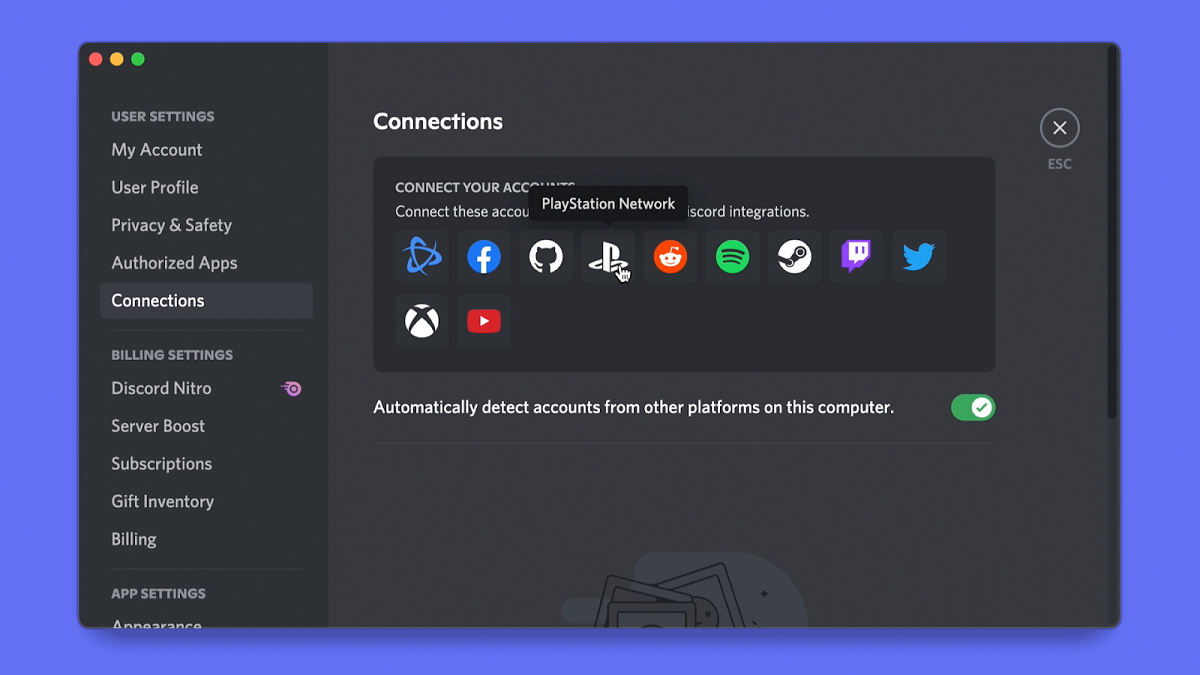 Article continues below advertisement
Here's how to use Discord with PlayStation.
While many details of the partnership between Discord and PlayStation were kept under wraps since the announcement, Discord recently released new information about how PlayStation will be integrated. As stated in a blog post from Discord, the messaging app service will gradually roll out new functions that allow PlayStation users to display their PlayStation user info on Discord.
"If you've ever connected your Discord account to another service that allows you to display your activity, it works similarly here," the post reads.
If you open up Discord today, a special message might pop up asking if you want to link whatever PlayStation accounts you might have to the app. If you don't see that message right away, just head into User Settings, then Connections. Once you see the Connections page, click the big "PS" logo.
Article continues below advertisement
You'll then be brought to a browser page that asks you to log in with your PlayStation account information. Once you do, you've officially connected your PlayStation account to Discord.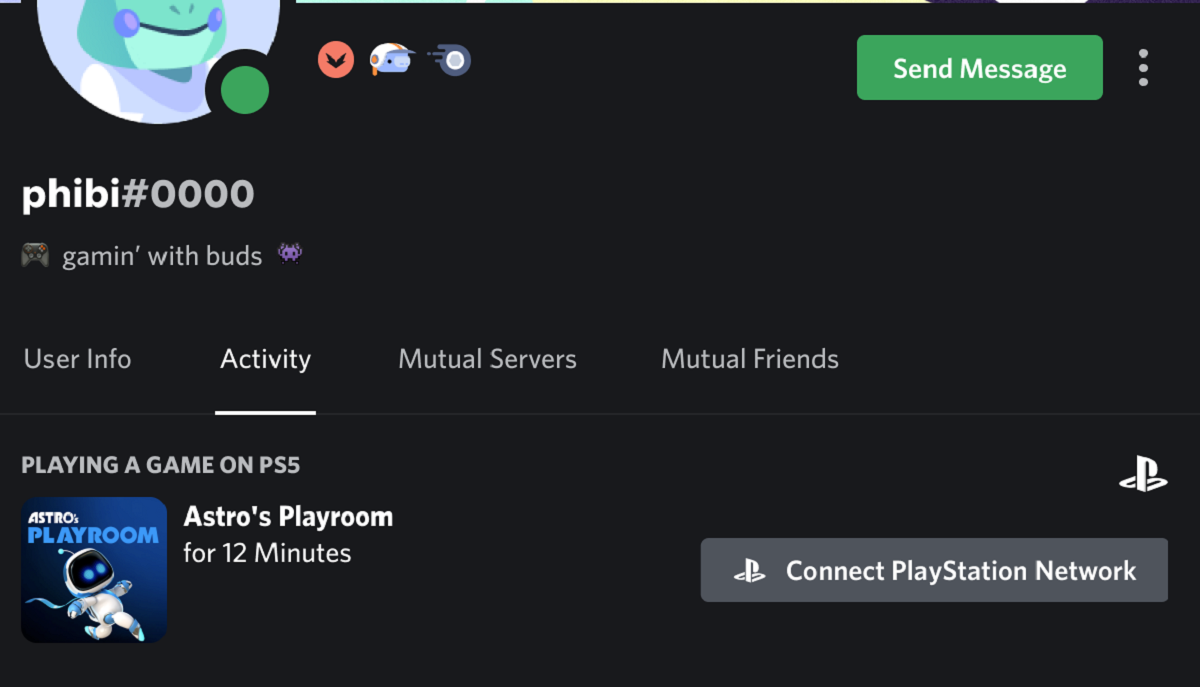 Article continues below advertisement
So what exactly does that mean right now? Well, it means the gaming activity on your PlayStation 4 and PlayStation 5 will be visible to your friends. If you're playing Ratchet and Clank: Rift Apart or Genshin Impact on your PlayStation consoles, your friends will be able to see that. Your PlayStation Network ID will even be displayed, in case any of your Discord buddies want to friend you on PlayStation. If you want to let people know you're down for online play, this is a great way to do it.
Can you voice chat with friends using Discord on PlayStation?
Unfortunately, despite Sony becoming a minority investor in Discord, there still isn't the option to hop onto a Discord voice chat with your friends while playing on your PlayStation -- and at this time, there is no word on when or if this feature will be integrated.
The ability to connect with voice chat would offer another level of connectivity for those playing cross-platform titles, allowing them to chat with their friends regardless of the console they're playing from. This is especially disappointing to many players, as Discord recently announced it would be integrating voice chat capabilities on Xbox consoles, leaving PlayStation a step behind.