Is Sister Monica Joan Leaving 'Call the Midwife'? Fans Fret About Beloved Character's Fate
Sister Monica Joan's health is beginning to worsen near the end of Season 12, leaving fans wondering if she will leave 'Call the Midwife'.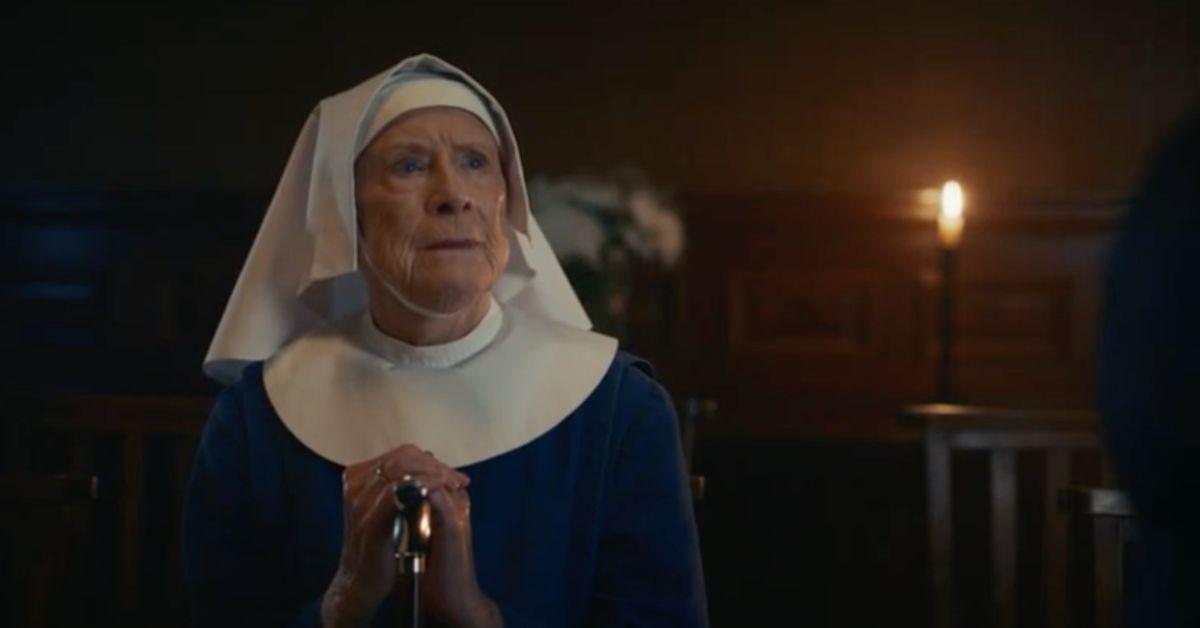 Spoiler alert: This article contains spoilers for Call the Midwife Season 12.
Original Call the Midwife character Sister Monica Joan (Judy Parfitt), though a retired midwife, has been one of the longest-term care providers to work at the Nonnatus House, and one of the first women in Britain to qualify as a midwife.
Article continues below advertisement
Despite this, her health is beginning to get the best of her near the end of Season 12, and this convinces fans that Sister Monica Joan will soon be departing the Nonnatus House. Here's what we know about her fate on the show.
So, why would Sister Monica Joan potentially be leaving 'Call the Midwife'?
During Episode 7 of Season 12, Sister Monica Joan begins to look unwell, and the other nurses and midwives become concerned for her well-being. Unfortunately, they have a right to be concerned, as it is later revealed that Sister Monica Joan contracted hepatitis.
Having to be on bed rest, she becomes emotional as the episode goes on, and begins requesting to leave.
Article continues below advertisement
Concern begins to increase as Sister Monica Joan's emotions grow more intense, and while Sister Veronica (Rebecca Gethings) is creating a possible remedy, she is reminded by Nurse Phyllis Crane (Linda Bassett) that the odds of someone her age beating hepatitis are not looking good. Meanwhile, people are "fearing the worst."
Sister Monica Joan may not be Leaving 'Call the Midwife' just yet.
Despite Judy admitting that she was surprised her character wasn't killed off, Sister Monica Joan beats those odds, and miraculously recovers just in time for Beatrix "Trixie" Franklin's (Helen George) wedding. However, her recovery is seemingly challenging, which is made clear throughout the final episode of Season 12.
Article continues below advertisement
No longer on bed rest, she is less than excited when it is suggested she begins rehearsing a reading for Trixie's wedding. Her displeasure only increases when Sister Veronica confirms that it is too late for her to select a new reading.
"I cannot keep all these weddings aligned and documented in my mind," states Sister Monica Joan. "The rate at which these women marry is absurd." Despite Sister Julienne (Jenny Agutter) reminding her that it "keeps them in business," that notion still doesn't help Sister Monica Joan.
Article continues below advertisement
Based on the season finale, it may not be the last time viewers see Sister Monica Joan on 'Call the Midwife'.
If Sister Monica Joan were to leave Nonnatus House, it wouldn't be by death. In the finale, she excitedly interrupts Trixie's wedding in order to fulfill the obligation of completing her reading.
However, instead of her original selection, she reads a wedding prayer written by Robert Louis Stevenson, along with an addendum she wrote herself — and does so with grace and poise.
"For those we love and may look upon no longer, for those whose path will not be ours, for those we teach and from whom we learn, and for those who hold us in their hearts, and call us home," she reads.
There have been no new announcements regarding Sister Monica Joan's future, but it was confirmed that Call the Midwife will be airing until at least 2026.