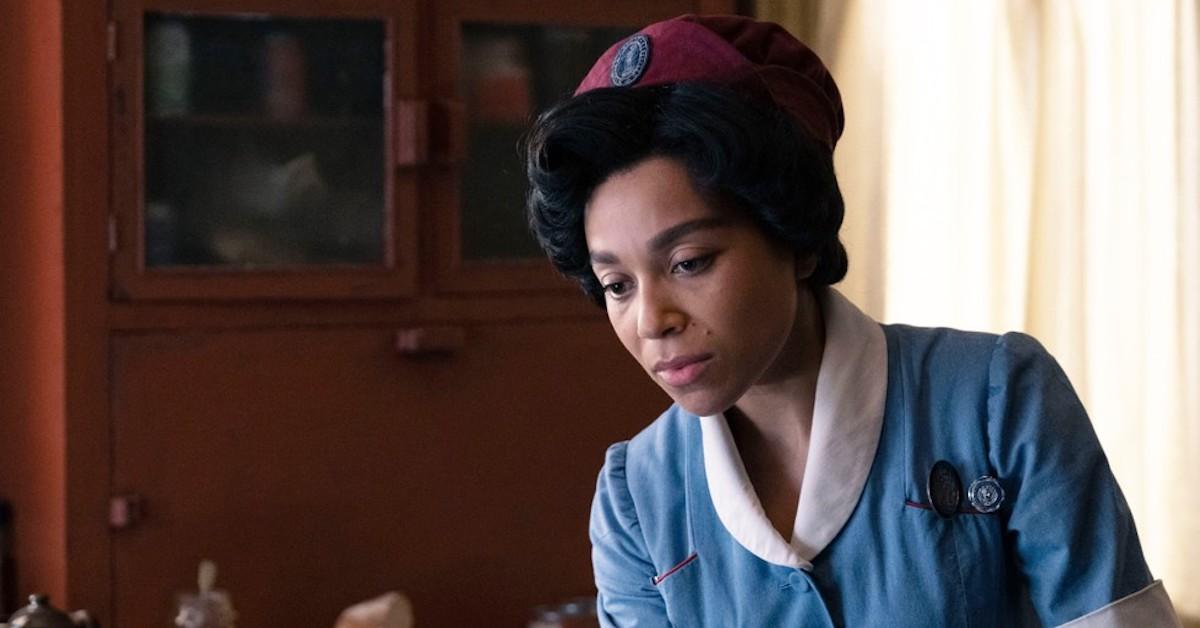 What Happened to Lucille on 'Call the Midwife?' Her Storyline Has Taken an Unexpected Turn
Fans of 'Call the Midwife' want to know what happened to beloved character Lucille. Here's an update on her character and why we may not see her again.
Spoiler alert: This article contains spoilers for Call the Midwife Season 12.
Nurse Lucille Anderson has graced our screens on Call the Midwife for 46 episodes since 2018. Fans in the UK and here, where the series airs on a delay, have fallen in love with the character, portrayed by Leonie Elliot.
Article continues below advertisement
But as viewers learned, Lucille is bowing out of Poplar as of Season 12. So what happened to Lucille's character on Call the Midwife? Will she ever return? Here's an update on Lucille's storyline.
So, what exactly happened to Lucille on 'Call the Midwife' in Season 12?
Viewers had to say goodbye to Nurse Lucille when she decided to return to her native Jamaica following a set of very unsettling circumstances.
Not only did one of fans' favorite characters suffer a devastating pregnancy loss, but she also found herself at the receiving end of anti-immigant sentiments in Poplar. Per PBS, Lucille makes the choice to leave after struggling with "her mental and emotional health."
Article continues below advertisement
Of course, Lucille left Cyril, her spouse, behind, which would suggest that it's possible the character will come back to film future episodes of Call the Midwife.
That we may be able to catch up with Lucille down the line is supported by the fact that Call the Midwife was renewed for two additional seasons, per Radio Times.
Leonie herself commented, "It would be lovely to pop up and see what's happening with Lucille in Jamaica." Her fate as a guest star however isn't her own to determine, with the actress also saying about whether she'll appear on Call the Midwife in Seasons 13 and 14, "You'd have to ask the producers!"
Article continues below advertisement
Fans sure hope to see Lucille return to 'Call the Midwife.'
Fans in the UK gave away Lucille's storyline months before American viewers caught up with the character's trajectory — and let's just say that no one is overly thrilled that the nurse suffered on Call the Midwife and is now taking leave.
Article continues below advertisement
Some fans found solace in Lucille's story arc reflecting reality, with one viewer tweeting, "Cyril and Lucille's story is compelling yet heartbreaking. The pain of loss is always real, but those around us can help us through the bad times with the good awaiting us."
Leonie Elliott is at peace with her exit from 'Call the Midwife.'
As for Leonie, who portrays Lucille, she took to Instagram to bid fans "farewell." The star captioned her goodbye post, "Over and out, precious!"
Article continues below advertisement
Here, too, fans expressed their heartache over Lucille's exit from Call the Midwife, with one commenting, "So sad to read this. Was really hoping Lucille would be back for Christmas and reunite with Cyril! Hoped for a happily ever after for them! You have been wonderful and will be really missed!"
For her part, Leonie said playing the nurse on the popular series had "been a pleasure" and "a joy."
Call the Midwife airs Sundays at 8 p.m. EST on PBS.