Is the Hype House Over Just a Few Months After It Got Started?
While it only got started in December 2019, the Hype House members are already going in different directions. Is the Hype House over already?
The Hype House is going through a pretty tumultuous time. It's losing members, it's dealing with lawsuits, and it's not even sure if it can be called the Hype House forever.
Article continues below advertisement
Article continues below advertisement
Is the Hype House over in the wake of recent problems?
Although the Hype House only got started up in December 2019, it only took one month for it to start having issues. The first issue came about from Daisy Keech and Thomas Petrou. Although it's been said by Thomas and others in the house that Hype House was his brainchild along with Chase Hudson, Daisy disagrees.
The influencer and fitness model claims that she and Thomas met in Jake Paul's Team 10 collaborative influencer group. Although she acknowledges that it was Thomas's idea to start his own collaborative group on TikTok, she says that he asked for her help. In fact, she was on board before Chase Hudson was. Thomas met Chase after he had been working with Daisy on this project. But, she says, the boys took over and she didn't find the voice to speak up at the time.
Article continues below advertisement
In January 2020, Daisy filed a trademark application for "the category of tops as clothing" which seemed to signify that she was preparing to get merch started for the Hype House. But there was still a battle waging about who actually got the group started. The battle was big enough that Daisy opted to move out of the mansion that four of the Hype House members actually lived in, despite the fact that her name is the one on the lease.
Article continues below advertisement
The trademark war is still ongoing, though. She filed two more applications in late January, one for "entertainment services in the nature of hosting social entertainment events" and one for "bags specially adapted for sports equipment". An entity called Hype House LLC., which has the contact listed as Cole Hudson, aka Chase's dad, filed "entertainment services in the nature of series of programs broadcast on the Internet" and nearly all cosmetic products.
Article continues below advertisement
This war has come to a head recently since the Hype House has started advertising a new merch line, which caused Daisy's lawyer to send a cease and desist letter to Thomas because he hadn't gotten her permission.
If Daisy's trademark applications are approved, it is possible that the Hype House as we know it is over.
Daisy's applications cover entertainment services, but will that cover a TikTok account? According to Daisy's lawyer, Chris Young, she is looking to start a new house in competition with the Hype House. And, if her trademark application gets approved, she can consider if she wants to name that new house Hype House.
Article continues below advertisement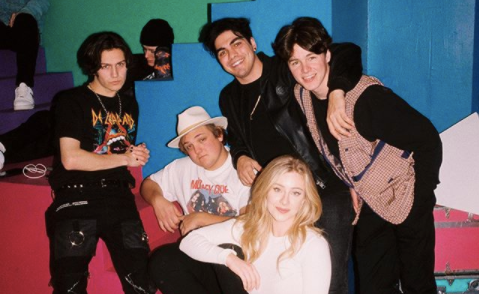 The rumor is that four other members of the Hype House (Patrick Huston, Connor Yates, Calvin Golby, and Wyatt Xavier) may be joining her house, since the Hype House's official Instagram account unfollowed them all. Depending on how the trademark war pans out, we may either get two Hype Houses, no Hype Houses, or the old Hype House will cease to exist and be replaced with a new one.